Through our Clyde Borders wind farm we make around £125,000 per year available for community and charitable projects. Over its lifetime we expect to invest around £4million in local projects.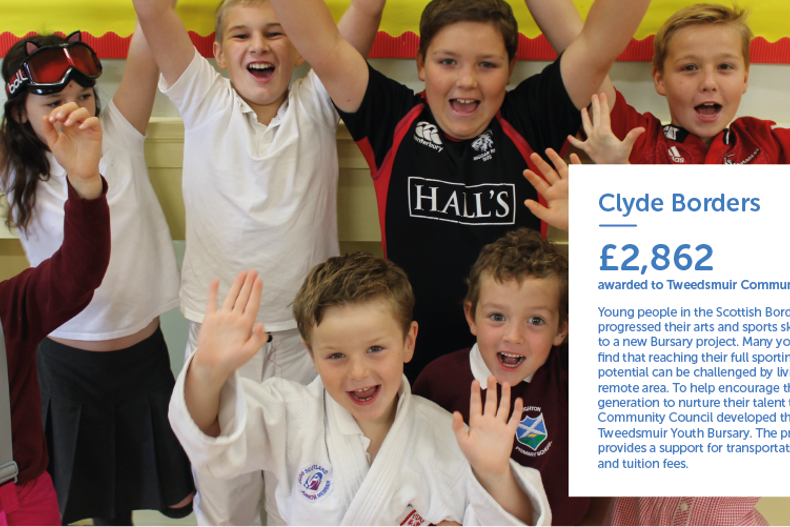 PROJECTS FUNDED IN THE LAST 12 MONTHS:
Tweedsmuir Village Hall - £5,678 to install modern audio video equipment
Broughton Primary Parent Council - £4,000 for a residential centre visit for pupils
Broughton Village Hall - £6,464 to carry out exterior wall repairs
Tweedsmuir Village Hall - £49,274 to reslate the roof and install solar PV
Tweedsmuir Community Council - £10,950 to update the Community Action Plan
Friends of Broughtonknowe Woodland - £16,529 for woodland path improvements
Broughton Village Store - £41,136 to convert the village hall cottage into a temporary shop premises
Tweedsmuir Community Company - £23,100 to purchase campings pods and a shower block
Foundation Scotland - £100,000 invested into the community endowment fund.
PROJECT ELIGIBILITY
The community fund can support projects which:
enhance quality of life for local residents
contribute to vibrant, healthy, successful and sustainable communities
promote community spirit and encourage community activity
Projects in the following community council areas can apply:
Upper Tweed
Tweedsmuir
Skirling
You can find out who is eligible to apply here.
FUND TIMETABLE
Application deadlines:
6th February 2023
1st May 2023
24th July 2023
23rd October 2023
HOW TO APPLY
The Application Form and Guidelines are available to download below:
APPLICATION FORM & GUIDELINES
GUIDELINES FOR THE FUNDS ADMINISTERED BY COMMUNITY COUNCILS
| | |
| --- | --- |
| MICRO GRANT GUIDELINES | YOUTH BURSARY GUIDELINES |
CONTACT DETAILS
For more information on this fund please contact: