Through the first phase of the Viking Energy wind farm, we will make around £400,000 per year available for community and charitable projects. Over the lifetime of the wind farm we expect to invest £72 million in local projects.
CASE STUDY
£200,000 awarded to Shetland MRI Scanner Appeal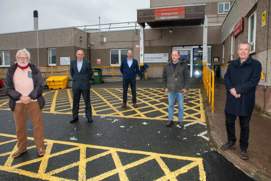 The first award from the Viking Community Fund was for an MRI scanner for the island.
Currently, 600 patients from Shetland must travel south to have an MRI scan each year. The travel experience can be detrimental to the patient at an already difficult time. The provision of an MRI scanner within Shetland will provide a significant health and wellbeing improvement for community members for years to come.
PROJECT ELIGIBILITY
Projects supporting communities in any of the 18 community council areas in Shetland can apply.
HOW TO APPLY
The Viking Community Fund is administered by local co-operative Shetland Community Benefit Fund. For more information about the funds, and how to apply, please contact Shetland Community Benefit Fund by clicking here.
CONTACT DETAILS
For more information on this fund please contact:
LINDSAY DOUGAN

Senior Community Investment Manager

Tel: 01738 340292

Email: [email protected]