SSE Renewables is currently building more offshore wind than any other company in the world. Its leading expertise in the development, construction, and operation of renewable electricity, alongside an enviable pipeline of high-quality projects, means it is at the forefront of providing the clean energy needed for the global net zero transition.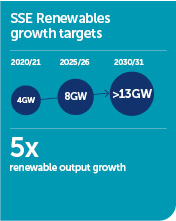 SSE Renewables has ambitions to increase its installed renewable capacity to 8GW by 2026 and to at least 13GW by 2031. These plans will enable delivery of around 20% of the UK's enhanced offshore wind capacity target and are crucial in supporting SSE's refreshed 2030 Goal of increasing renewable generation output fivefold, to 50TWh a year. This is enough energy to power 20 million homes each year.
SSE Renewables' UK and Irish operations and pipeline, and international growth opportunities
As part of SSE plc's Net Zero Acceleration Programme which will see more than £24bn invested in the UK's electricity infrastructure over the next decade, SSE Renewables has set ambitious targets to increase its renewable generation capability.
Good progress was made on SSE Renewables' major projects in construction at Dogger Bank, Seagreen and Viking, and 1GW of floating wind was also added to SSE Renewables' domestic pipeline through success in the ScotWind leasing round. The business also made strides internationally through acquisitions in Southern Europe and Japan, and opened offices in Boston, Tokyo and Rotterdam.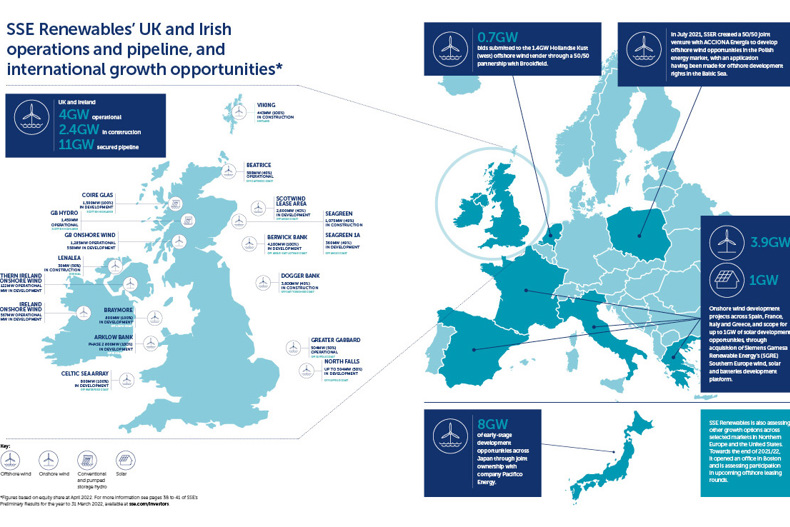 CASE STUDY: Green finance for the net zero transition
In July 2022, SSE plc successfully issued a seven-year green bond of €650m. The proceeds from this green bond are specifically earmarked to help fund SSE Renewables projects currently under construction or recently completed, such as the Gordonbush Extension, Viking and Seagreen wind farms, as well as the world's largest offshore wind farm at Dogger Bank. SSE understands that investors are increasingly looking for robust mechanisms through which they can ensure their investments are sustainable and take account of climate related risks. As a result, SSE has deliberately pursued a strategy of issuing green bonds to finance its investment plans. Across the SSE Group, the company has issued five green bonds in six years, making it the largest issuer of green bonds in the UK corporate sector. It remains the only UK corporate to offer up multiple green bonds, with SSE's total outstanding green bonds totalling over £2.5bn. SSE's full annual update to investors on the allocation of proceeds and environmental impact from its green bonds is available at sse.com/greenbond
Read more here: SSE issues €650m Green Bond as it ramps up Net Zero Acceleration Programme | SSE
Powering a collaboration to net zero
The Powering Net Zero Pact ('the Pact') is an initiative created by SSE with 10 other founding partners as a legacy of COP26. It brings together different companies across all tiers of the power sector – including civils, shipping, renewables, electrical engineering and others – that are committed to a fair and just transition to net zero carbon emissions. Together, signatories of the Pact operate across more than 100 countries, had a combined annual turnover in 2021 of more than £55bn, are responsible for the livelihoods of over 240,000 employees, and work with more than 120,000 suppliers globally. More information can be found at  Powering Net Zero Pact | SSE