The Beatrice Partnership Fund was established in 2017 by Beatrice Offshore Wind Farm joint venture partners SSE Renewables (40%), Red Rock Power Limited (25%), The Renewables Infrastructure Group (17.5%) and Equitix (17.5%). The Fund is valued at £3m, split between Highland (£2m) and Moray (£1m), and will be disbursed over a five-year period from 2017 to 2021.
It supports projects in northern Scotland which create opportunities for skills and employment; empower communities to be more resilient through long term social, environmental or economic improvements; or encourage meaningful regeneration to improve local infrastructure, landscape or heritage.
The Beatrice Partnership Fund is operated and administered by SSE Renewables' Community Investment Team on behalf of the joint venture partners.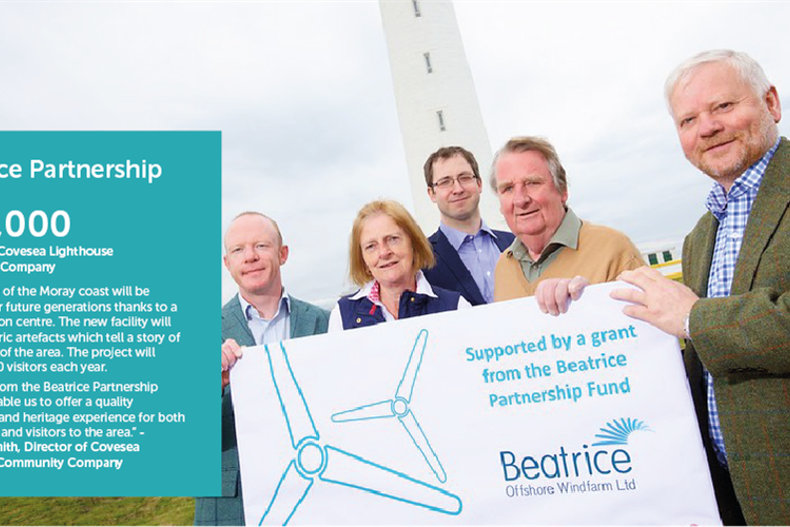 ELIGIBILITY CRITERIA
The partnership fund can support projects which:
Create opportunities
Create or enhance opportunities for education and employment through activities focused on improving an individual's chances of entering the workplace or further professional development
Empower communities
Empower fragile communities to become more resilient and to protect their vulnerable residents through measures which demonstrate long term social, environmental or economic improvements
Stimulate sustainable places
Stimulate meaningful regeneration through actions which improve or enhance local infrastructure, landscape, biodiversity, or heritage to make a lasting difference to the places we live, work and visit
Projects in the following areas can apply:
Highland: Communities on the east coast of Caithness and Sutherland
Moray: All coastal communities and the four local communities, namely Buckie and District, Strathisla, Lennox and Keith
You can find out who is eligible to apply here.

HOW TO APPLY
The final funding round opened on 20 January 2021 and will close for applications at 12 noon on Wednesday 28 April 2021.
If you are thinking of applying to the fund, please feel free to call and discuss your application:
Highland - Fiona Morrison (details below)
Moray - Marianne Townsley (details below)
Application forms along with guidance notes can be downloaded below.
CONTACT DETAILS
For more information on this fund please contact:
| | | | |
| --- | --- | --- | --- |
| APPLICATION FORM - MORAY 2021 | GUIDELINES - MORAY 2021 | APPLICATION FORM - HIGHLANDS 2021 | GUIDELINES - HIGHLANDS 2021 |