Clyde South Lanarkshire
Through our Clyde South Lanarkshire wind farm we make around £860,000 per year available for community and charitable projects. Over its lifetime we expect to invest £38million in local projects.
Additionally, £2,500 per MW is also committed to the regional  Sustainable Development Fund for South Lanarkshire each year.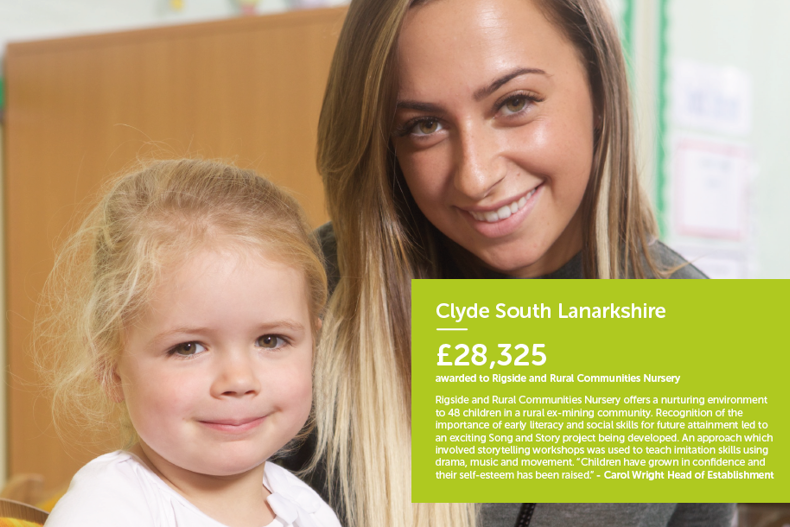 THE COMMUNITY FUND
The community fund is for projects within the Clyde wind farm area, up to around 15km from the wind farm near Abington.
Projects in the following community council areas can apply:
Biggar
Crawford and Elvanfoot
Duneaton
Leadhills
Quothquan and Thankerton
Sympington
You can find out who is eligible to apply here.
HOW TO APPLY
The Clyde Wind Farm Community Fund is currently managed by South Lanarkshire Council. To discuss your idea with a Project Officer and to request an application form, please visit this link.
AWARDS MADE IN THE YEAR TO 1ST OCTOBER 2019
| | | |
| --- | --- | --- |
| Applicant | Project | Award |
| Abington Community Group | School House Project Consultancy | £10,922 |
| Abington Tennis Club | Clubhouse refurbishment | £56,841 |
| Biggar and District Civic Society | Signage Upgrade | £20,600 |
| Crawford WRI | 100th Anniversary Event | £3,320 |
| Tinto Village Day | Gala Day | £4,495 |
| Douglas Valley Photography Club | Calendar Project | £642 |
| Douglas Water Golf Club | Garage Extension | £1,688 |
| Leadhills.com Group | Feasibility Study | £9,989 |
| Crawfordjohn Heritage Venture Trust | Heating and conservation project | £83,476 |
| Biggar Rugby Football Club | Athletics Project | £9,950 |
| Crawford Gala Day Committee | Gala Equipment | £7,906 |
| Biggar Little Festival | Orchestra Project | £3,294 |
| Coulter Curling | 200 year Anniversary | £2,394 |
| Coulter WRI | 100 year Anniversary | £2,293 |
CONTACT DETAILS
For more information on this fund please contact: