Strathy South onshore wind farm
UPDATE: Strathy South public exhibition event cancelled
SSE Renewables has taken the decision to cancel the planned public exhibition event for Strathy South wind farm due to current restrictions in relation to coronavirus. The event was due to take place on Tuesday 24 March in Strathy Village Hall to provide the local community with information about the proposed onshore wind farm scheme.
In place of the exhibition, the information we would have presented is available here, as part of an open online consultation process, with an online comments form available here.
Jon Soal, Strathy South's Project Manager said: "SSE Renewables' number one priority is safety; the safety of our employees, our contractors and the communities within which we work. We risk assessed our public exhibition event due to take place on 24 March and decided to cancel it in light of the impact of coronavirus."
"We are incredibly sorry for any inconvenience caused and will be doing all we can to ensure information about the project is available to be accessed in other ways.
"We will be on hand to answer questions via phone or email, please continue to stay safe and we hope to be back in Strathy to speak to everyone again soon."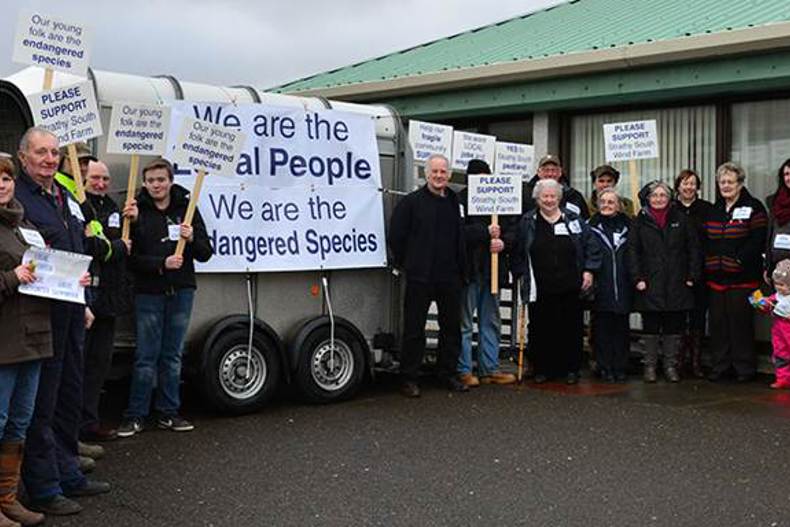 Project information
Background
In 2007 we submitted a proposal to the Scottish Government for a 77 turbine wind farm at Strathy South, an area of commercial forestry plantation, approximately 12km south of Strathy village in north-east Sutherland.
The site lies a few kilometres to the south of our 33 turbine Strathy North wind farm which is now operational. More information on Strathy North wind farm can be found here.

Addendum and Further Information Report
Since our original planning application submission in 2007 we undertook a considerable amount of further work and consultation to address the feedback from consultees and improve the design. As a result of this, we submitted an Addendum to the Scottish Government in July 2013 for a much smaller 47 turbine scheme. This was further reduced to a 39 turbine scheme in 2014. This allowed for an improved design to reduce its environmental impact, particularly on peatland and birds. A copy of the Addendum and subsequent Further Information Report is available to view and download below in the Important Documents section of this webpage. The key changes to the proposal from the Addendum and Further Information Report were as follows:
Turbine numbers reduced from 77 turbines to 39 turbines
Maximum turbine 'tip height' increased from 110m to 135m
Access tracks reduced with better use of existing tracks
Lay-down areas and borrow pits rationalised and reduced
Grid route moved out of designations and now routed through Strathy North substation
In addition, we repositioned turbines to avoid sensitive areas such as deep peat, pulled turbines back from the south and east forest edges where possible to increase the distance from nearby designations, increased the buffer from watercourses to 70m, created a bird corridor within the site, and focused our Habitat Management Plan on peatland restoration in and around the site. Visibility within the surrounding area remained minimal, despite the increase in the maximum turbine tip height.
Public Inquiry 
Strathy South went to a public inquiry in 2015. From this, Scottish Ministers consented Strathy South on 27 April 2018.
Market changes and future of the project
The closure of Ofgem's Renewable Obligation Certificate (ROC) scheme to new onshore wind projects in March 2017 meant that we had to re-evaluate our approach to ensure new projects can succeed without ROCs. Wind turbine technology is continually evolving with larger, more productive and efficient designs which provides options for the development at Strathy South.
In April 2019 we submitted a Scoping Report to explore the opportunity to vary the consent which would enable optimal performance from the site in a modern energy market free of support mechanisms. Scoping reports are voluntary and engage stakeholders prior to any planning application being submitted. The main changes proposed in the Scoping Report include an increased tip height of up to 200m and deletion of 1.2km of access tracks.
Environmental considerations
Our approach
Over the last 10 years a significant amount of environmental survey work has been carried out on the Strathy South proposal. Given its careful approach to development, the extent of work has gone significantly beyond what is required, so that the project could be designed with an abundance of information at hand. SSE has commissioned comprehensive ecological, peat, bird and other studies, and consulted with stakeholders to ensure a thorough knowledge of the site's characteristics.
The re‐design of the scheme has reduced the total site impact to just 60 hectares from infrastructure and associated indirect effects (including temporary impacts increases this figure to 77.86 ha). We have focused our efforts on both reducing any negative impacts and also creating significant positive impacts from the proposal in the area - specifically the surrounding designations which protect the Flow Country peatlands and important bird species.
Restoring the Flow Country peatlands
In the late 1970s and 1980s, many thousands of hectares of peatland habitat were converted to commercial non-native forestry in the Caithness and Sutherland area. The resulting ploughing and drainage to get trees established caused severe ecological damage and the continuing growth of trees further dries out the peat – degrading not just the peatland but also continuing to impact local wildlife. The conifer plantation on the Strathy South site was planted back to the 1980s and is slow growing. If left untouched, the conifers may take a further 30 years to reach a suitable size to be of market value.
The Strathy South Addendum submitted in 2013, made a commitment to restore and manage peatland by removing the entire conifer plantation within the site boundary. SSE is committed to removing the trees in a manner that facilitates restoration of the peatland. This tree removal, together with measures to raise water levels such as drain blocking, will provide the peatland with a greater chance of recovery than when the forestry is commercially viable to remove in around 30 years time. Without our commitment, the trees will remain to reach a suitable felling size.
The proposed Habitat Management Plan (HMP) for the project will deliver 1,657 hectares of peatland restoration using a variety of techniques and will include the removal of over 1,000 hectares of conifer plantation. A further 231 hectares of peatland management both on and off‐site means the proposed HMP would restore and manage around 1,900 hectares of peatland. SSE has also committed to managing this peatland for the life of the project.
Furthermore, since the Addendum for Strathy South was submitted, SSE has committed to funding peatland management practices on 1,300 hectares outwith the wind farm boundary on the adjacent SPA/SAC. Therefore, directly as a result of this project, around 3,200 ha (12 square miles) of peatland would be restored or managed, delivering one of the largest single peatland restoration and management projects undertaken in the Flow Country. Critically, SSE would not need to do all of this work for mitigation of the wind farm; rather it would be part of our commitment as a responsible developer of renewable energy.
SSE also recognises that this is a long term peatland restoration and management programme, and is committed to this for the 25 year life of the wind farm to prevent the regrowth of the conifers, which would otherwise occur. Furthermore, once the wind farm's life cycle is over it will be decommissioned, enabling the final phase of restoration to be completed.
Protecting the area's birds
As well as the importance of peatland habitats, they are also home to a wide range of birds, including rarer species such as red-throated diver, black-throated diver, golden eagle, hen harrier, greenshank, golden plover and merlin. This has been a key consideration for us during the development of Strathy South (and Strathy North).
In order to design the site in a way that minimises effects on birds, SSE has gathered as much information as possible on the different species, their characteristics, preferred habitats, nesting and breeding behaviours, and their flight activity around the site. We have collected a substantial amount of bird monitoring data spanning 10 years - going far beyond the statutory requirement of 2 years - and have worked closely with local bird experts including the RSPB, to assess how best to design the site and look at what measures we can put in place to help reduce any negative impacts.
SSE WELCOMES CONSENT FOR STRATHY SOUTH WIND FARM
27 April 2018
SSE has today, 27 April 2018, welcomed the decision by Scottish Ministers to grant planning consent for SSE's Strathy South Wind Farm proposal in Sutherland in the Highlands.
The decision follows an independent public inquiry held in early 2015, which examined in detail all of the evidence put forward by all parties, and concluded with a recommendation to approve the project.
Located 12km south of Strathy village in an area of the Flow Country degraded by commercial forestry, the proposed wind farm comprises 39 turbines with a renewable energy generation capacity of up to 133MW.
A crucial element of the project would be to deliver a significant peat restoration and management plan, which would include removing non-native forestry from both inside and outside the project boundary to allow restoration of the badly affected areas back to native peatland habitat.
This restoration represents an area which greatly outweighs the footprint of the proposed wind farm infrastructure. The overall carbon payback period for the project would be 1.1 years.
Mike Seaton, SSE's Director of Development, said: "The Strathy South project would deliver renewable energy and significant net environmental gain through the long-term restoration of extensive areas of degraded peatland and we are pleased that this has been recognised through an objective independent process. SSE prides itself in being a responsible developer.
"We welcome the decision to approve Strathy South and are pleased that Scottish Ministers share our view that this is a good project in a good location, which can deliver environmental and socio economic benefits to the local community and wider Highland region. Changes to UK energy policy in relation to onshore wind mean that we must now carefully consider our options for the site."
Janette Mackay, Chair of Strathy and Armadale's Community Council, said: "After waiting nearly three years for the result of the public enquiry we are delighted to learn that Strathy South has been given the go ahead.
"We can now look forward to seeing the work start up again with all the benefits that brings to our young workers, businesses, and the North Coast area which has been sadly neglected.
"I'm sure the immense show of public support for the wind farm helped in the final decision and we'd like to thank SSE for their commitment to us."
The 33 turbines at SSE's neighbouring Strathy North wind farm were completed in 2016 and brought economic benefits in the form of contracts for local companies and employment opportunities to the region. The project received significant support from local people throughout the long planning process, including at a public inquiry where local people demonstrated outside the inquiry in support of the project.
SSE will continue to work alongside local communities, businesses and other stakeholders as it considers the detail of the consent decision and next steps for the project.
Ends
SSE WELCOMES STRATHY SOUTH OFFICIAL REPORT
04 June 2014
SSE Renewables has welcomed the professional recommendation of Highland Council planners urging elected members not to object to the Strathy South wind farm proposal when it comes before the North Planning Committee next week.
The Perth-based renewable energy firm is also extremely pleased to note that the application has received the unanimous support of host community council Strathy and Armadale.
Lead Director, Wholesale Generation Development, Colin Nicol, said:
"SSE is a responsible developer with an established Highland heritage. We have demonstrated that Strathy South wind farm is a carefully designed proposal which would generate clean energy and restore thousands of hectares of damaged peatland in the Flow Country. It would also create major investment in the local and wider Highland economy, as is already happening at our nearby Strathy North wind farm.
"We are extremely pleased the local community council has recognised our team's efforts by showing such strong written support for the proposal. We are also encouraged by the planning report recommendation to raise no objection but we are taking nothing for granted and look forward to councillors making an objective decision on Tuesday before the Scottish Government makes a final determination."
SSE is a responsible neighbour and in developing the Strathy South project has engaged extensively with statutory organisations and the local community. This has included constructive dialogue with SNH who have acknowledged the overwhelming majority of their concerns have been fully addressed by SSE. The project would have no significant residual impact on birds and SSE is of the clear view that remaining concerns set out by SNH on two species are manageable and can be overcome through continued dialogue. The Council's report notes that these issues 'can be left as a matter of judgement for Scottish Ministers to determine.'
Ends
Contact info
Murray West
SSE
One Waterloo Street
Glasgow
G2 6AY
To contact our Strathy South team by email, please use:
07741 355 461
Contact Us