NOTICE OF DECISION 
SSE GENERATION LIMITED 
ELECTRICITY ACT 1989 
TOWN AND COUNTRY PLANNING (SCOTLAND) ACT 1997 
THE ELECTRICITY WORKS (ENVIRONMENTAL IMPACT ASSESSMENT) (SCOTLAND) REGULATIONS 2017
As directed by regulation 23(4) of the Electricity Works (Environmental Impact Assessment) (Scotland) 2017, notice is hereby given that SSE Generation Limited ("the Company") has been granted consent by Scottish Ministers to construct and operate a 16 turbine wind farm known as Tangy IV Wind Farm, (with a ground to blade tip height of up to 149.9 metres), in lands North of Kilchenzie, Kintyre, in the relevant Planning Authority area of Argyll & Bute Council.
Scottish Ministers have also directed, under Section 57 (2) of the Town & Country Planning Act (Scotland) 1997, that planning permission is deemed to be granted.
Copies of the decision statement and related documentation can be obtained on the Energy Consents website: www.energyconsents.scot
Copies of the decision statement and related documentation have been made available to Argyll & Bute Council to be made available for public inspection by being placed on the planning register.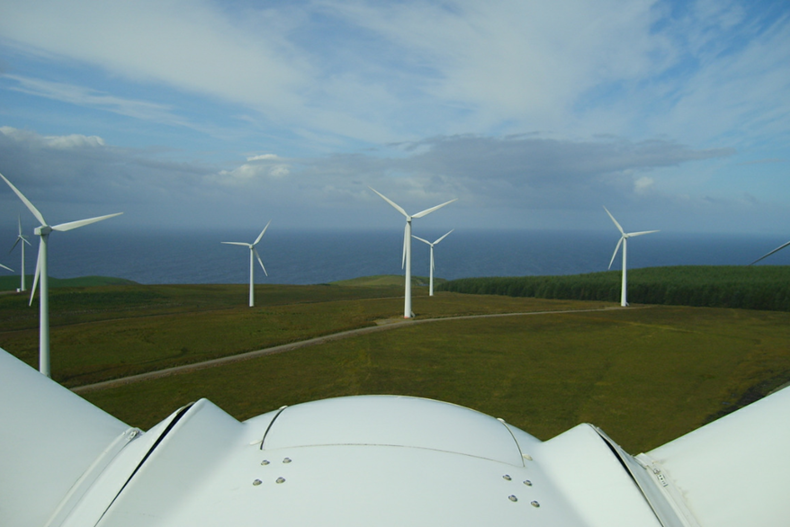 Our proposals for Tangy IV Wind Farm include removing the existing 22 turbines, some of which have been generating since 2003, and replacing them with 16 of the latest larger and more efficient modern turbines which could see the installed site generating capacity increase from 18.7MW, potentially up to 80MW, taking advantage of the advances in wind turbine design, technology and efficiency and to maximise output from the site. As an experienced and responsible developer our plan is to utilise as much of the existing site infrastructure as possible to minimise any local impact.
We have undertaken significant stakeholder consultation (including three local public exhibitions), extensive site surveys and careful design to minimise any project impact. The turbine layout has been designed to utilise as much of the existing infrastructure as possible.
We recognise the importance of the opportunities that our projects can bring to local communities and businesses during construction and throughout its long-term operation the project is anticipated to bring significant local opportunities such as:
Direct local employment both on site and within the local, regional and national supply chain;
Procurement of local plant and materials; and
Requirement for local accommodation for project staff.
SSE RUNNERS AND VOLUNTEERS ENTER SPIRIT OF ARGYLL ULTRA RACE
22 May 2019
Saturday 11 May saw another successful Kintyre Way Ultra marathon take place with competitors from as far afield as Reunion Island and the USA compete to complete the 32-mile race across the rugged Northern section of the Kintyre Way.
Sixteen employees of main race sponsor SSE took part in the event, with eight running either the full course or as part of a relay team and the remaining eight volunteering as route marshals, finish line marshals and providing transport for bags and runners in their support vans.
This year's challenging 52km route began with a sandy start north out of Tayinloan before beginning an ascent across the Kintyre peninsula at Clachan, descending into Skipness on the east coast before again climbing over the uplands, finally terminating in sun-drenched Tarbert along the quayside of the picturesque harbour.
SSE's two relay teams embraced the challenge and ran with it, with Seagreen Supersonics - consisting of Martha Lovatt, Bruce Henry and Mark Timmons - taking first place and The SSE Second's (Mike Blair, Craig Cunningham, Derek Belford) living up to their name and claiming second spot.
The volunteers from SSE gave up their time as part of company's Be The Difference scheme which allows employees to give up one of their working days to volunteer at benevolent events within the community
Race organiser Rob Reid said:
"Among the 150 trail-runners taking part this year were eight from SSE but an event like this also depends heavily on volunteer helpers for tasks like driving support vans, staffing water stations, supervising road crossings, and general marshalling and SSE came up with an enthusiastic band of volunteers.
"To sum up, SSE really entered into the spirit of the event."
Male Ultra Podium: 
1st - Paul Monaghan (04:21:54)
2nd - Duncan Steen (04:23:39)
3rd - Willy Mamy (04:37:38)
Female Ultra Podium:
1st - Elaine Somerville (05:21:59)
2nd - Katharine Sims (05:32:57)
3rd - Elly Gaunt (05:51:18)
Relay Podium:
1st - Seagreen Supersonics (SSE) - 04:52:10
2nd - The SSE Seconds - 05:11:24
3rd - Thompson Twins - 05:28:00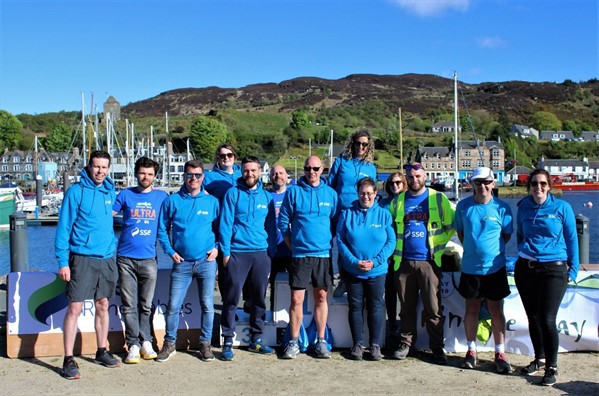 ENDS
SSE RENEWABLES TEAM UP WITH CIRCULAR ECONOMY CHAMPIONS
07 May 2019
Award-winning local innovators Renewable Parts Ltd have joined forces with SSE to explore how adopting a circular economy approach can boost the renewable developer's green credentials even further.
SSE's ambitions to replace Tangy's 22 older turbines with 16 more efficient, modern machines creates an opportunity for the old turbine components to be refurbished locally in Lochgilphead and even reused at other wind farms around the world.
In consultation with SSE Renewables, Renewable Parts Ltd is developing capability to decommission turbines to maximise the potential for re-use of component parts. The existing Tangy operation provides one of the first opportunities to decommission a UK wind turbine site responsibly by minimising waste and making the most of our resources, key principles of the circular economy
Refurbishing parts would minimise the amount of materials which may otherwise be scrapped, therefore helping to further reduce Tangy's carbon footprint. The Scottish Government considers the next key issue for onshore wind is that of repowering and that the sector should do more to secure such supply chain and wider economic benefits.
A visit to the Lochgilphead refurbishment centre - itself a refurbished ambulance station - allowed SSE Renewables to explore how both companies can help improve the environment and local economy, whilst spearheading Scotland's repowering industry in a responsible manner.
Renewable Parts' Technical Director Ewan Anderson said: "As an Argyll based business, specialising in the wind turbine industry, we consider developments of this nature critical to the local economy, skills and jobs.
"Scotland is a world leader in wind power, pioneering many new wind turbine technologies. Our position at the forefront of one the UK's leading sectors demands continued investment in state-of-the-art turbines. The proposed Tangy IV project represents a great opportunity to strengthen that position."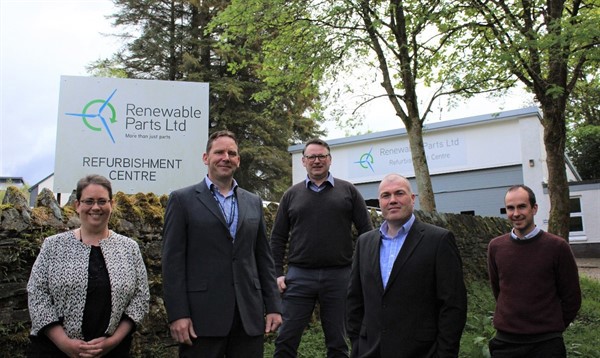 ENDS
TANGY HELPS MCCORKINDALE TAKE TWO
30 April 2019
For over 40 years the McCorkindale School of Dance has been teaching the youth of Kintyre highland dancing.

Run by James McCorkindale, the dance school recently received a prestigious invitation to compete in the North American Highland Dance Championships, Las Vegas.

However, with a dance school filled with over 40 talented young dancers, James wanted to ensure that everyone had the chance to compete, whether across the pond or closer to home.

The Forth Bridges competition in Dunfermline was the perfect opportunity for members of the school to compete closer to home. However, two competitions mean twice the amount of funding to ensure these talented dancers get a chance to compete amongst their peers – and that is where Tangy wind farm comes in.

Whilst friends and family are continuously fundraising within the local community, the Tangy project team thought that some additional funding would help to ensure the competitions could be attended by as many members as possible.

James said: "It's so important to ensure that every member of our dance group has the opportunity to compete in one of these wonderful competitions, so it was great to hear that SSE Renewables was happy to help support us.

"Competitions like the North American Highland Dance Championships and the Forth Bridges Competition are amazing experiences for the school and we are so grateful to all of our local supporters and projects like SSE Renewables' Tangy wind farm for their help raising some much-needed funds."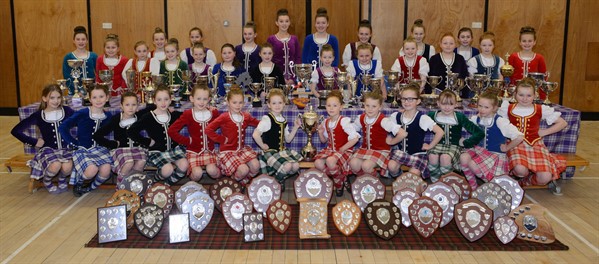 ENDS
POWERING THE KINTYRE WAY ULTRA 2019
26 March 2019
For the second year running, leading renewables developer, SSE, will be taking part in the Kintyre Way Ultra 2019.

Running is just one of the things SSE, owners of Tangy wind farm in the Kintyre peninsula, will be doing to support of this fantastic event. SSE will be powering the very people taking part in the event by contributing towards the sponsorship.

Seventeen members of the Tangy wind farm team will be either volunteering to help participants find their way along the route or taking on the gruelling endurance challenge, running the 32-mile track on the northern part of the Kintyre Way, beginning at Tayinloan and finishing at Tarbert.

For SSE, sponsoring the catering, goody bags and t-shirts was a no brainer. As Project Manager Andy Gregory explains:

"This community has been so supportive of us over the years and we are so pleased to have a chance to give back to them by helping with an event so close to the communities heart. We had a great time helping and taking part last year so we're thrilled to be back again this year.

"I guess you could even say that it's fitting we're providing the catering on the day, after all, our Tangy wind farm has been providing energy for over 15 years and now we're able to provide some much needed energy to the competitors on the day as they take on this tremendous race.

"On behalf of SSE and the Tangy wind farm team – good luck!"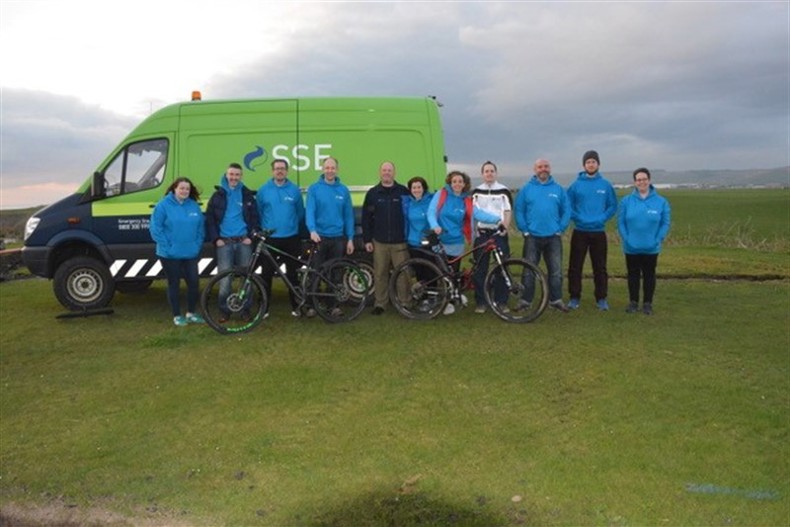 ENDS
KINTYRE-BUILT TOWERS SET SAIL FOR SCOTLAND'S LARGEST OFFSHORE WIND FARM
13 November 2018
Six locally manufactured offshore wind turbine tower sections will depart from Campbeltown harbour this week on a two-day voyage to the SSE-led Beatrice offshore wind farm development.
The 6 metre diameter steel tower sections will form part of the Beatrice offshore wind farm off the Caithness coast, the largest private investment in Scotland.
The two complete towers shipped out this week are the first of a batch of six to be delivered during November, completing the order for 12 towers from CS Wind UK's purpose-built manufacturing facility at Machrihanish and will be assembled at Nigg before being installed 13km offshore.
Lesley Black, UK Sales Team Leader at CS Wind UK said: "As a large local employer, these orders help reinforce vital job security to over 100 CS Wind UK employees, together with the local supply chain.  Recent investment allowing fabrication of larger diameter offshore towers has enhanced our productivity and ability to meet the demand."
The development and construction of Beatrice is being led by SSE, who will also operate the 84-turbine offshore wind farm once it is completed in spring 2019.
SSE are also seeking consent to re-power Tangy wind farm located north of Machrihanish. The project, known as 'Tangy IV' has stated an intention to procure the new turbine tower sections from CS Wind Ltd who have previously supplied towers for over a dozen SSE wind farms.
Jon Soal, SSE's Project Manager for Tangy, said: "Tangy has been an exceptional site for SSE. The support we have received from the community over the past 15 years has been fantastic and is hugely appreciated by the project team.
"If consented, we hope that Tangy IV is able to build on the success of the original Tangy site and bring benefits to the local businesses and communities alike both during construction and throughout the lifetime of the project."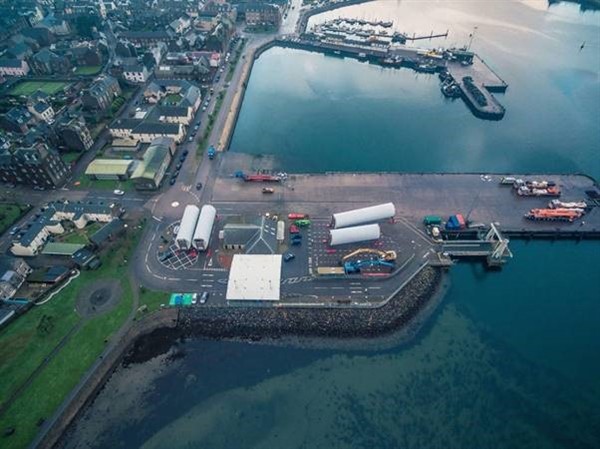 Pictured above: Machrihanish-built turbine tower sections destined for Beatrice offshore wind farm in the Moray Firth. Credit - Raymond Hosie.
ENDS
CAMPBELTOWN BRASS BLOWS WITH THE WIND
03 October 2018
Campbeltown Brass received a welcome gift from SSE's Tangy wind farm with some much-needed funds to help get the band to the National Brass Band Championships.
With the event hosted in Cheltenham, the trip of epic proportions meant a bus journey of over twelve hours, around 466 miles from the band's hometown, and also overnight accommodation, rehearsal space and other expenses, all of which proved a significant challenge for the band.
However, thanks to lots of hard work from the band members, supporters and other donations, including a generous donation from Tangy wind farm towards the overall costs, the band were able to make the lengthy journey and compete in this fantastic event.
Jon Soal, SSE's Project Manager said: "Campbeltown Brass is a really successful community organisation at the heart of the local community and we are very proud to be able to help them."
"With the operational Tangy wind farm and our current redevelopment proposals, we have been working in the local community for a long time, so when we heard that the band might struggle to get to the championships we wanted to do something to help them get there to experience such a great event."
The National Championships is the most prestigious brass band competition in the world, running since 1945. The final stage in the competition is only open to those who qualify at the regional championships across the UK.  As current second section champions, Campbeltown Brass qualified to attend the competition as one of the final 18 qualifying brass bands.  The chance to compete in this prestigious music event is a fantastic experience for young musicians and offers bands the opportunity to play with the best in their section from across Britain.
Katrina Barr of Campbeltown Brass said: "The band are extremely grateful to SSE for the donation and it really made a huge difference to our fundraising efforts."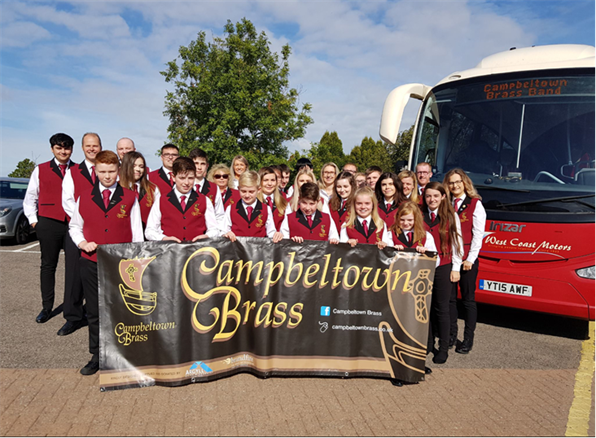 Pictured above: SSE's Tangy wind farm gifts a donation to Campbeltown Brass for their trip to the National Brass Band Championships in Cheltenham.
ENDS
TANGY WIND FARM LOOKS FORWARD TO A NEW CHAPTER OF ITS RENEWABLE STORY
20 September 2018
The Kintyre peninsula looks set to receive a boost to its renewable credentials thanks to the submission of a new Tangy redevelopment application, with the potential to bring opportunities for local people and businesses alike.
For over 15 years, SSE's Tangy wind farm, situated on the Kintyre peninsula, has been generating renewable energy and providing employment. Last week, SSE submitted a Section 36 application for Tangy IV wind farm, a redevelopment of the existing Tangy site.
The redevelopment proposals include removing the existing 22 turbines and replacing them with 16 of the latest modern turbines which could see the total installed generating capacity increase from 18.7MW up to around 80MW.
The proposals have optimised the previously consented Tangy III project, taking advantage of developments in wind turbine technology to maximise output from the site and contribute to the Scottish Government's ambitious renewable energy targets.
As a responsible developer and operator of onshore wind, SSE is committed to ensuring as many local businesses and people as possible benefit from the opportunities our wind farm developments bring with them and plans to utilise as much of the existing site infrastructure as possible to minimise any local impact.
During construction and throughout its long-term operation, Tangy IV is anticipated to bring significant local opportunities including; direct local employment on site and within the supply chain, local provision of supplies, materials and plant; increased spend in local shops and businesses from the project and provision of local accommodation for those visiting or working on the site from further afield.
If consented, SSE would aim to ensure as many opportunities as possible are available locally and would hold a 'meet the buyer' event prior to construction so that local businesses can meet with SSE and its contractors and see how they might get involved.  As one of the UK's biggest Living Wage employers, SSE guarantees those working on the project are paid fairly whether for SSE directly or across our supply chain.
As an important local employer, with around 130 employees, it is SSE's intention to procure the turbine tower sections from CS Wind Ltd based in Machrihanish, who have previously supplied towers for over a dozen SSE wind farms.
Jon Soal, SSE's Project Manager, said: "Tangy has been an exceptional site for SSE. The support we have received from the community over the past 15 years has been fantastic and is hugely appreciated by the project team.
"If consented, we hope that Tangy IV is able to build on the success of the Tangy site and bring benefits to the local businesses and communities alike both during construction and throughout the lifetime of the project."
ENDS
PUBLIC EXHIBITIONS
20 July 2018
SSE Generation is holding public exhibition events in relation to the proposed Tangy IV Wind Farm proposals.
We would like to extend an open invitation to these exhibitions to provide local communities and interested parties the opportunity to come along and meet with the project team, learn more about the project and raise any questions or concerts.
ENDS
TANGY TEAM POWER THROUGH THE ULTRA
16 May 2018
On Saturday 5 May, 19 members of SSE's Tangy wind farm team arrived in Kintyre to run, cycle and support the Kintyre Way Ultra.
The Tangy site has been generating renewable energy for around 15 years, but 2018 was the first year the Tangy team came together to take on the Kintyre Way Ultra. In total, they covered nearly 500 miles to help raise money for their chosen charities.
Completing the Ultra on foot or on two wheels is a huge achievement for anyone, but for Tangy's Project Manager, Jon Soal, who took on the Ultra Cycle, it also provided a chance to see the area from a different side.
Jon said: "I've been through to Kintyre on numerous occasions over the years but I have never had a chance to experience it in this way. It was definitely hard going completing the Ultra Cycle but it was worth it, fingers crossed I will make it back again next year!"
Six members of the team were also on hand throughout the day to offer organisers and competitors support, from keeping moral up to driving support vehicles back and forth on the day.
One member of the team, local resident and SSE's Wind Operations Supervisor, Craig Scally, was in charge of one of the SSE support vehicles.
Craig said: "The Kintyre Way Ultra is a fantastic event to be part of, whether you're racing or helping to keep the race going.
"I've been working on Tangy for 13 years now and it's great to have been able to give back to the community by supporting this spectacular event. Although I must admit, it was a bit easier driving it than running it!"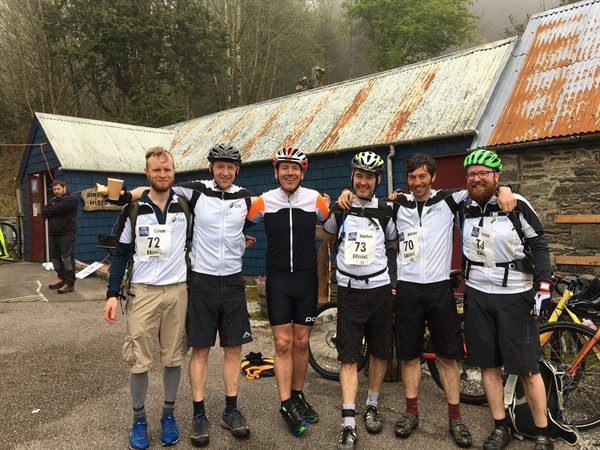 ENDS
TANGY PROJECT TEAM TAKE ON KINTYRE WAY ULTRA
25 April 2018
The Tangy wind farm project team, from renewable energy developer SSE, will be looking to make 13 their lucky number as a group of 13 employees tackle the Kintyre Way Ultra on 5 May.
With spectacular views along the coast from Tarbert to Campbeltown the team will be taking in the breath-taking sites as they take on the Ultra on foot and on two wheels.
An additional six members of the team will be on hand to help out on the day and cheer on the runners and cyclists as they take on the gruelling endurance task.
Michael Blair, a Senior Analyst in SSE's generation business, is taking on the Ultra solo which will see him run 35.5miles. Michael will be running for MND Scotland, the only Scottish charity that supports people affected by Motor Neuron Disease, as well as funding vital research to find a cure, you can sponsor Mike.
Taking on not just a marathon, but an ultra-marathon, isn't for everyone, but Michael is taking it in his stride. Michael said: "I figure events like this are more about determination than fitness – at least I hope so! I'm just going to take my time, try and enjoy myself and remember that I am doing this for a very worthy cause."
Another member of the SSE team tackling the Kintyre Way Ultra, but on two wheels is, Jon Soal, the project manager of SSE's Tangy wind farm. Jon, along with a number of members of the SSE team, is taking on the challenge to raise money for BEAT, the UK's eating disorder charity, with a vision to end the pain and suffering caused by eating disorders.
Two years ago a member of SSE's renewables team lost his daughter after a lengthy battle with bulimia. Now the team is working hard to raise money and awareness of this often-misunderstood mental illness.
Jon said: "It's amazing to be able to take part in something that is for a truly great cause. Our whole team want to support our colleague and help them raise awareness of eating disorders in the hopes that one day no one will suffer the pain that their family went through."
"I'm a keen cyclist and I am always looking for a challenge to take on - this Ultra Cycle seemed perfect. Working on Tangy I've visited this area a number of times but I never experienced it in this way, I'm really looking forward to it."
Good luck to everyone taking part on the day.
ENDS
Contact info
If you have any queries or wish to speak with the project team, please contact:
Jade O'Hara, Stakeholder Engagement Manager
Email: jade.ohara@sse.com
Phone: 07436 482792