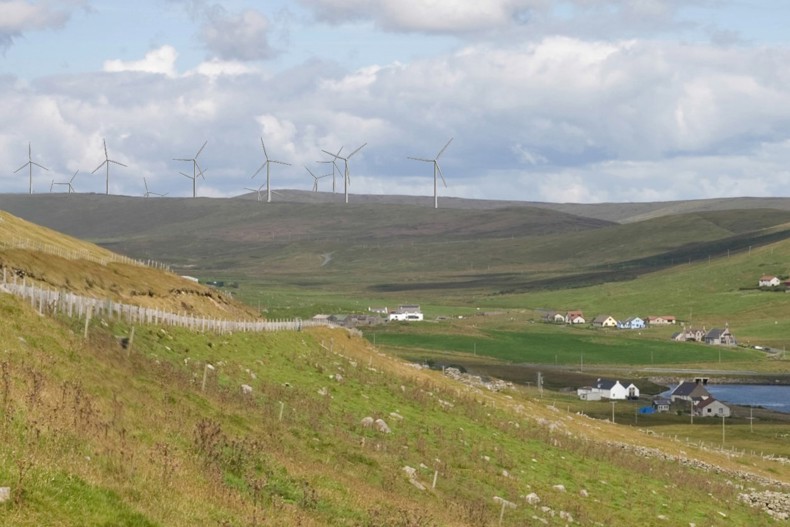 Viking wind farm will be a 103-turbine, 443MW onshore wind farm that will harness the excellent wind conditions on the remote Shetland Island to produce enough energy to power almost half a million homes. When complete, it will be the UK's largest onshore wind farm in terms of annual electricity output, playing a crucial role in contributing towards the UK and Scotland's net zero targets.
The original consent for the wind farm was approved by Scottish Ministers in 2012, following a decision by Shetland Islands Council not to object in 2010. A revised application was consented again by Scottish Ministers in May 2019, following approval by Shetland Islands Council in December 2018.
In June 2020, SSE Renewables took a final investment decision to proceed with Viking wind farm in a £580m investment step which will drive forward a green economic recovery in Shetland.
The project will support the island's, Scottish and wider UK supply chains during delivery, creating around 400 jobs at peak construction with a further 35 full-time local operation and maintenance jobs throughout its life.
Construction is planned to scale up in the second half of 2020, providing an immediate boost to the green recovery from the coronavirus pandemic and supporting the UK and Scotland's commitments to net zero emissions by 2050 and 2045 respectively.
"Viking – For a green recovery in Shetland"
Viking will deliver significant social and economic benefits to Shetland at a time of great economic challenge and uncertainty.
The wind farm underpins the Shetland HVDC link and unlock Shetland's wider renewable energy potential, delivering Shetland's future security of electricity supply and helping to decarbonise Shetland's oil and gas sector. In July 2020 Ofgem approved the Final Needs Case for the 600MW HVDC transmission link connecting Shetland to the GB mainland.
Viking brings direct benefits to the community. It is expected that over 400 jobs will be created during construction with multiple supply and sub-contract opportunities for local businesses.
Scottish firm RJ McLeod was appointed principal contractor in July 2020 and is in advanced talks with the local supply chain and has already begun direct recruitment locally.
Viking expects to create around 35 direct new jobs during the operational lifetime of the wind farm and is committed to the training of local people and apprentices and supporting local schools and colleges to encourage STEM careers.
In August 2020 it was announced Vestas will manufacture, deliver and install 103 turbines for the 443MW onshore wind project. As part of the deal Vestas will service the wind farm when operational, with the ambition to establish a Shetland-based service organisation providing high quality employment opportunities supported by an apprentice programme.
Viking is committed to a community benefit fund of around £55.4m (£70m when indexed) over the 25 year lifetime of the wind farm. A further £1.6m in additional community benefit will be paid during Viking's construction phase – bringing total direct community benefit to around £57m, at today's values, over the lifetime of the wind farm. The four community council areas which play host to Viking's turbines will be prioritised in the distribution of these benefits.
The people of Shetland will benefit from a preferred return on Shetland Charitable Trust's initial financial stake in Viking each year for the lifetime of the wind farm. Shetland Islands Council will benefit directly as a landowner on the site and over 200 crofting families will benefit from 50% of the wider ground rental payments on crofted estates.
Viking will provide a new public road at Sandwater which will benefit the travelling public in Shetland for decades to come and improve east-west linkage of the public road network. Viking will also cooperate with the aims and objectives of the Shetland Outdoor Access Forum to improve the public's access and enjoyment of the wind farm site.
Much of the Viking site is located on heavily eroding and degraded peat and is therefore a net emitter of that stored carbon. Viking's Habitat Management Plan (HMP) has been approved by SEPA, SNH and Shetland Islands Council. An independent expert advisory group, Shetland Windfarm Environmental Advisory Group (SWEAG) will oversee the comprehensive programme of conservation measures, which include extensive peat restoration over 260 hectares of significantly damaged and eroded habitat.
For more information on Viking wind farm please visit its dedicated website.
About Viking wind farm
Location
Shetland Islands
Ownership
SSE Renewables
MW capacity
443MW
Number of turbines
103