Achany Extension (formerly Glencassley)
SSE Renewables has submitted a Section 36 application to the Scottish Government, seeking consent to construct an extension to the operational onshore Achany Wind Farm and maximise the renewable energy generation potential at the site.
The proposed Achany Extension Wind Farm (formerly known as Glencassley) would be constructed on land adjacent to SSE Renewables' operational Achany Wind Farm, approximately 4.5kilometres (km) north of the village of Rosehall and 11km north-west of Lairg. It is anticipated to generate in excess of 80 Megawatts (MW), Achany's existing 19 turbines, already generate 38MW of renewable energy, meaning the combined capacity could generate in excess of 118MW.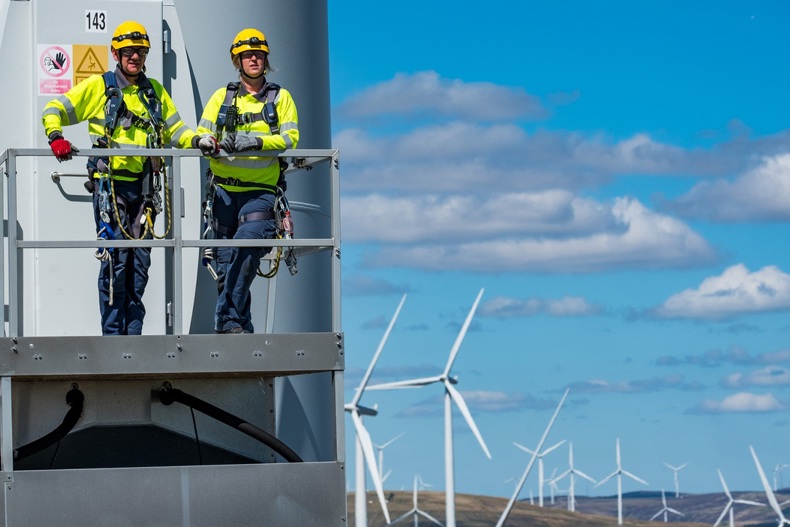 In 2012 SSE submitted an application for a 26-turbine wind farm. This application was subsequently refused by the Scottish Government in 2015 due to impacts on the National Scenic Area and 'Wild Land' despite the support of The Highland Council.
With the renewed appetite for onshore wind in Scotland and in the context of the 'Climate Emergency', SSE has concluded that this site continues to offer excellent potential for a wind farm.
Achany Extension has not only been redesigned, but relocated a further 2km from previous proposals, closer to the existing wind farms, which also brings operational benefits in managing and maintaining the sites. The reuse of existing site infrastructure has been carefully incorporated into the design, allowing access to the extension through the existing site. The Section 36 application will be determined by the Scottish Government's Energy Consents Unit.
Environmental Impact Assessment Documents
The application documents can be found on this webpage, via the links below, or on the Scottish Governments Energy Consent Unit's website here, using application reference number ECU00001930.
Our Coronavirus Response
SSE Renewables is fully committed to minimising the impact of Covid-19 while we continue to deliver critical green infrastructure, including work on the proposed Achany Extension. The wellbeing of our employees, contractors and the local community continues to be our number one priority and all work on site has been actively risk assessed with measures put in place to ensure works are undertaken in line with government guidance.
We continue to monitor government guidance and will adhere to any new measures implemented for our industry. You can learn more on our response to Covid-19 here: https://www.sse.com/news-and-views/our-coronavirus-response/
Community Investment
Through our existing Achany Wind Farm we make around £100,000 per year available for community and charitable. Between 2010 and 2035 we expect to invest £2.5 million in local projects.
You can learn more about the Achany Community Fund, eligibility and how to apply here: https://www.sserenewables.com/communities/community-fund-locations/great-britain/achany/
The proposed extension will also include a community fund which would be granted locally and across The Highland Council area through the already well-established SSE Renewables' community investment programme.
Community Support during Covid-19
We recognise that communities, services and organisations are facing huge challenges as a result of the Coronavirus pandemic. We want to reassure communities and groups we fund that we will continue to support them through this difficult time.
If you wish to speak to us about our community funds in general or regarding specific funding to support you through the impacts of Coronavirus, please speak to the Achany Community Investment Manager, Fiona Morrison - Tel: 01738 40098 Email: fiona.morrison@sse.com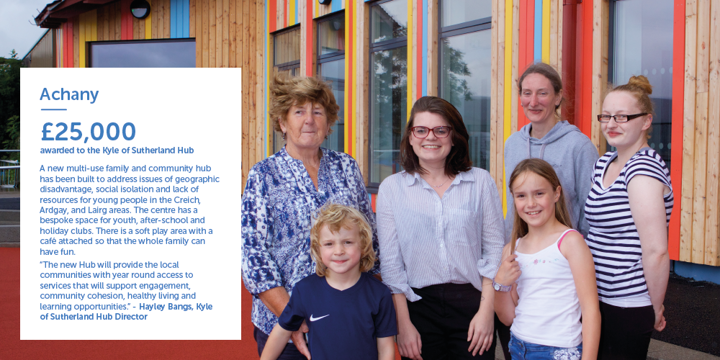 Contact info
If you have any queries or wish to speak with the project team, please contact:
Jade O'Hara, Stakeholder Engagement Manager
Email: jade.ohara@sse.com
Phone: 07436 482792