Sloy/Awe hydro power scheme
The 152.5MW Sloy Power Station and Dam is the largest conventional hydro power station in SSE's existing hydro power fleet. Construction on the scheme began in 1949 and was completed in 1951, becoming the first hydro scheme to be developed under the North of Scotland Hydro-Electric Board. The scheme celebrated its 70th anniversary in 2021.
The existing power station is fed from Loch Sloy, just four kilometres away but, crucially, over 277 metres higher than the power station.
SSE Renewables recently announced plans to convert Sloy Power Station into a new pumped hydro storage facility.
An adapted pumped storage scheme would take excess energy from the grid and use it to pump water from Loch Lomond to the upper Loch Sloy where it would be stored before being released to power the grid when wind output is low and customer demand is high.
If progressed for development, the proposed pumped hydro storage project at Sloy would become SSE's second such flexible electricity storage scheme in development, alongside the company's plans for its proposed £1.5 billion Coire Glas scheme between Fort William and Inverness in the Scottish Highlands.
Find out more about the proposed project here.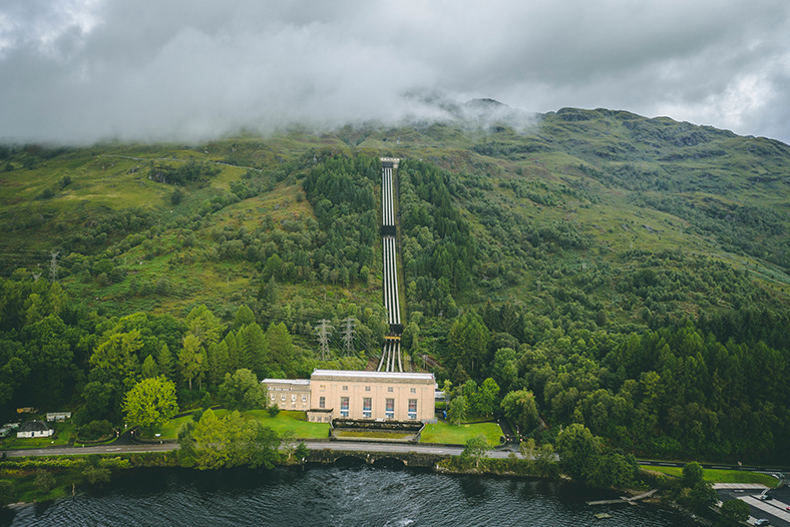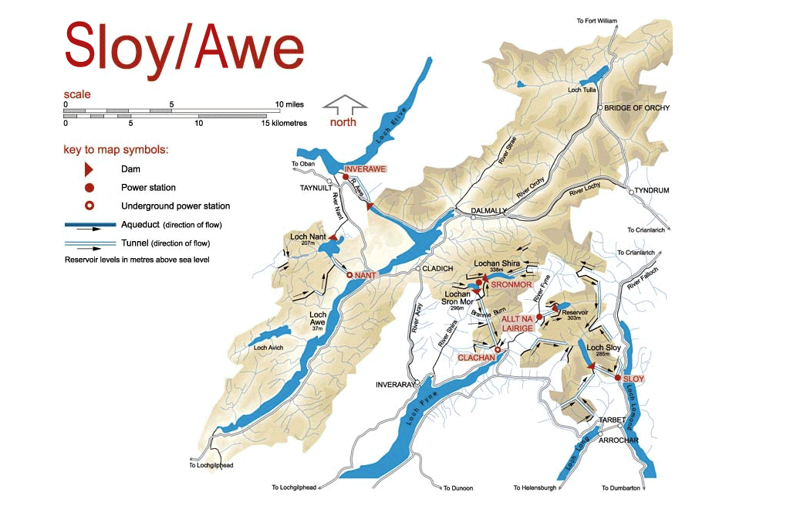 Power stations
| | | | | |
| --- | --- | --- | --- | --- |
| Power stations | Capacity (MW) | Gross head (metres) | Average annual output (million units) | Year started |
| Sloy | 152.5 | 277 | 130 | 1950 |
| Sron Mor | 5 | 46 | 7 | 1957 |
| Clachan | 40 | 294 | 82 | 1955 |
| Allt-na-Lairige | 6 | 249 | 19 | 1956 |
| Cruachan* | 440 | 365 | c700 | 1965 |
| Nant | 15 | 172 | 36 | 1963 |
| Inverawe | 25 | 36 | 106 | 1963 |
| Kilmelford | 2 | 111 | 12 | 1956 |
| Loch Gair | 6 | 109 | 19 | 1961 |
| Striven | 8 | 123 | 22 | 1951 |
| Lussa | 2.4 | 116 | 9 | 1952 |
*No longer owned by SSE Renewables
Major dams
| | | | | |
| --- | --- | --- | --- | --- |
| Major dams | Type | Length | Height | Completed |
| Sloy | Massive buttress | 357 | 55 | 1951 |
| Allt-na-Lairige | Pre-stressed gravity | 425 | 24 | 1956 |
| Shira (main) | Round headed buttress | 725 | 45 | 1959 |
| Shira (lower) | Concrete gravity and earth fill with concrete core | 305 | 18 | 1956 |