The Great Glen runs for more than 100 kilometres from Inverness in the northeast, to Fort William in the southwest, following a geological fault line that divides north and south Scotland.
It features Loch Ness, a naturally formed freshwater loch that is almost 37 kilometres long and 226 metres deep. The area is very popular with tourists who know only too well that the area has abundant rainfall, typically more than 3,000 millimetres a year, four times that of the east coast of Scotland. Which helps to make the area ideal for generating hydro electricity.
The potential for hydro electric generation in the area to the west of the Great Glen was first explored by the British Oxygen Company, which proposed a series of schemes between 1928 and 1938. These met with fierce opposition as they entailed diverting water westward from Loch Quoich, away from its natural flow eastward down the River Garry, to provide the maximum possible head of water to drive turbines in a power station the company would build on the shores of Loch Hourn.
To avoid facing similar opposition, when NoSHEB designed its Great Glen scheme it developed the Garry section entirely within the River Garry's natural catchment. Water would flow eastward from Loch Quoich, through Loch Garry into Loch Oich, powering Quoich Power Station and Invergarry Power Station en route, finally flowing into Loch Ness.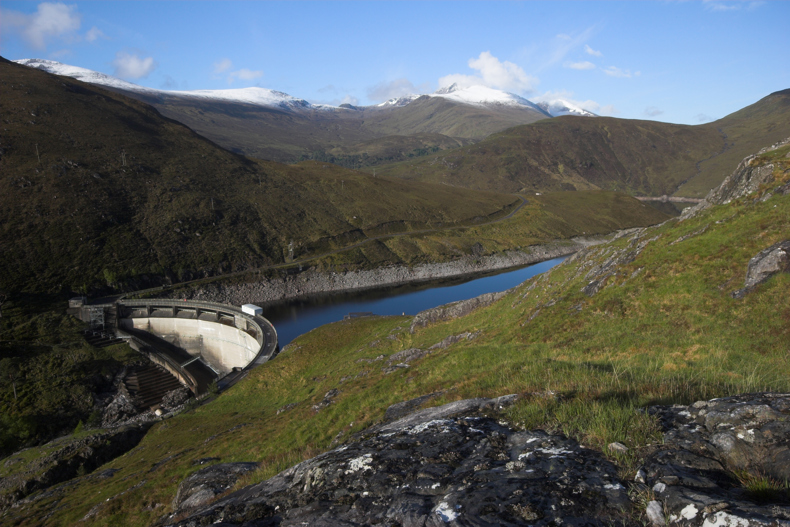 Although this would be less productive than the scheme proposed by the British Oxygen Company before World War Two, the design of the Great Glen scheme took the needs of salmon and agriculture into account. For example, the area taken by the development of the lower reservoirs in the scheme was deliberately restricted in order to preserve winter grazing for cattle, and a Borland fish lift was built into Invergarry Dam to allow salmon to navigate upstream to their spawning grounds.
When Quoich Dam was built in the upper part of the scheme's catchment area, it raised the level of the loch more than 30 metres, destroying salmon spawning grounds that generally thrive in shallower water. To compensate for this, a fish trap was built downstream of Loch Quoich where the returning fish could be kept in pens so their eggs and fertilised ova could be taken to a fish hatchery which NoSHEB operated in Invergarry. Amazingly, this process had to be initiated two years before work could start building the dam, to ensure that none of the young salmon which had been bred upstream were trapped there.
The Great Glen Scheme produces enough electricity every year to power more than 140,000 homes, more than enough for a city the size of Coventry.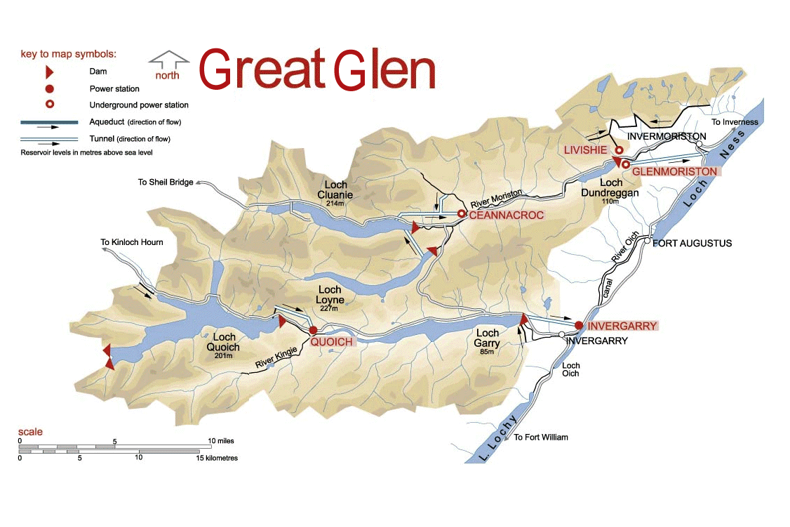 Power stations
Power stations

Capacity

(MW)

Gross head (metres)

Average annual output

(million units)

Year completed

Ceannacroc

20

90

87

1956

Livishie

15

259

29

1962

Glenmoriston

37

93

15.3

1953

Quoich

18

101

87

1955

Invergarry

20

53

78

1956

Mucomir

1.7

7

6.6

1962
Major dams
| | | | | |
| --- | --- | --- | --- | --- |
| Major dam | Type | Length | Height | Completed |
| Cluanie | Mass gravity | 674 | 40 | 1956 |
| Loyne | Mass gravity | 549 | 22 | 1956 |
| Dundreggan | Mass gravity | 140 | 18 | 1957 |
| Quoich | Rock fill with articulated concrete face | 320 | 38 | 1956 |
| Invergarry | Mass gravity | 47 | 17 | 1956 |