Tummel hydro scheme
The Tummel scheme stretches from Dalwhinnie, famous for its whisky distillery, in the north, to the remote Rannoch Station in the west, and the town of Pitlochry in the east.
TUMMEL BRIDGE POWER STATION REFURBISHMENT
The iconic Tummel Bridge Power Station is currently undergoing a comprehensive refurbishment to ensure it can remain part of Scotland's energy mix for generations to come.
SSE Renewables has completed the first stage of repowering works at Tummel Bridge. Two turbines, which had been in operation since the power station started producing energy in 1933, have been removed and preparatory works to accommodate new machinery have been completed.
The installation of two bespoke turbines will take place in 2023. The new energy efficient turbines, specially designed to fit the available space at Tummel Bridge power station, will increase the facility's potential output from 34 to 40 Megawatts.
Transportation of mechanical components to the Tummel Bridge site began in February 2023. Some components are required to travel under convoy to ensure their safe and efficient delivery.
Larger components will be transported under convoy along the A9 to Ballinluig, join the A827 for a short period, then use the unclassified road to the North of the River Tay from Pitnacree, through Strathtay, to the B846 at Weem. Most vehicles using this route will travel under escort.
Click here to view a map of the delivery routes
Schedule of escorted deliveries:
Wednesday 5 July
Friday 28 July *
Thursday 3 August
Monday 4 September (two delivery movements)
Friday 8 September *
Routine deliveries will travel to and from Tummel Bridge via the B8019 "Queens View" route or via the B846 from Aberfeldy.
* Deliveries marked in bold will travel under police escort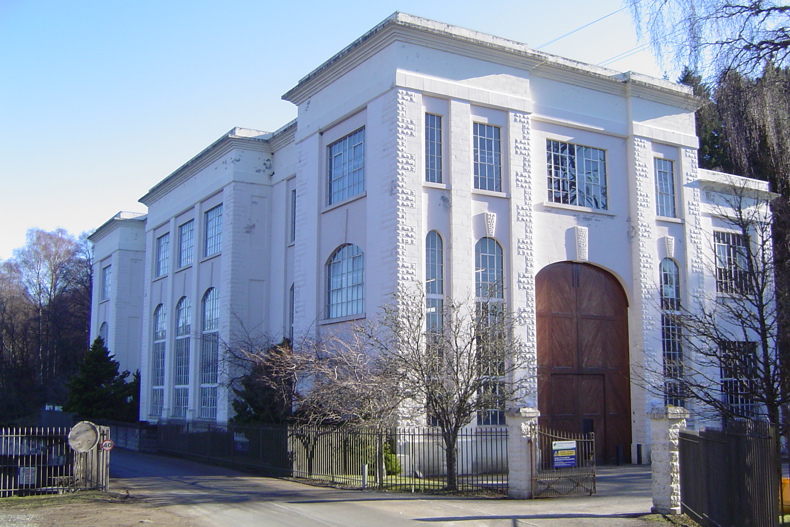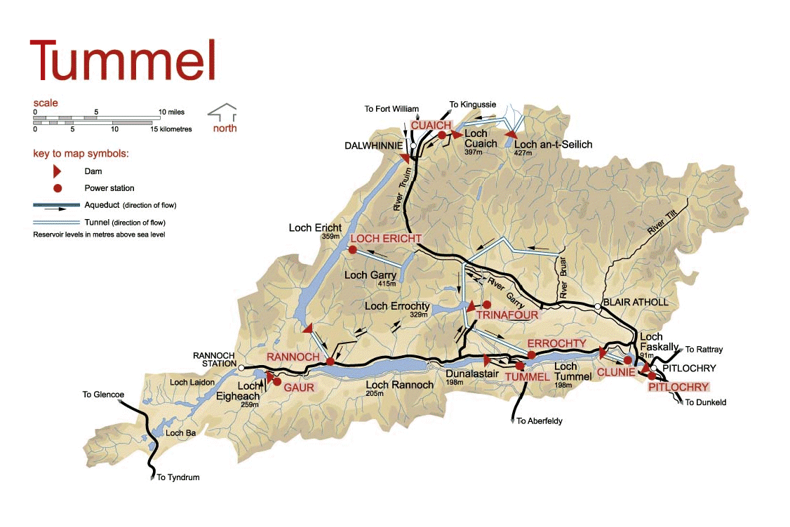 Power stations
Power stations

Capacity

(MW)

Gross head (metres)

Average annual output

(million units)

Year completed

Gaur

7.5

30

21

1953

Cuaich

2.5

27

7

1959

Loch Ericht

2.2

55

12

1962

Rannoch

44

156

187

1930

Tummel

34

53

142

1933

Errochty

75

186

103

1957

Trinafour

0.5

91

3

1959

Clunie

61

53

186

1950

Pitlochry

15

15

60

1950
Major dams
| | | | | |
| --- | --- | --- | --- | --- |
| Major dam | Type | Length | Height | Completed |
| Gaur | Concrete gravity | 110 | 13 | 1958 |
| Errochty | Buttress | 501 | 49 | 1957 |
| Clunie | Mass gravity | 116 | 21 | 1951 |
| Pitlochry | Mass gravity | 145 | 16 | 1951 |