The Breadalbane scheme is set in the mountainous region around Loch Lyon, Loch Tay and Loch Earn in Perthshire.
The deep glaciated valleys, steep slopes and the heavy rainfall and snowfall in this region all combine to make it ideal for hydro electricity generation. Work began on the scheme in 1951, the year that Dennis the Menace first appeared in The Beano comic. The scheme comprises three main sections with seven major power stations, five dams and almost 100 kilometres of underground tunnels, some of which are four metres in diameter.
By the late 1950s, a high degree of friendly rivalry between contractors had resulted in more efficient tunnelling methods. In October 1955 a world record was set by three crews of 14 men working eight-hour shifts, for driving 170 metres in just seven days. As tunnelling techniques continued to advance, by June 1957 the average speed of tunnelling was equal to that world record set less than two years earlier.
But all this tunnelling was not without its risks. Contractors working on the Lochay tunnel encountered a major fault about two kilometres along its length which allowed water to rush into the tunnel at a rate of over 200,000 litres an hour, flooding 1,500 metres of the tunnel. All this water had to be pumped out and the tunnel diverted and reinforced to cross the fault at right angles.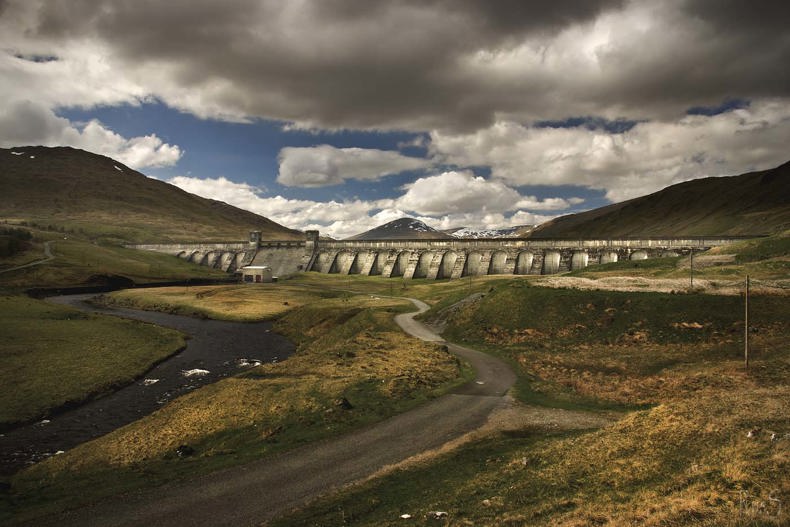 Thankfully, Scotland is not well-known for earthquakes. But the designers of some of the hydro dams built in Scotland had to take the risk of such an event into account. One dam thought to be at risk was Lednock Dam in the Breadalbane scheme, due to its close proximity to the Highland Boundary Fault. As recently as August 2017 the British Geological Survey recorded a magnitude 3.8 tremor in the Moidart area, the biggest earthquake in the region since a magnitude 4.1 earthquake near Oban in September 1986.
Lednock Dam is also believed to be the first major construction in the UK where ash from blast furnaces was mixed with cement to make the concrete. Cement was still in short supply after World War Two, and this reduced the amount required. It also resulted in stronger concrete which was more frost resistant and better able to withstand the corrosive effects of the acidic Scottish water. Despite all the challenges facing the teams building the Breadalbane scheme, construction was largely completed in just nine years.
Today Breadalbane generates enough electricity to power around 125,000 homes, the equivalent of a city the size of Newcastle-upon-Tyne.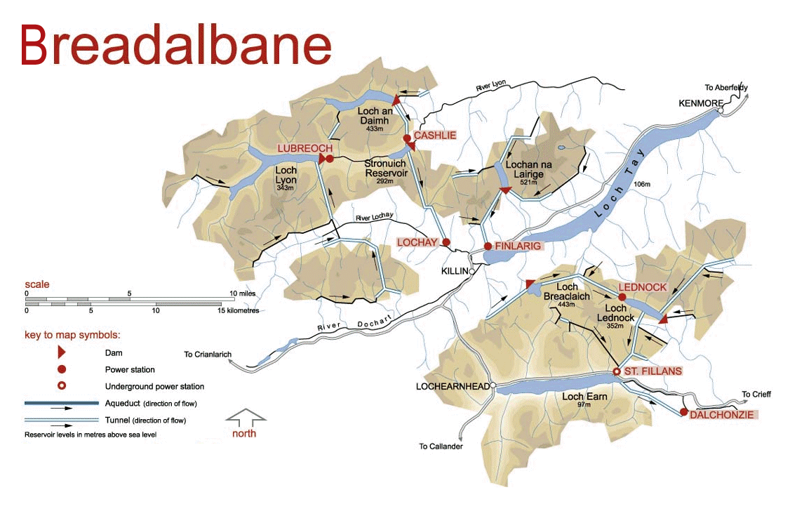 Power stations
Power stations

Capacity

(MW)

Gross head (metres)

Average annual output

(million units)

Year completed

Lubreoch

4

30

16

1958

Cashlie

11

142

26

1959

Lochay

45

180

175

1958

Finlarig

16.5

415

76

1955

Lednock

3

91

4

1961

St Fillans

16.8

253

75

1957

Dalchonzie

4

29

15

1958
Major dams
| | | | | |
| --- | --- | --- | --- | --- |
| Major dam | Type | Length | Height | Completed |
| Lawers | Massive buttress | 344 | 42 | 1956 |
| Breaclaich | Rock fill with concrete facing | 433 | 27 | 1960 |
| Lednock | Diamond-headed buttress | 290 | 40 | 1957 |
| Lubreoch | Massive buttress | 530 | 39 | 1958 |
| Giorra | Massive buttress | 463 | 35 | 1959 |