Foyers hydro scheme
The current Foyers Power Station operates quite differently to conventional hydro electric power stations. Foyers hydro scheme consists of one pumped hydro power station and one hydro power station and one major dam.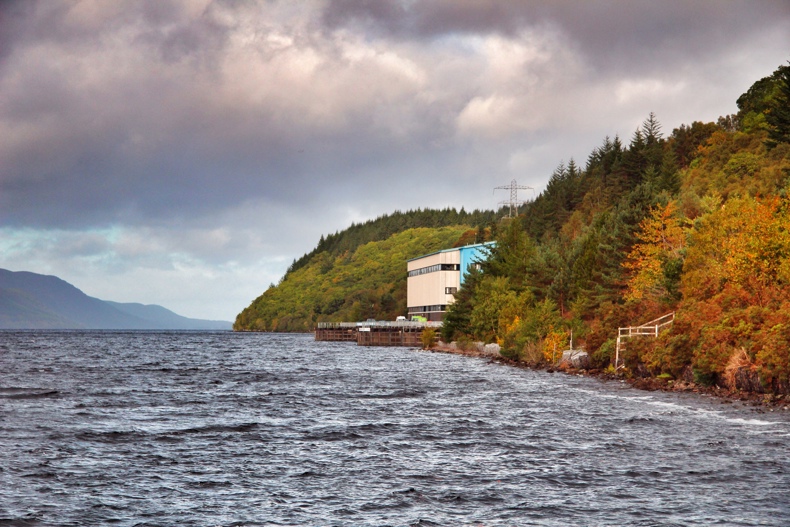 What makes the new Foyers Power Station special, is that it uses a technique called 'pumped storage'. It takes water held in Loch Mhor to drive two 150 megawatt reversible pump-turbines to generate electricity at times of high demand, and uses cheaper 'off peak' electricity to pump water from Loch Ness back up to Loch Mhor ready to be reused when demand is high.
It was intended that Foyers would make use of surplus electricity generated by Hunterston B nuclear power station in North Ayrshire, once the latter began operating in 1976.
Each of Foyers two pump-turbines weighs over 900 tonnes. The rotating part of each weighs over 300 tonnes. When generating at full output each machine discharges over 200 tonnes of water per second into Loch Ness – and when pumping they are capable of lifting over 160 tonnes of water per second up to Loch Mhor.
Amazingly, Foyers can begin generating electricity from a standing start in under two minutes. Alternatively, the machine sets can be spun in air to act as 'spinning reserve', in which case electricity can be supplied in less than 30 seconds.
In an average year, Foyers generates enough electricity to supply about 68,000 homes – equivalent to a city the size of Cambridge.
Power stations
Power stations

Capacity

(MW)

Gross head

(metres)

Average annual output

(million units)

Year completed

Foyers pumped storage

300

179

213

1974

Foyers falls

5

108

8

1968
Major dams
| | | | | |
| --- | --- | --- | --- | --- |
| Major dam | Type | Length | Height | Completed |
| Loch Mhor | Masonry-faced concrete gravity | 210 | 7 | 1896 |