In 2009, the first major hydro electric power station to be built in Scotland for almost 30 years, Glendoe on the eastern shore of Loch Ness, began generating electricity.
Engineers began planning the Glendoe project as far back as October 2001. Formal construction work at the site started over four years later, in January 2006. It involved constructing a 960 metre-wide dam on the River Taff to create a new reservoir some 600 metres above the power station, giving it the greatest head of any hydro electric power station in the UK.
An 8.6 kilometre tunnel connects the reservoir to the power station that is built 250 metres below ground level, about two kilometres from the banks of Loch Ness. Although some of the tunnel was created using traditional drill and blast techniques that would have been familiar to the Tunnel Tigers of the last century, much of its length was bored out using a massive tunnelling machine named Eliza Janeby local schoolchildren.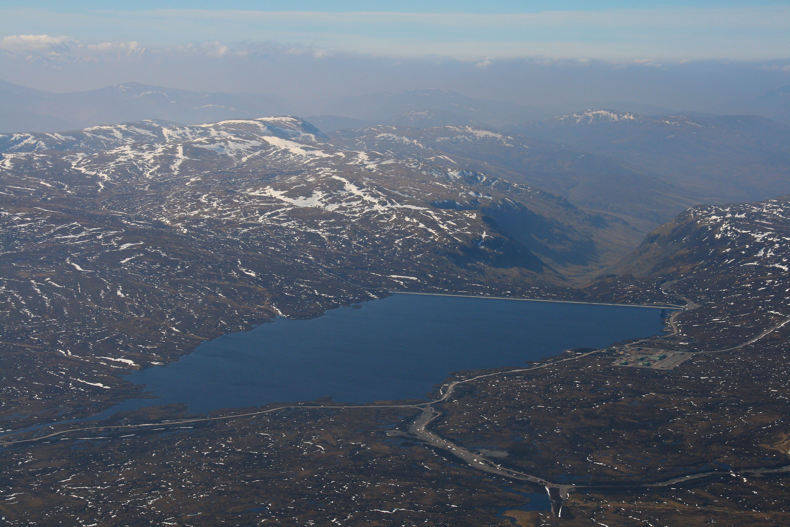 At its height, over 750 workers were employed on the scheme. And, as in the days of schemes constructed in the decade following World War Two, those workers came from many different countries across Europe and beyond. Most lived in specially constructed camps high in the hills above Loch Ness, braving brutal weather conditions in winter, and the fearsome Scottish midges in the summer.
The whole project was completed ahead of schedule and was opened by Her Majesty The Queen and HRH The Duke of Edinburgh, in June 2009 – some 57 years after he had opened Fasnakyle Power Station in 1952.
Unfortunately, later that year a rock fall blocked the tunnel, stopping generation until a bypass tunnel was constructed. Generation started again in the summer of 2012.
Today, the main operating feature of Glendoe is its ability to react quickly to changing demand for electricity, being able to reach full output in just 90 seconds.
Glendoe provides enough electricity annually to supply around 56,000 homes, the equivalent to a town the size of Gravesend.
Power stations
Power Stations

Capacity

(MW)

Gross head (metres)

Average annual output

(million units)

Year completed

Cuileig

3

143

12

2001

Kingairloch

3.5

141

14

2004

Glendoe

100

600

175

2009/2012
Major dams
| | | | | |
| --- | --- | --- | --- | --- |
| Major dam | Type | Length | Height | Completed |
| Glendoe | Concrete faced rock fill | 960 | 36 | 2008 |