Coire Glas is a hydro pumped storage scheme with a potential capacity of up to 1500MW. It is the first large scale pumped storage scheme to be developed in the UK for more than 30 years.
How pumped storage works:
Pumped storage schemes involve two bodies of water at different heights. During periods of low demand and/or surplus generation, electricity is used to pump water from the lower loch to the upper reservoir, storing energy. The energy is released by using the water to generate hydro-electricity at a time when demand is high and/or other variable generation is low. Coire Glas is an excellent pumped storage site with a large lower reservoir (Loch Lochy) and a significant elevation of more than 500m between the lower and the new upper reservoir site over a relatively short distance.

A revised application to increase the scheme's proposed capacity from 600MW to 1500MW was approved by the Scottish Government in October 2020. This change will allow us to maximise the potential of the site as the UK moves towards a net zero carbon energy system by 2050.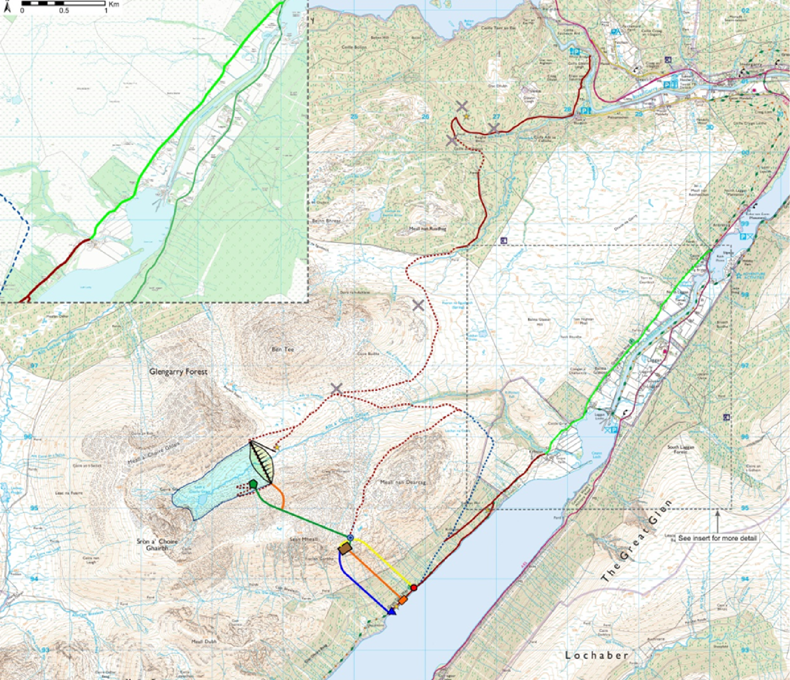 WHY PUMPED STORAGE
Challenges:
Electricity demand is expected to grow with the move to electrify transport, heat and industry.

The grid has shifted from being driven by fossil fuels to a lower low carbon generation mix. Increasing further levels of low cost renewables in the UK will provide a plentiful but weather dependent level of generation

The UK electricity network has to adapt to meet the decarbonisation challenge
Responses:
Pumped storage is a proven technology that is well placed to help ensure a secure supply of electricity across the UK. This is particularly true for an electricity system with high levels of renewable generation.

Pumped storage has a fast response time, which means that it can respond quickly grid changes and support grid stability. This could be needed in case of an unexpected plant or interconnector failure, as cover for variable renewable generation, or to respond to sudden increases in demand. It can start generating electricity in less than 30 seconds when in a spinning cycle and within just 2 minutes from rest.

Pumped storage is also the most efficient of currently available large scale technology, at up to 80% total efficiency. It is able to store and flexibly provide reliable electricity over an extended period of time. Once developed, pumped storage has a long operational life, with low running costs.
WHY COIRE GLAS
Coire Glas, like all hydro pumped storage schemes, will be a major civil engineering construction project and has an estimated construction time of 5-6 years. A project of this scale has a high initial upfront construction cost but low operational costs and a very long operational life (50 years +). Of the project estimated cost of over £1 Billion, more than 70% is in the civil engineering structures. This investment therefore will be spent directly in the UK and the specifically in the Scottish Highlands with the associated job and other benefits that will bring.

Coire Glas will have a fast response and a large storage capacity. This means that the scheme can provide the minute to minute, hour to hour energy balancing services to the grid but also sustain these services for long periods, up to days at a time if needed.
In the event of an unexpected failure elsewhere on the UK grid, Coire Glas can provide the necessary input of large amounts of energy to support the network.
REDUCTION IN THE DAILY COSTS TO THE CONSUMER
Reduces peak wholesale prices of electricity

Reduction in the cost of constraining excess renewable generation

Reduction in the costs of managing transmission system constraints

Reduction in the cost for network stability and security management
WIDER BENEFITS TO SOCIETY
Avoided investment costs for other low carbon generation capacity

Reducing and delaying the need for capacity upgrades to the transmission network

Helping ensure low carbon value is retained in the UK by reducing low price exports and high price imports through interconnectors

Investment in a large civil engineering works will boost the UK and Scottish economies in this critical time
BENEFITS TO THE ELECTRICITY NETWORK
Providing much need rotating inertia to help with frequency regulation

Dynamic fault current injection for fault protection systems

Fast acting and large scale dynamic load following

Adding resilience to the system with large Blackstart capacity for re-energisation in times of blackout
SUMMARY
Coire Glas once operational will bring a wide range of benefits and savings to the electricity system and UK consumer.
In the drive to a net zero carbon electricity system, the UK government has created mechanisms to de-risk other electricity infrastructure investments to drive forward the low carbon agenda such as Contracts for Difference for Nuclear power, offshore wind, onshore wind, and cap and floor support for interconnectors. There is currently no mechanism to de-risk electricity storage invesment.
We are working proactively with Government and regulatory bodies to explore opportunities for securing investment in Coire Glas and other long term storage to secure the benefits to UK consumers and society that they bring.

| | |
| --- | --- |
| Title | Values |
| Location | South west of Laggan Locks near Loch Lochy, Highland |
| Ownership | SSE |
| Proposed MW capacity | 1500MW pumped storage |
| Contact | |
PLANNING DOCUMENTS