Kingsmountain and Dunneill
Through the Kingsmountain and Dunneill Wind Farms in Co. Sligo we make around €40,000 per year available for local projects promoting energy efficiency and social sustainability through our Community Fund programme.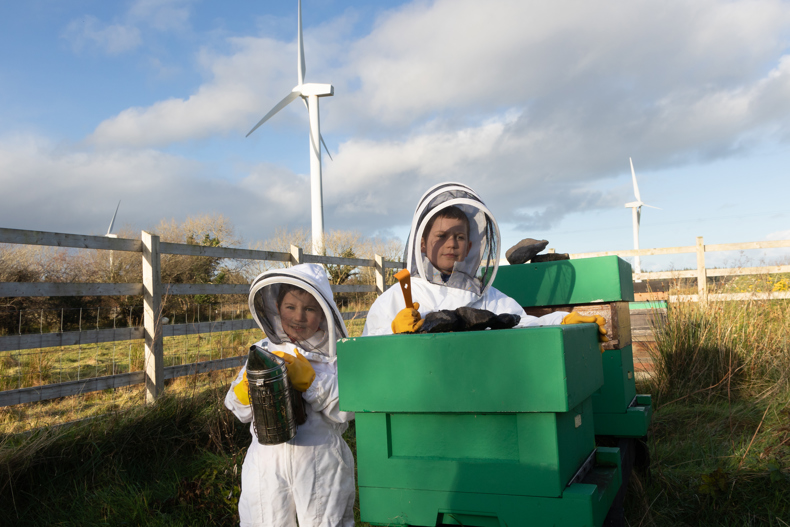 In 2021, SSE Renewables awarded over €42,000 to 35 community groups in Co. Sligo through its Kingsmountain and Dunneill Community Fund.
Applications to the fund focused on rebuilding communities post Covid-19. In recognition of the impact of the pandemic, the funds in 2021 were re-purposed to support running costs as groups were unable to generate funds to cover these costs while restrictions were in place.
One project receiving funding this year was the Dromore West Beekeepers, to establish butterfly nurseries and run workshops for school children, parents, and teachers from national schools in the area.
Jude Walsh, Secretary, Dromore West Beekeepers, commented: "This year's funding from SSE Renewables Kingsmountain and Dunneill Community Fund will enable us to run a national school-focused workshop, where we hope to bring parents, children, and teachers together at an after-school event that is within Covid-19 guidelines. We also hope to establish butterfly nurseries in these schools and provide them with the necessary knowledge and equipment to watch butterflies develop and hatch over approximately three weeks in early to mid-Summer. Overall, our main aim is to educate and empower beekeepers in Dromore West and the surrounding areas to become better beekeepers."
Other initiatives supported by the Kingsmountain and Dunneill Community Fund include:
Installing energy-efficient sports lighting at St. Patrick's GAA Club
Installing LED lighting for Scoil Chriost Rí Enniscrone
The replacement of outdoor seating at Skreen Dromard Development Clg
Installing a disabled toilet at Skreen Parochial Hall
Installing a new water heating system at Easkey GAA
Installing windows for Beltra Market Hall
Contributions towards outdoor classrooms for St. Mary's National School and Killeenduff National School
Contributions to support covid measures and extra equipment for Eoghan Rua Ladies FC
Building repair works for Skreen Select Vestry
Installing defibrillators at Kilglass/Enniscrone United FC, Templeboy Aughris Rural Action and Skreen Dromard Beltra CFR
Contributions towards a polytunnel for Stokane National School and Corballa National School
Contributions towards the running costs for Dromore West Community Council
SSE Renewables have been donating to local projects in the vicinity of the wind farm since 2004, and the latest contribution in 2021 brought the total amount awarded in the region to almost €543,000.