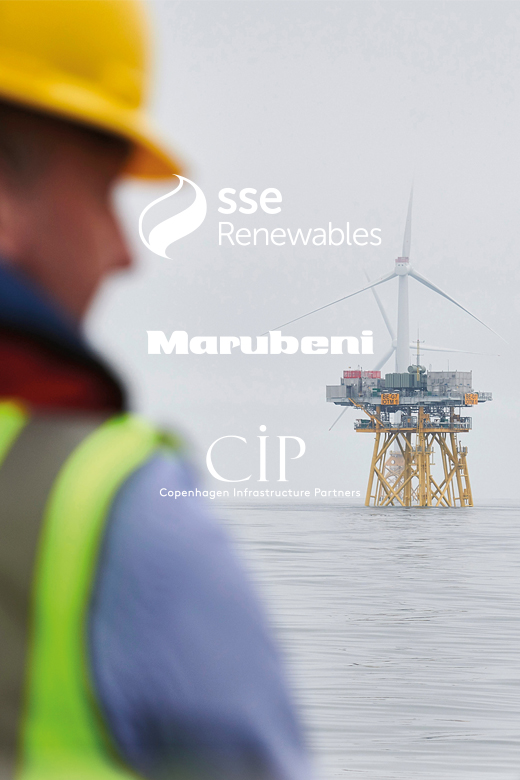 Introducing the partnership
SSE Renewables Limited (SSER), Marubeni Corporation (Marubeni), and Copenhagen Infrastructure Partners (CIP) (the Project Partners) are combining their unparalleled local experience and extensive global expertise in the development of offshore wind farms to deliver significant and enduring social, economic, and decarbonisation benefits to Scotland.
This unique and powerful combination of floating offshore wind experience coupled with local knowledge and global expertise, underpinned by a firm commitment to sustainability, places the Project Partners in an unrivalled position to deliver their ScotWind project.
Significant works have already been completed to ensure that the project can be delivered at speed to respond to the climate emergency.
ScotWind Success
The Project Partners were delighted to be successful in the outcome of the ScotWind leasing round winning the rights to develop what will become one of the world's largest floating offshore wind farms off the east coast of Scotland. The 858 square kilometres of seabed in the E1 Zone in the Firth of Forth off the Angus Coast is one of the largest lease areas to be offered by Crown Estate Scotland to any bidder. The lease area has average water depths of 72m, making the site suitable for the deployment of floating offshore wind turbines to deliver up to 2.6GW of new installed capacity – enough to be capable of powering almost 4.3 million Scottish homes and offsetting around 5 million tonnes of harmful carbon emissions each year. The Project Partners will now continue progressing the development of the project to target first generation before the end of the decade.
SSE Renewables, Marubeni Corporation and Copenhagen Infrastructure Partners
A compelling consortium with the local experience and global expertise to support the Scottish Government's ambition to deliver 10 gigawatts of offshore wind in Scotland.
Our vision for Scotland
The Project Partners are committed to delivering an ambitious plan to deliver a step change in the supply chain and economic benefits for Scotland. They will accelerate the energy transition and position Scotland as a global leader in floating offshore wind.
Our experience and capabilities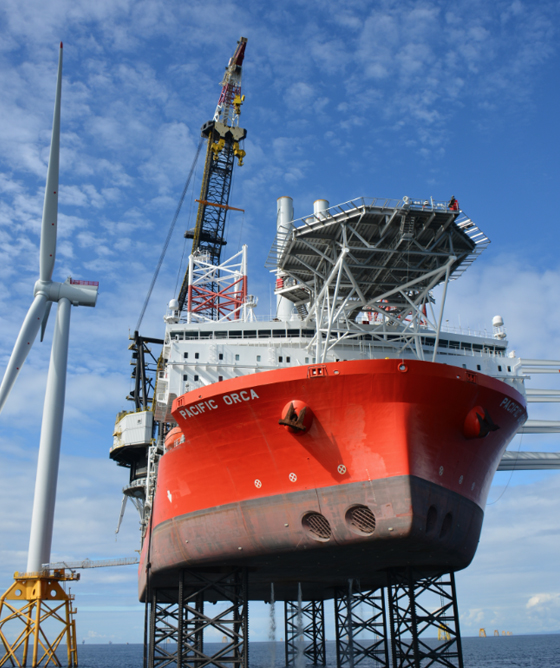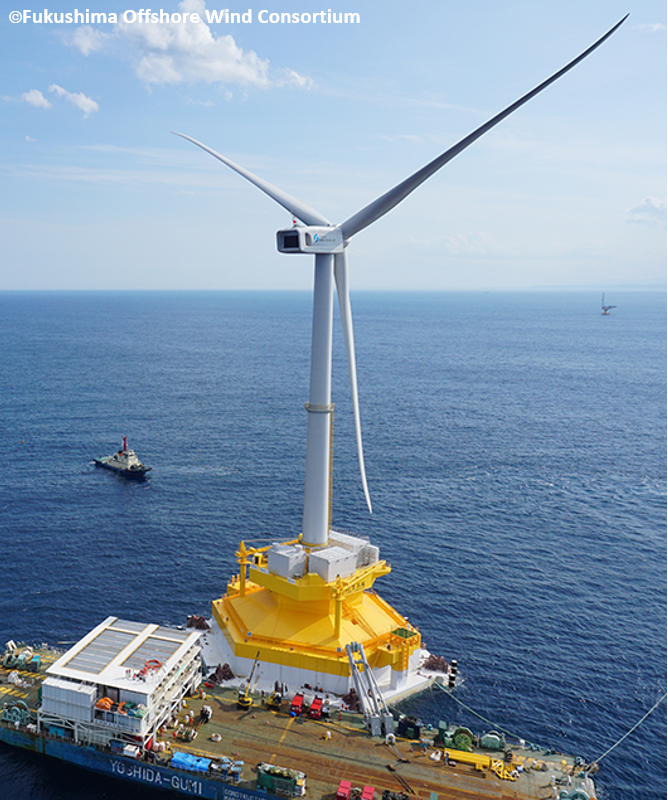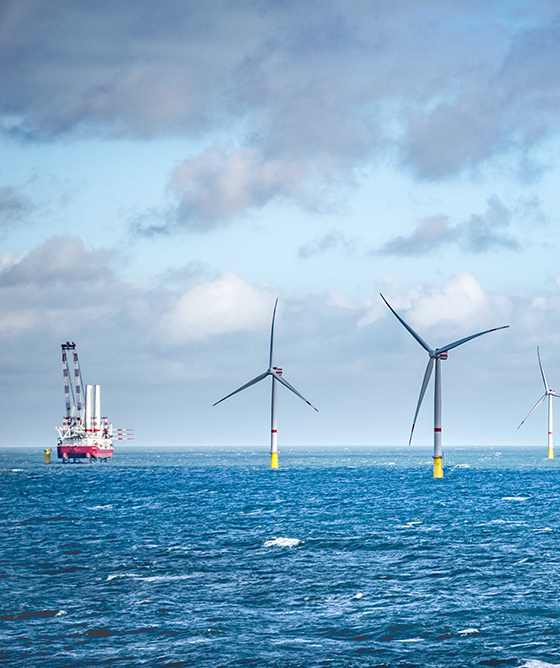 The Project Partners have significant first-hand experience developing offshore wind projects, including the 588MW Beatrice Offshore Wind Farm (Beatrice), Scotland's first commercial-scale offshore wind farm, and the 1,075MW Seagreen 1 Offshore Wind Farm (Seagreen 1), which is currently under construction. This experience, coupled with a combined global portfolio of more than 27GW of capacity under development, demonstrates an incomparable combination of local experience and global expertise.
SSE Renewables
SSE Renewables is a leading developer, owner and operator of renewable energy across the UK and Ireland, with a portfolio of around 4GW of onshore wind, offshore wind and hydro. Part of the FTSE-listed SSE plc, its strategy is to drive the transition to a net zero future through the world class development, construction and operation of renewable energy assets.
SSE Renewables is building more offshore wind energy than any other company in the world right now. It is currently constructing the world's largest offshore wind farm, the 3.6GW Dogger Bank Wind Farm in the North Sea, a joint venture with Equinor and Eni, as well as Scotland's largest offshore wind farm, the 1.1GW Seagreen Offshore Wind Farm in the Firth of Forth, which is a joint venture with TotalEnergies. It also has the largest offshore wind development pipeline across the UK and Ireland at around 7GW, of which around 1.5GW is already in construction and nearly 800MW is fully consented.
SSE Renewables owns nearly 2GW of operational onshore wind capacity with a development pipeline of over 1GW under development. Its 1,459MW hydro portfolio includes 300MW of pumped storage and 750MW of flexible hydro. Its operational offshore wind portfolio consists of 487MW across two offshore joint venture sites, Beatrice and Greater Gabbard, both of which it operates on behalf of its asset partners.
SSE Renewables is a Principal Partner to the UK Government in the run up to and during the COP26 UN climate summit in November 2021.

Marubeni
Marubeni Corporation is the Tokyo Stock Exchange listed conglomerate with extensive interests in power generation and renewable energy. Marubeni has built considerable offshore wind experience since its investment into UK offshore wind in 2011 as a first Japanese IPP developer. Marubeni is also one of the shareholders of Seajacks and has a wide range of offshore wind industrial value chain knowledge. As of June 2021, Marubeni owns a total gross capacity of over 38GW and 11.8GW on a net equity basis of power plants globally.
Marubeni brings a wealth of sector experience of delivering floating offshore wind, including leading floating offshore wind demonstration projects in Japan with five different floating foundations.
In September 2018, Marubeni announced to double the scale of renewable energy exposure from the current 10% to 20% of total net generating capacity by 2023. Further, in March 2021, Marubeni has set a goal to strive for net-zero greenhouse gas emissions from the group by 2050. To achieve this goal, Marubeni has formulated action plans which include halving its coal generation capacity by 2025.
Copenhagen Infrastructure Partners (CIP)
Copenhagen Infrastructure Partners (CIP) is a fund management company specialised in offering tailor-made investments in energy infrastructure assets globally within renewables and the greenfield segment. CIP manages eight funds and has approximately EUR 16 billion under management. CIP was founded in 2012 by senior executives from the energy industry in cooperation with PensionDanmark. Today CIP's funds have approximately 100 international institutional investors from the Nordics, Continental Europe, the UK, Israel, Asia, Australia, and North America and multi-lateral organisations e.g. EIB.
CIP are a trusted partner in projects across a wide range of technologies including offshore wind, onshore wind, solar PV, biomass and energy-from-waste, transmission and distribution, reserve capacity and storage, and other energy assets like Power-to-X. They are known for execution certainty, with projects completed on budget and to specification.
In the north of Scotland, CIP is developing both a floating demonstration project up to 10MW and a floating wind farm with a capacity of up to 100MW off the coast of Dounreay in the Pentland Firth. Copenhagen Offshore Partners (COP) is managing the development, design, EPC and O&M of these projects on an exclusive basis for CIP and provides resources and know-how to the ScotWind Project Partners.
Capacity of existing Scottish offshore projects (MW)
000
Floating wind development portfolio, worldwide (MW)
000
Supported community projects
000