Back to overview
ScotWind partnership to invest £10m in Education, Research and Communities10 Dec 2021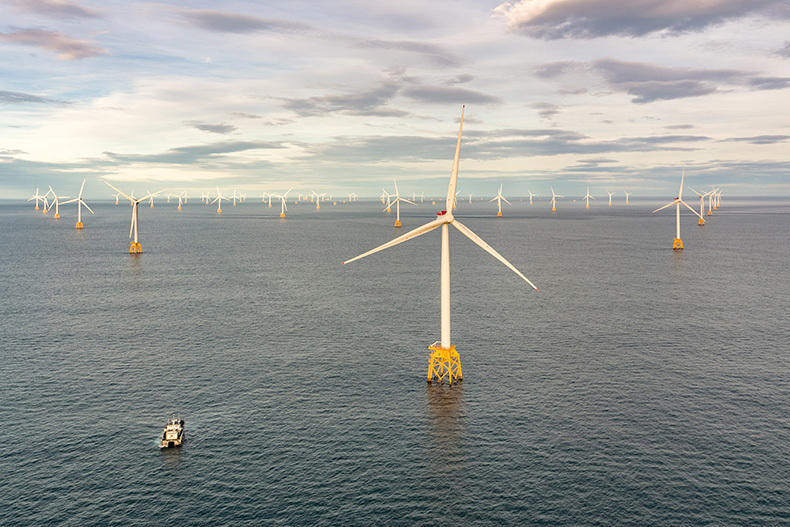 The leading renewable energy developer in Scotland, SSE Renewables, along with partners Japanese conglomerate Marubeni Corporation (Marubeni) and Danish fund management company Copenhagen Infrastructure Partners (CIP) have announced their ScotWind partnership will establish a £10 million education, research and community benefit fund.
The SSE Renewables-Marubeni-CIP partnership is eagerly awaiting the results of Crown Estate Scotland's seabed leasing process expected in January 2022.
Now, the leading development consortium has announced that should its ScotWind bids be successful, the partnership will provide a fund totalling £10m to promote advances in Scottish research, education and community wellbeing.
The fund would be used to support research into enabling initiatives to aid consenting processes and help unlock the potential of Scotland's offshore wind sector; to promote STEM learning and apprenticeships to help inspire and train the skilled people needed to deliver projects; and to directly support social, wellbeing and environmental projects that benefit local communities.
This fund would be in addition to the £100m fund already announced by this partnership in September to directly invest in companies in the Scottish supply chain should the partnership's ScotWind bids be successful. This supply chain fund would support new entrants to the sector and allow those already established to upscale their facilities to increase their competitiveness.
Paul Cooley, Director of Capital Projects for SSE Renewables, said:
"This additional £10m commitment from our ScotWind partnership shows that SSE Renewables and our partners are willing to put our money where our mouth is to provide an important boost to Scotland's education, research and community benefit from the country's next generation of offshore wind farms. This funding programme will be able to advance the development of key skills for our industry by promoting STEM careers in schools and supporting apprenticeship programmes, support research to help Scotland's renewable ambitions thrive, and provide much-needed funding to help improve the welfare of communities.
"We will draw on our local knowledge allied to our global experience to ensure this funding can deliver optimum value for all stakeholders. This includes building on our existing memorandum of understanding with University of Highlands and Islands to work with them to develop skills, employability and research activity that will deliver meaningful and long-lasting benefits to Scotland."
Hisafumi Manabe, President & CEO of Marubeni Offshore Wind Development Corporation, said:
"Our industry has always shown incredible resilience in overcoming any barriers to the development of technology and deployment of capacity.
"Research has played an important role and that is why part of this fund will be used to work with experts to develop research in key areas such as ornithology to not only assist project development but to also help government with consenting processes."
Michael Hannibal, Partner at CIP, said:
"It is important that we recognise that we will become part of the communities that are close to the onshore and offshore infrastructure for our projects.
"Part of this £10m fund will be to support community initiatives and enhance their social wellbeing and sustainability. Our partnership is fully committed to Scotland's future and has the credibility and capability to deliver."
The detailed mechanics regarding deployment and management of the £10 million education, research and community benefit fund will be set out by the SSE Renewables-Marubeni-CIP consortium should the partnership be successful in the upcoming results of the Crown Estate Scotland leasing process in January 2022.
About the SSE Renewables-Marubeni-Copenhagen Infrastructure Partners (CIP) consortium
The highly-credible SSE Renewables-Marubeni-Copenhagen Infrastructure Partners (CIP) consortium has unrivalled local and global experience as well as unparalleled technical and environmental expertise, making it uniquely placed to deliver on Crown Estate Scotland's ScotWind goal of securing around 10GW of new offshore wind projects in Scottish waters.
Perth-headquartered SSE Renewables already has an unrivalled track record in Scotland, including the country's largest offshore wind portfolio and is building more offshore wind energy in the world right now than any other company. It includes the 1.1GW Seagreen Offshore Wind Farm in the Firth of Forth which will be Scotland's largest, and the world's deepest, fixed-bottom offshore wind farm when complete in 2023. Together with CIP, SSE Renewables also successfully co-developed and constructed the operational 588MW Beatrice Offshore Wind Farm, the first large-scale deep-water offshore wind development in Scotland. In the north of Scotland, CIP has outlined plans to build a floating wind farm with a capacity of up to 100 MW off the coast of Dounreay in the Pentland Firth. SSE Renewables' parent company, FTSE-listed SSE plc, has contributed more than £1billion in GVA economic contribution to Scotland in the last year and employs over 4,500 people.
Marubeni brings a wealth of sector experience of delivering floating offshore wind, including leading floating offshore wind demonstration projects in Japan with five different floating foundations. CIP has an international footprint with vast experience of delivering offshore wind across continents and has opened a global floating offshore wind competence centre in Edinburgh.
These capabilities and commitments, coupled with a combined worldwide development portfolio of more than 27GW, demonstrate the SSE Renewables-Marubeni-CIP partnership's extensive and successful track record of delivery in offshore wind, both locally and globally.