Back to overview
Viking Wind Farm project celebrate as final turbine components roll on to site03 Aug 2023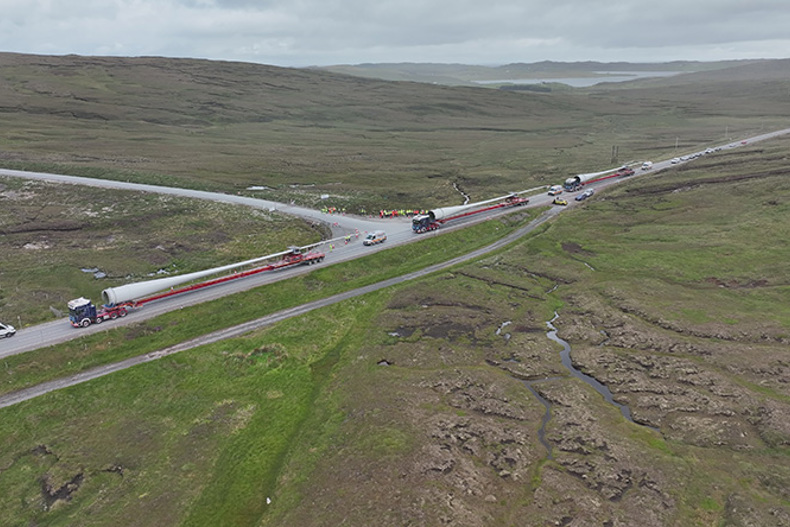 After six months of deliveries, the final convoy of wind turbine components for the Viking Wind Farm in Shetland took place on Thursday 3 August, marking a major milestone for the project.
Over 280 convoys were successfully completed since getting underway in February, which has seen over one thousand turbine components safely transported from Lerwick Port to Viking Wind Farm site.
A specialist team from Police Scotland co-ordinated the convoys, with the turbine manufacturer Vestas being responsible for safely managing the process of getting the components from their factories to Lerwick and then taking their final journey to the Viking site.
The installation of 103 Vestas V117 turbines which will operate in the 4.3 MW power mode continues to make good progress with 83 turbines now fully erected. The project team have worked at pace in some very challenging conditions, with all the components on site, all turbines are expected be installed by autumn 2023.
Heather Donald, SSE Renewables' Onshore Renewables Development and Construction Director, said:
"It's great that we've reached this milestone in the project with convoys completing. It takes a lot of planning and organisation to get to this point.  It's been a huge team effort from Police Scotland, Vestas and McFadyen's Transport Ltd, a specialist haulage company based in Scotland, to complete this phase of the project with minimal impact on motorists.
"We would like to thank the local community for their patience and support over the past few months whilst we transported turbine components from Lerwick Port to mainland Shetland."
Robert Yeates, Lead Project Manager with Vestas said:
"To see the conclusion of convoys is a proud moment for everyone that has been involved in the programme over the last six months. A lot of planning was involved prior to the convoys commencing to ensure we did everything possible to transport these huge and heavy components to site safely.
"We're grateful to the local community for their patience during this delivery programme. We can now look forward to completing the installation of the turbine components that have been delivered to site."
Once complete in 2024, the 443MW Viking Wind Farm will be capable of producing enough energy to power the equivalent of almost half a million homes, including every home in Shetland – playing a crucial role towards achieving Scotland's net zero targets.