Back to overview
Community Fund and Sponsored Walk Support Tops €1.2 Million for Donegal Communities08 Jul 2021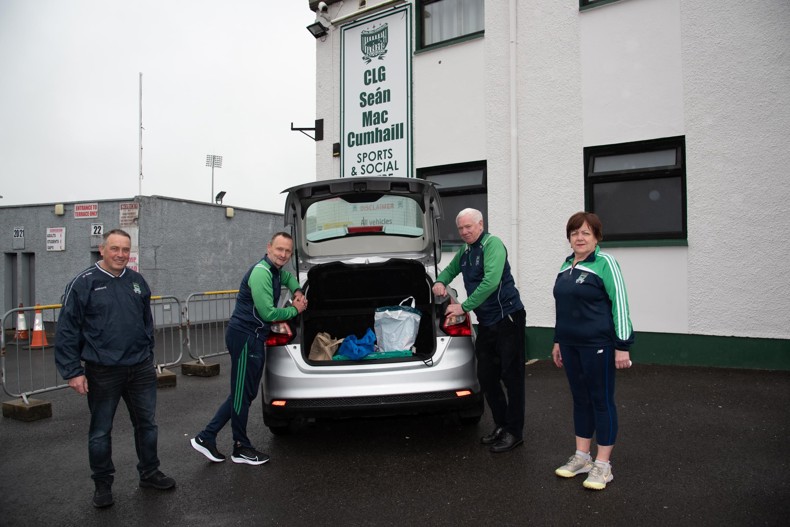 Over €80,000 in community funding was awarded to 56 local groups in the vicinity of Meentycat Wind Farm in Co. Donegal in 2020.
SSE Renewables has now paid over €1.2 million in funding since 2007 through its Community Fund programme which is operated by sister company SSE Airtricity.
Due to the COVID-19 pandemic the annual sponsored walk in September 2020 on Meentycat Wind Farm had to be cancelled. Recognising the hardship this presented for the local groups whose main source of fundraising is this annual sponsored walk, SSE Renewables took the decision to award over €40,000 to the 45 groups that participated in the 2019 sponsored walk.
The company awarded a further €40,000 for 11 local projects through its Community Fund.
Many of the 2020 Community Fund recipients put the funding towards COVID-19 Measures including counselling. Other projects supported include Raphoe Cathedral for improvements to their energy efficiency with a lighting upgrade, Glenfinn GAA club for the installation of a heat pump and solar water storage systems for the club and Cappry Residents Association native Irish tree-planting in their community.
Anne Reynolds, Community Development Officer, said:
"SSE Renewables is really proud to be making a difference in communities in Co. Donegal. We've been presenting communities here with funding since 2007 and this latest funding brings our total funding in the area to over €1.2 million. Through the financial assistance of over €80,000 awarded from Meentycat wind farm within the last few months 46 community groups and 10 schools were able to deliver a range of community support reliefs. energy efficient and sustainable measures. Measures supported include delivery of food for vulnerable families and meals on wheels to the elderly to those unable to leave the house. These were lifesaving services that where valued by each member of the community. Importantly, funding was provided towards running cost for community groups, also allowing community groups to purchase the necessary PPE to be able to provide the COVID-19 response measures and provide that level of safety to the volunteers and that schools could open safely."
SSE Renewable's Meentycat Wind Farm, and the adjoining Culliagh Wind Farm near Lifford, generate over 100MW of clean, green energy combined. The Community Fund is operated by SSE Airtricity on behalf of SSE Renewables.
This year marks a change in the name of the funding programme. Previously promoted under the SSE Airtricity brand, the programme will now be known as the SSE Renewables Community Fund. The change is designed to better link annual funding award payments from SSE's wind farms in Northern Ireland to SSE Renewables, which owns and operates each of the company's wind farm sites.
The next round of Meentycat Wind Farm community funding will open on September 27, 2021 and applications will be accepted until October 15, 2021.
The following groups in Co. Donegal received funding from SSE Renewables Community Sponsored Walk 2020 fund that was cancelled due to COVID-19
| | |
| --- | --- |
| Meentycat Sponsored Walk 2020 | |
| 1st Convoy Girl Guides | Glenswilly National School |
| Adult Day Centre | Killygordon National School |
| Alcohol Forum | Letterkenny Rugby Club |
| Ballybofey United | Meeneragh Resource Centre |
| Ballybofey & Stranorlar Tidy Towns | Meenglass Church of Ireland |
| Ballybofey & Stranorlar Men's Shed | North West Shotokan Karate Club |
| Buthall Tennis Club | Planet Youth |
| Cappry Rovers Ballybofey | Red Hugh's GAA Club |
| Cloghan Childcare Centre | Robert Emmet's GAA Club |
| Convoy ABC Boxing Club | Scoil Bhride |
| Thiepval Memorial Convoy Hall | Sean Mac Cumhaills GAA Club |
| Convoy Community & Environmental Committee | Setanta Hurling Club |
| Donegal Down Syndrome | S.N. Cholmcille, Baile na Finne & Naionra |
| Dooish National School | Stranorlar Presbyterian Church |
| Drumkeen Community Childcare Centre | Twin Town Boxing Club |
| Drumkeen United Football Club | Three Rivers Badminton |
| Finn Community Childcare (TT Child Care Ltd) | St. Mary's GAA Club |
| Finn Valley Ladies Football Club | Swilly Seals Letterkenny Association |
| Finn Valley Rugby Valley | S.N. Taobhóige |
| Gairmscoil | St. Ninians Convoy Parish Church |
| Glencovitte National School | St. Patrick's National School |
| Glenelly National School Com Fund | Welchtown National School |
| Glenfinn Football Club | |
The following groups in Co. Donegal received funding from the 2020 SSE Renewables Community Fund COVID-19 Measures and for a variety of energy efficient and sustainable projects
| | |
| --- | --- |
| Alcohol Forum | Illistrin Football Club |
| Ballybofey Stranorlar Integrated Community | Letterkenny Rugby Club |
| Cappry Residents Association | Raphoe Cathedral |
| Convoy Hall | Sean MacCumhaills GAA |
| ENDpae | Twin Town Boxing |
| Glenfinn GAA | |