OPERATIONS
AND MAINTENANCE FACILITY (OMF)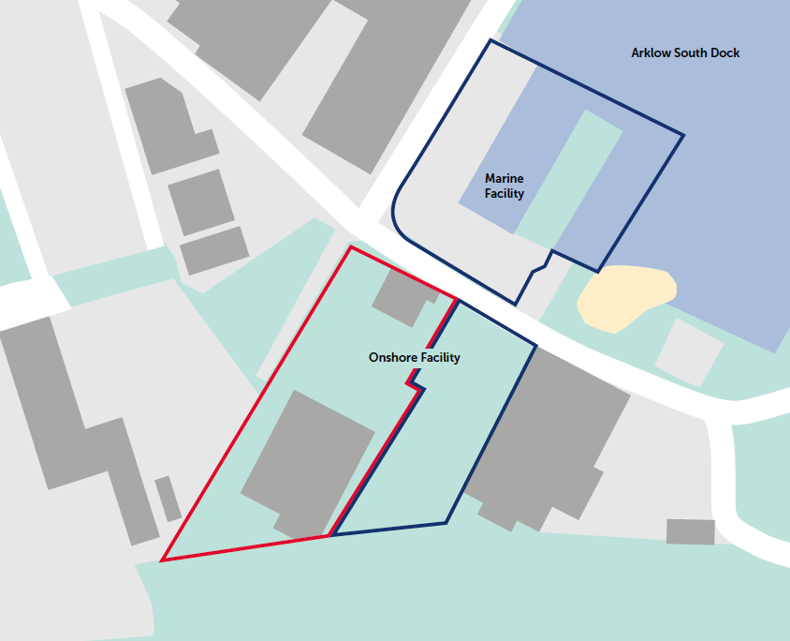 In June 2020, after detailed engineering analysis and engagement with local stakeholders, Arklow Harbour was identified as the preferred location for the wind farm's Operations and Maintenance Facility (OMF).
The OMF will act as the support base for both the onshore and offshore elements of the Arklow Bank Wind Park Phase 2. The base will be used to control, operate and maintain the wind farm its operational lifetime.
The OMF is made up of two primary components which will service the project on a daily basis:
Onshore facility: building with offices for 80 employees, meeting rooms, warehousing, welfare facilities and associated car parking
Marine facility: berthing for the Crew Transfer Vessels used to service the wind farm We have secured an option to purchase an industrial yard (shown in red on this figure) and a separate option to step into an existing lease on adjacent lands owned by Wicklow County Council. Both sites are collectively known locally as "The Old Shipyard". A third option agreement has been secured to step into another existing Lease with Wicklow County Council for an area of quayside in the dock, to facilitate future berthing and pontoons.
Find out more about each component
Have Your Say
We are committed to working with local communities and stakeholders to gather feedback and local information that will inform the project on an ongoing basis. Local knowledge is key to us so that we understand the issues that are important to the community and can refine our plans accordingly.
Have your say