OPERATIONS
AND MAINTENANCE FACILITY (OMF)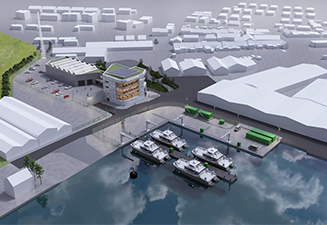 In June 2022, we received planning permission from Wicklow County Council to develop an Operations & Maintenance Facility (OMF) at South Dock, Arklow Harbour. This building will serve as the support base for the wind farm throughout its operational lifetime and will support around 80 long term local jobs. This facility will also incorporate a Sustainable Education Centre (SEC).
You can view our full Operations and Maintenance Facility Public Consultation brochure here
Here you will find a recording of our live Operations and Maintenance Facility public consultation webinar which took place in June 2021 and answers lots of questions about our proposal.
Find out more about each component
Have Your Say
We are committed to working with local communities and stakeholders to gather feedback and local information that will inform the project on an ongoing basis. Local knowledge is key to us so that we understand the issues that are important to the community and can refine our plans accordingly.
Have your say