Back to overview
SSE Renewables appoints Ángel Hernández del Teso to head up Southern Europe operations21 Sep 2022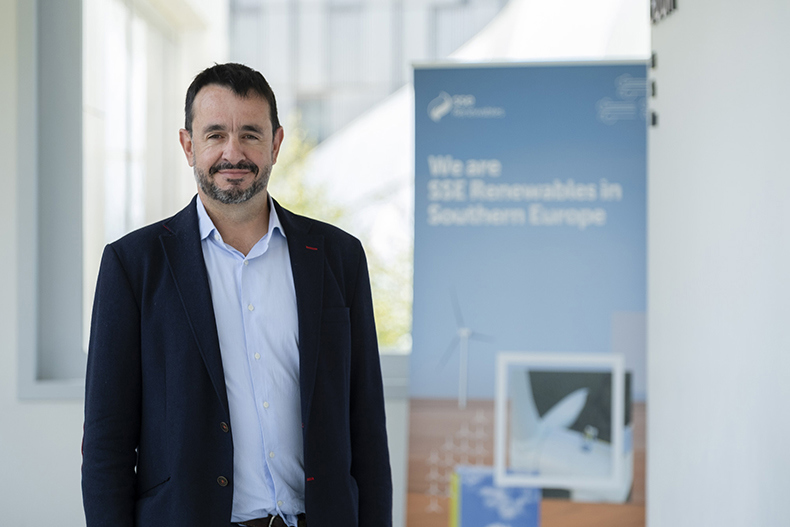 SSE Renewables has appointed Ángel Hernández del Teso as Director of Development and Construction for Southern Europe. The appointment comes after SSE Renewables acquired a portfolio of around 5.2GW in renewable energy projects in Spain, France, Italy and Greece from Siemens Gamesa Renewable Energy (SGRE) on 1 September for a total of €580 million.
SSE Renewables is also announcing today that it has established its Southern European headquarters in the Basque Country city of Bilbao, reflecting the company's commitment to its growth strategy in Spain and continental Europe.
Ángel Hernández del Teso has extensive experience in principal investment in privately owned infrastructure, strategic consulting and specially in renewable energy infrastructure development thanks to his previous role at SGRE, where he was Wind Farms Solutions Director for South Europe, Africa and Latin America.
In his new role at SSE Renewables, Mr. Hernández del Teso will be responsible for securing a growing foothold in continental Europe through the gradual development, construction and commissioning of the newly-acquired 5.2GW portfolio of projects across Spain, France, Italy and Greece. The Spanish market plays a pivotal role within this long-term strategy, accounting for almost half of the assets acquired. The portfolio includes around 3.8GW in onshore wind development projects plus scope for up to 1.4GW of additional co-located solar development opportunities. Of this total, 2GW in onshore wind power is located in Spain, with 600MW in Italy, 700MW in Greece and 500MW in France.
Projects are at different stages of maturity. Over 2GW of the total pipeline is considered to be at a secured stage, where a grid connection or land agreement has been secured or relevant permits granted. SSE Renewables continues to target around 500MW of renewable projects from the portfolio to be operational by March 2026, with at least a further 500MW in construction.
Ángel Hernández del Teso will oversee a 50-strong development team of experienced professionals who previously worked on the development of the portfolio at SGRE and have been fully integrated into the SSE Renewables workforce to deliver this European strategy. As a clear reflection of its commitment to local talent and experience, SSE Renewables has established its headquarters in Bilbao in Northern Spain, where the majority of the team will continue to be located.
The 5.2GW project platform, alongside the experienced development teams, will provide an excellent base for continued sourcing of development opportunities across onshore and offshore wind, solar, batteries and hydrogen, all of which are core to SSE's growth strategy. It also presents opportunities to enter wider European markets in the future.
Finlay McCutcheon, Director of Onshore Renewables, Europe, SSE Renewables, said: "It is a great privilege to work with outstanding professionals like Ángel Hernández del Teso as we expand our business into Southern Europe, developing, building and operating onshore wind, solar and storage infrastructure. SSE intends to spearhead the transition to a net zero emissions future; this development plan in continental Europe will help us achieve our ambitious goals at an even faster pace."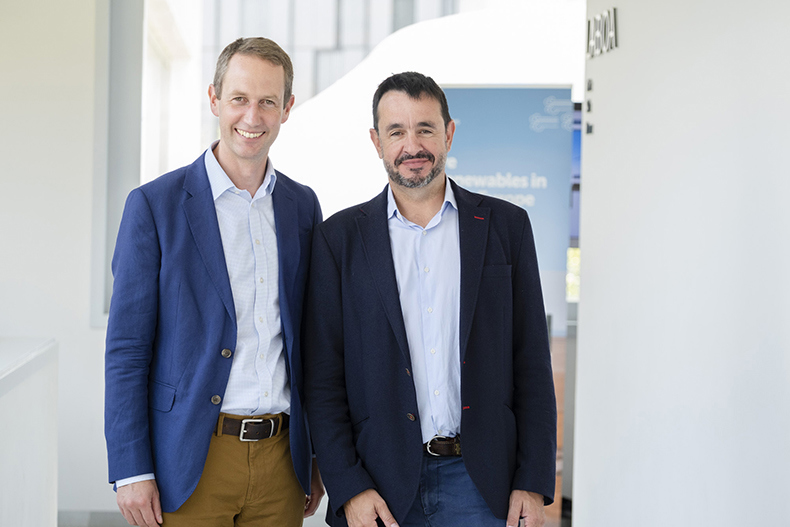 Finlay McCutcheon, Director of Onshore Renewables, Europe, with Ángel Hernández del Teso, Director of Development and Construction for Southern Europe
Ángel Hernández del Teso said: "SSE Renewables is a renewable energy leader and it is a privilege to join its team. I look forward greatly to sharing my experience to help SSE Renewables achieve its goals in southern Europe, responding to the challenge of adding value for communities and stakeholders as renewable energies take on crucial importance for the battle against climate change, the economies of the future and society as a whole."
SSE Renewables' upcoming developments in southern Europe will build on its robust renewable business in the UK and Ireland, where it has an operational portfolio of 4GW of renewable assets, of which nearly 2GW is onshore wind, as well as a pipeline of wind (onshore and offshore) and hydro projects under development of over 11GW.
The portfolio will also contribute to the achievement of SSE plc Group's Net Zero Acceleration Programme (NZAP) targets of:
4GW of net additions over five years, doubling installed renewables capacity to 8GW (net) by 2026;
maintaining a pipeline of at least 15GW of renewables development projects;
targeting delivery of at least 1GW net capacity additions per year during the second half of the decade; thereby trebling installed renewables capacity to over 13GW (net) and in turn target a fivefold increase in renewables output to 50TWh annually by 2031.
Ángel Hernández del Teso - biography
Ángel Hernández del Teso boasts a successful career in private infrastructure investment, working on projects in Europe, America and Africa and holding positions of responsibility in feasibility analysis, project assessment and financing and concession deployment. He was with Siemens Gamesa for 11 years, as Director of Gamesa Energía and Wind Farms Solutions Director. Prior to that, he was held a number of roles including Investment Director at N+1 Eolia (N+1 Group), strategic consultant at McKinsey & Company, and several roles in infrastructure investments in Ferrovial Group (CINTRA) and OHL Group (Ohl Concesiones).
Mr. Hernández del Teso holds a Bachelor's and Master's of Science Degree in Civil Engineering from the Universidad Politécnica de Madrid and an MBA from INSEAD, and holds CFA Institute's Chartered Financial Analyst Title. He is a Rafael del Pino Foundation Excellence Scholar and has several awards to academic performance.