Back to overview
Shetlander Anna looks forward to scaling the heights at Viking Wind Farm07 Mar 2023
Scottish Apprenticeship Week 2023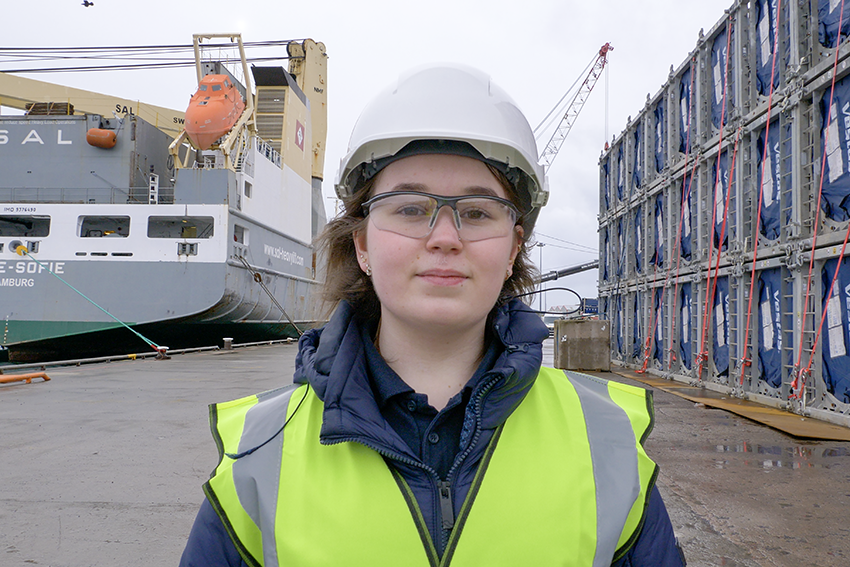 Scottish Apprenticeship Week this week (6 – 10 March) is an opportunity to shine a light on the vital role apprenticeships play in supporting people, employers and the economy.
To mark the occasion, SSE Renewables caught up with Anna McDowall; one of four young apprentices from Shetland, working towards becoming a fully qualified wind turbine technician for Vestas at the Viking Wind Farm in the islands.
Last year, managers from SSE Renewables and Vestas met up with Anna and her cohorts; Owen Priest from Gulberwick, Edward Stanley from Reawick and Aaron Regler from Sandwick; at Inverness College where they told them how they were looking forward to the training and to working at the 103-turbine wind farm when it enters operation in 2024.
This year, we took the opportunity to check in with Anna while on a visit to Lerwick Port where components for the V117-4.3 MW turbines are currently being unloaded from vessels and transported in convoy to the Viking Wind Farm site.
Anna commented:
"Since I've last spoken to you, I've moved on from my NC in Electrical and Mechanical Engineering which I was studying at Inverness College and I'm now working on my HNC in Electrical Engineering which I'm doing at NESCol (North East Scotland College) in Fraserburgh.
"My key highlight over this year was going up a wind turbine for the first time. It was a feeling I couldn't describe. It was just amazing being at the top. The view especially was amazing, and it was great to speak to the other technicians and to be being doing the job that I will be doing at the end of this.
"I would one hundred percent recommend an apprenticeship to other people. It has been really good for me, and I feel like I've really developed my core skills doing this and developed as a person."
Vestas AS is responsible for the supply and maintenance for the 103 turbines which will make up the Viking Wind Farm. The company also has a 30-year service and maintenance contract for the project.
Keith Wallace, Senior Director, Onshore Service, Region UK and Ireland for Vestas said:
"It is great to see Anna getting so much out of her apprenticeship. When qualified, all four apprentices are going to be involved in all aspects of service and maintenance at Viking Wind Farm including fault finding which means they have an important role in maximising the output of the wind farm.
We're going to be working in Shetland for at least the next 30 years, so it is vital that we contribute to the communities we work in by offering these opportunities whenever we can."
"It is also clear that recruiting apprentices is great for business and we continue our drive to create a pipeline of experienced renewable energy professionals to support our growing industry."
Onshore Renewables Development and Construction Director at SSE Renewables, Heather Donald said:
"Apprenticeships are so important to not only our business but the whole world of work. As well as gaining and developing skills, apprenticeships support economic priorities  and renewal, including net zero ambitions which are at the heart of what SSE Renewables does.
"Anna and her cohorts are directly contributing to those ambitions and to the future of renewable energy. It is wonderful to hear how her experience has changed her life and that she is getting so much out of her apprenticeship on both a professional and personal level."
For more information on the Viking Wind Farm project visit vikingenergy.co.uk.
For more information on Scottish Apprenticeships Week visit apprenticeships.scot/Scottish-apprenticeship-week