Back to overview
Scottish Apprenticeship Week 2022: Viking Wind Farm gives young Shetlanders opportunity to live and work in their communities07 Mar 2022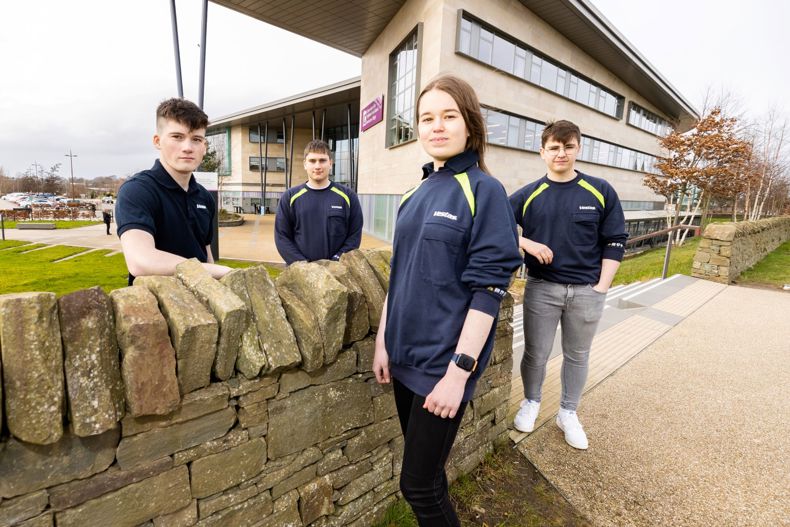 Pictured from left to right are Vestas Apprentices, Aaron Regler, Edward Stanley, Anna MacDowall, and Owen Priest, all from Shetland.
Four young people from Shetland have been meeting with bosses from SSE Renewables and Vestas to mark Scottish Apprentice Week and to talk about how their apprenticeship scheme has given them the opportunity to build a career while staying in the communities they love.
16-year-old Anna McDowall from Voe, 19-year-old Owen Priest from Gulberwick, 17-year-old Edward Stanley from Reawick and 17-year-old Aaron Regler from Sandwick are currently studying for one year at Inverness College UHI as part of their training to become four of the first wind turbine technicians working at the Viking Wind Farm in Shetland, when it enters operation in 2024.
When the year comes to an end, the apprentices will commence a three-year training course with Vestas to give them the specific skills to help maintain the 103 V117-4.3 MW turbines, installation of which is due to commence towards the end of 2022.
Inverness College UHI will continue to assess the young peoples' skills throughout their apprenticeships so that they can become fully qualified Vestas wind turbine technicians.
Speaking about why she decided to apply for the apprenticeship scheme, Anna said:
"I wanted to do practical work and not just the academic learning I was experiencing at school. I also knew I wanted a job in the renewable energy sector and to be part of the fight to slow climate change.
"So far the apprenticeship is going really well. I am learning so much just being at Inverness College UHI and I have new skills which I would never have got staying on a school.
"My family has been really supportive and told me to "go for it', and I so I hope that this is the start of a long career in the renewable energy sector. It is really good that I get to do this job in Shetland where I grew up and where my relatives and friends are."
Aaron agreed that being able to start his career in Shetland made the apprenticeship an attractive opportunity:
"I have always been interested in the mechanical side of things so when I saw this apprenticeship, I decided to apply especially given renewable energy is a growing industry.
"I really like being in Shetland and I've got all my friends and family there, so it is definitely a good thing to have a job there but to also have the opportunity work anywhere in the world in the future.
"That said, I am looking forward to staying in Shetland in the near future, and to continuing my training by taking additional courses and learning new skills."
Vestas AS is responsible for the supply and maintenance for the 103 turbines which will make up the Viking Wind Farm. The company also has a 30-year service and maintenance contract for the project.
Keith Wallace, Senior Director, Onshore Service, Region UK and Ireland for Vestas said:
"When qualified, the apprentices are going to be involved in all aspects of service and maintenance at Viking Wind Farm including fault finding which means they have an important role in maximising the output of the wind farm.
"Recruiting these young people is great for business and our drive to create a pipeline of  experienced renewable energy professionals to support our growing industry.
"Also, we're going to be working in Shetland for at least the next 30 years, so it is vital that we contribute to the communities we work in by offering these opportunities whenever we can."
SSE Renewables Head of Onshore Projects, Derek Hastings joined Keith and added:
"These young Shetlanders are the future of renewable energy and it is wonderful to meet them and to hear them speak so enthusiastically about their experiences so far.
"I started as a technical apprentice in the late 1980s and although the job I'm doing now didn't exist then, I am still using the skills I learned then in my job today.
"The training that Anna, Owen, Ed and Aaron are getting today will give them the basis for a solid career in renewable energy for years to come."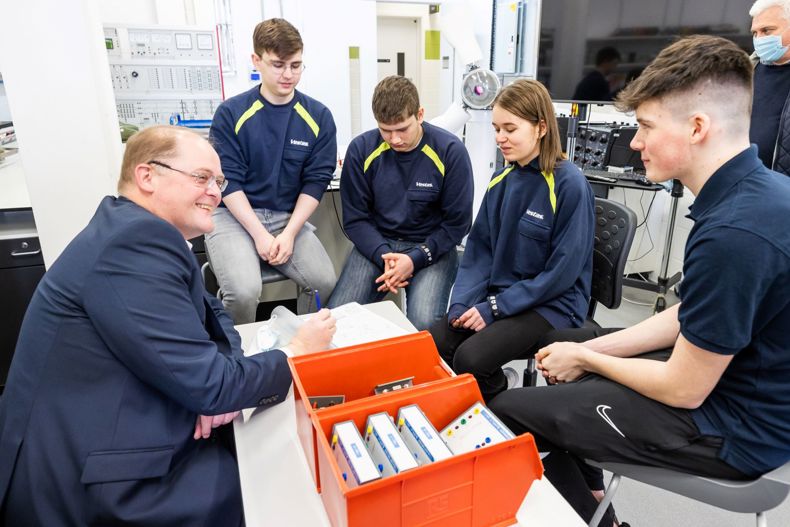 Head of Onshore Projects, Derek Hastings with the apprentices
Iain King, Head of the School of Engineering Technology at Inverness College UHI, said:
"Inverness College UHI is delighted to be delivering training to support Vestas, SSE and the renewables industry in meeting Scotland's net zero targets. An apprenticeship is just one of the exciting opportunities we provide through our programmes to equip people for the current and future work environment.
"Apprentices gain practical skills, develop knowledge, and learn how to apply this in their workplace. On completing the apprenticeship, they have the qualifications to show they are knowledgeable and competent, but also the experience and know-how to meet the needs of their employer."
For more information on the Viking Wind Farm project visit vikingenergy.co.uk.
For more information on Scottish Apprenticeships Week visit apprenticeships.scot/Scottish-apprenticeship-week