Bhlaraidh
Bhlaraidh wind farm has 32 turbines and is located on the Glenmoriston Estate, north-west of Invermoriston in the Great Glen.
A planning application for Bhlaraidh wind farm was submitted in summer 2012 and consent was granted in January 2014. Bhlaraidh is located in an upland plateau and was designed so not to be seen from major tourist routes.
Highland contractor RJ McLeod was awarded the main civil works contract and enabling works began on site (pre-construction activities) in August 2015.
Main construction began in spring 2016, these works include the construction of the 32 turbine bases and crane hardstandings and associated cabling and drainage works. Bhlaraidh took delivery of its first load of turbine deliveries in October 2016 and, following some weather constraints, the first seven turbine deliveries were completed in November 2016.
Turbine deliveries resumed in spring 2017, with the turbine blades travelling from Kyle of Lochalsh harbour and the turbine towers and components coming from Inverness harbour.
Construction was completed in early autumn and handed over to the Renewable Operations team in November 2017.
There is a proposed extension to Bhlaraidh wind farm, which can be seen on the Bhlaraidh Extension webpage.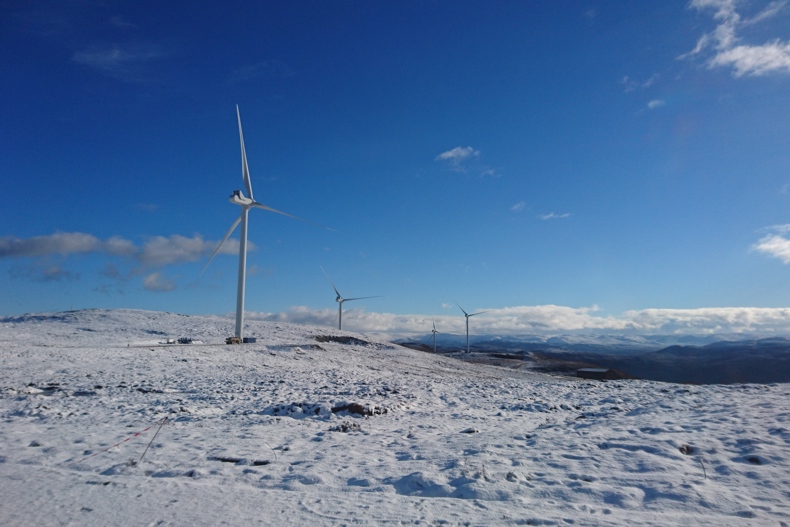 Bhlaraidh wind farm at a glance
Project name
Bhlaraidh
Ownership
100% SSE
Location
Great Glen, Highlands
MW capacity
108MW
Number of turbines
32
Year site became operational
Aug-17
Community Funds
Through our Bhlaraidh wind farm, we make around £270,000 per year available for community and charitable projects. Between 2016 and 2041 we expect to invest £7 million in local projects.
Eligibility
Projects in the following community council areas can apply:
Fort Augustus and Glenmoriston
Glen Urquhart
You can find out more about the funds, eligibility and how to apply by clicking here.