Back to overview
SSE Renewables breaks ground at Chaintrix-Bierges and Vélye wind farm
10 Nov 2023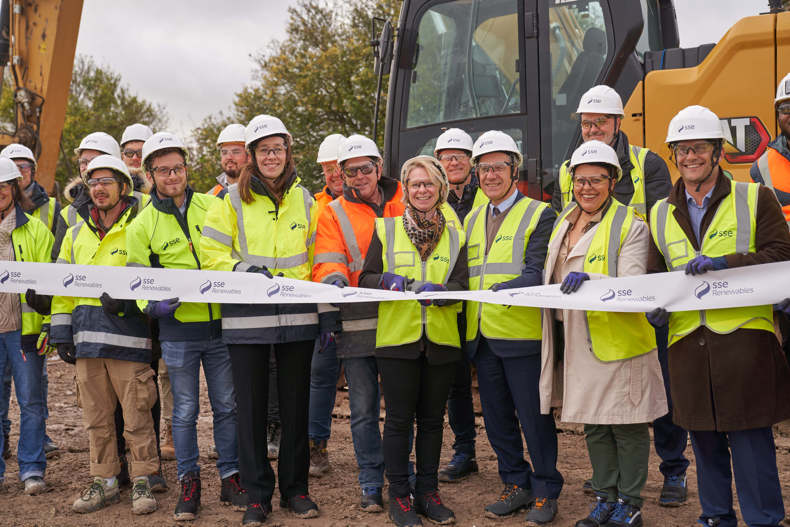 Friday 10 November: SSE Renewables has marked breaking ground on the Chaintrix-Bierges and Vélye Wind Farm, its first onshore wind farm in construction in France, with a ceremony attended by elected representatives and supply chain partners. The celebratory event took place today in Vélye Village Hall in the Grand-Est region of France.
The 27.2MW Chaintrix-Bierges wind farm is located between Chaintrix-Bierges and Vélye in the Marne département and comprises eight Siemens Gamesa SG 3.4-132 wind turbines, each capable of producing 3.4MW of renewable energy output.
Chaintrix-Bierges and Vélye Wind Farm is SSE Renewables' first project to enter construction outside of the UK and Ireland and the first from its Southern Europe pipeline acquired last year.
Delivery of the Chaintrix-Bierges and Vélye project represents a total capital investment in excess of €30 million by SSE Renewables. This investment will help support the local economy in the Grand-Est region, with around 80 construction roles expected to be supported at peak delivery.
The Balance of Plant works are being delivered by lead Contractor Omexom in partnership with Civils contractor Pothelet.  Various other suppliers including Vodafone, Dekra, Elys, Groupe Geotec, and Auddicé have also been appointed to support the project. Siemens Gamesa have been appointed as the wind turbine supplier for the project.
Chaintrix-Bierges and Vélye is targeting commissioning at the end of 2024. When complete, the wind farm will be capable of generating enough low-carbon energy over its expected 35-year lifetime to power over 14,000 homes annually**.
"We are delighted to be able to bring together our partners at Vélye to launch the construction of the Chaintrix-Bierges and Vélye wind farm. This is SSE Renewables' first wind farm in France. Nearly 80 professionals will be involved in its construction. It's a crucial next step for this project, which has been in development for around eight years.

From the earliest stages of thinking about this project, every step has been guided by a deep commitment to involving and informing the community, with a sincere desire for transparency and close collaboration with local residents and stakeholders. As a result, this project embodies a passionate response to environmental challenges while honouring the aspirations of stakeholders to the fullest.

Onshore wind energy will play an important role and will be key to meeting France's renewable energy targets and making it carbon neutral by 2050. Our team has done a fantastic job in successfully developing this project over the last few years. It shows how we are putting our ambition into action in France. It will make a small but symbolically important contribution to SSE Renewables' goal of increasing our operational renewable capacity to more than 9 GW by 2027."

Delphine Henri

France Director of SSE Renewables
*Elected representatives present: Charles de Courson, Member of Parliament for the Marne; Anne-Sophie Romagny, Senator for the Marne; Marie-Laure Werbrouck, Mayor of Vélye; Olivier Plancon, First Deputy Mayor of Chaintrix-Bierges; Ghislain Wysocinski, Member of the Finance Committee and the Higher Education, Research & Innovation Committee, Les Écologistes Group; Jonathan Rodrigues, Councillor for the Marne Department, Deputy Mayor of Épernay, Community Councillor responsible for the Climate Plan and soft mobility.
** Over 14,000 homes powered claim based on projected installed capacity, typical projected wind load factor of 25.7%, and typical annual household consumption of 4,334kWh (source: Panel Usages Electrodomestiques – November 2022 de l'Ademe (Agence de l'Environnement et de la Maitrise de l'Energie) et RTE).