Back to overview
SSE Renewables has been shortlisted for two Scottish Green Energy Awards
19 Oct 2023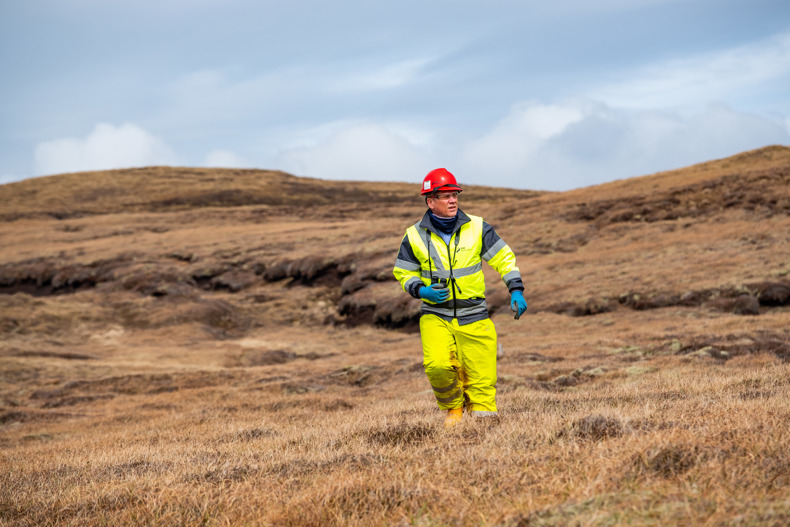 SSE Renewables has been nominated for two Scottish Green Energy Awards, including the 'Sustainable Development Award' for Peatland Restoration works at Viking Wind Farm situated in mainland Shetland, and 'Best Community Engagement Strategy' for Viking Wind Farm's Community Engagement Strategy.
The prestigious awards, which are organised by Scottish Renewables, celebrates organisations, people and projects nationally which are going above and beyond to make a real difference to the health, wealth and wellbeing of Scotland.
The 'Sustainable Development Award' nomination acknowledges Viking Wind Farm's extensive Peatland Restoration programme which forms part of a wider Habitat Management Plan. The wind farm is situated in peatland affected by extreme erosion and the project is addressing the ongoing loss of carbon dioxide by undertaking the restoration of eroded areas.
Drawing on local expertise and resources, approx. 272 hectare of eroded degrading peatland is being restored using disturbed peat to initially preserve integrity and then by undertaking traditional peatland restoration techniques, returning areas to an active peatland habitat. It is estimated that the reduction in annual CO2 emissions will be considerable and contribute significantly to the islands drive toward net zero.
"It's an honour to be shortlisted for the 'Sustainable Development' award at this year's Green Energy Awards for our Peatland restoration works at Viking Wind Farm. Where the wind farm is located, there is extreme peatland erosion, and we have worked with local contractors and peatland restoration specialists to ensure disturbed peat is carefully managed and utilised to allow the restoration and regeneration of active peatland areas.

We have sourced a locally harvested seed mix to allow revegetation where turves were not available due to erosion, so saving on importing a less natural seed mix. We are already seeing the reformation of active peatland in areas completed in 2021/2022. The programme of works will continue in 2024/2025 and will be monitored throughout the lifetime of the windfarm.

The project has focussed on extensive use of local services and businesses good for both the project and creating a circular local economy, as well as focusing on employing local operatives through Just Transition from the oil and gas industry which plays a major role in Shetlands employment and economy."

David McGinty

Environmental Site Manager for Viking Energy Wind Farm
In addition to being a finalist for the 'Sustainable Development Award', SSE Renewables Viking Wind Farm's Community Engagement Strategy has been shortlisted in the 'Best Community Engagement Strategy' category due to the work with young people in Shetland.
Viking's Community Engagement Strategy considers young people in Shetland as a priority stakeholder, so a range of activities were developed to take the project and renewable energy story to them. This was achieved by working with teaching staff, University of the Highlands and Islands, SDS and DYW, which were all integral to ensuring sessions were curriculum supportive.
The strategy allowed for engagement with over 1000 students aged 5 -18 both on site and in the classroom, educating on climate change, the weather, how wind farms are built and work, the world of work and career paths.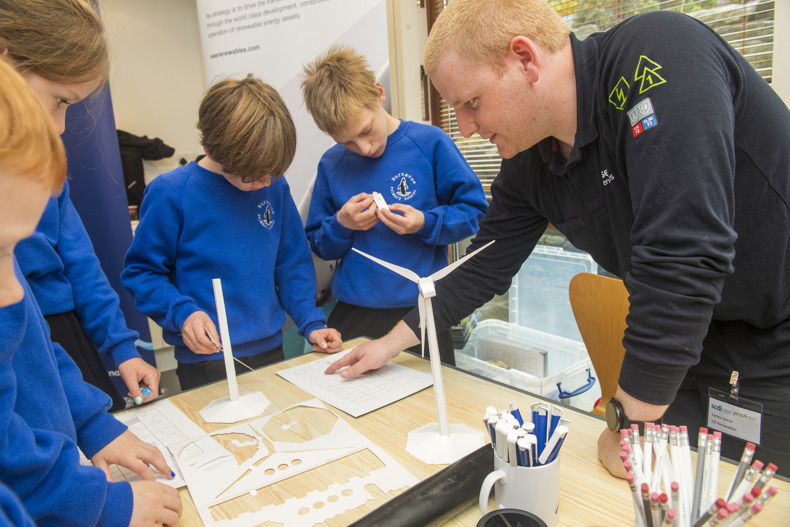 "To be shortlisted for a Scottish Green Energy Award in the 'Best Community Engagement Strategy' means a lot to everyone involved. We're extremely proud of our engagement with young people in Shetland which allows us to interact with a large percentage of the population and share our story.

This year has been extra special due to our headline sponsorship of The Tall Ships Races in Lerwick. We had a daily presence at the event, allowing local people to meet the team and learn about the wind farm. We also sponsored two young women to have a once in a lifetime experience racing to Norway as part of the Tall Ships Races.

The aim of our Community Engagement Strategy is to leave a lasting legacy, and this wouldn't be possible without the support of local head teachers, their staff, UHI SDS and DYW who all played integral roles."

Julie Graham

Community Engagement Manager for Viking Warm Farm
The awards will take place at the EICC in Edinburgh on Thursday 30 November.