Back to overview
SSE Renewables submits planning application for Solar Farm co-located at Richfield Wind Farm06 Sep 2023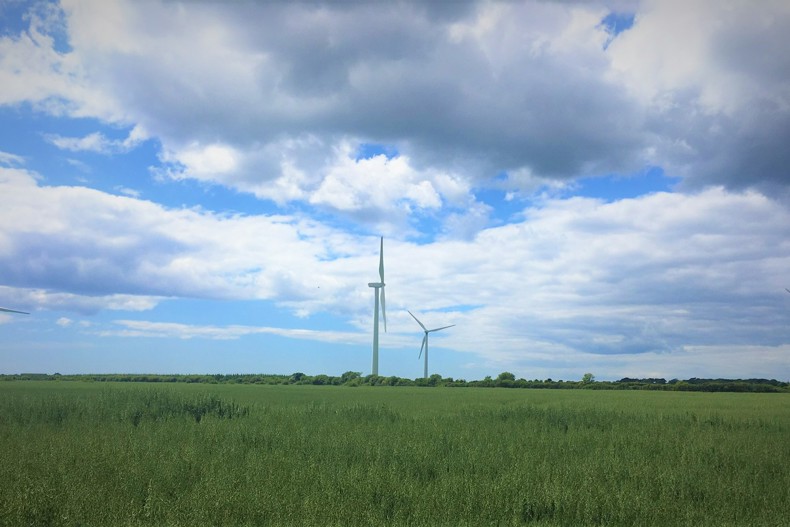 Proposed development in Ireland's 'Sunny South East' is SSE Renewables' first co-located solar project
SSE Renewables is this week submitting a planning application for a proposed Solar Farm project to be co-located adjacent to its existing Richfield Wind Farm in Ireland's 'Sunny South East'.
The planning application, which is being submitted to Wexford County Council, proposes the development of a circa 21MW solar photovoltaic (PV) array on a 44 hectare site in the townlands of Hooks and Yoletown in south Wexford. The proposed solar farm location is near the existing 18 turbine Richfield Wind Farm which has been in operation since 2006. Submission of a planning application follows a period of local public consultation on the project, which took place earlier this year.
With an installed capacity of 27MW, Richfield Wind Farm is already capable of generating enough renewable energy to power up to 18,000 homes annually, while abating almost 18,000 metric tonnes of harmful carbon dioxide per annum. Together, the proposed hybrid co-located development of a 21MW solar farm alongside the existing wind farm could increase the typical annual renewable energy output from Richfield by around 25 per cent, enough to power an additional 4,500 Irish homes annually.
In addition to increasing the renewable energy output from Richfield, a combined wind and solar asset at the site would be more productive and resilient, as it will be capable of contributing power to Ireland's grid at times when the sun shines but when the wind does not blow. This could further support efforts to meet Ireland's target of generating 80% of its electricity from renewable sources by 2030.
The proposed solar development will have a hybrid grid connection with Richfield Wind Farm. The development of the project will be subject to changes in Ireland's current grid connection consenting regime to allow for 'hybrid' technology grid connections to facilitate co-location of wind and solar generation sources. Delivery of the project is also subject to securing an economic route to market ahead of a final investment decision expected around early 2026.
In addition to the renewable energy benefits of the proposed development, the project will also play an important role in combatting the nature emergency. Should the project secure all its consents and progress to delivery, SSE Renewables will plant 15% of the site area with native woodland species as per its own Biodiversity Net Gain targets and also in line with requirements set out in the Wexford County Development Plan 2022-2028.
"The submission of this exciting project for planning permission comes at a time when Ireland is looking to secure more renewable energy. This project is a perfect example of how we can expand the renewables output for Ireland by leveraging existing wind farm assets for the development of adjacent solar farm projects such as this.

If co-located projects like Richfield Solar are to help deliver Ireland's climate goals, industry will require more certainty as to how the regulatory framework will be evolved to support these developments. At present, we lack the necessary policy to underpin these kinds of hybrid technology grid connections.

We stand ready to work closely with key government and regulatory stakeholders to remove any remaining barriers to the delivery of hybrid connections, and so support the delivery of important solar and battery technology projects co-located at wind farm sites"

Garry Brides

Senior Project Manager, SSE Renewables
SSE Renewables is Ireland's leading owner, developer and operator of renewable energy projects, including onshore and offshore wind energy projects. Its wholly-owned portfolio includes almost 700MW of operational onshore wind farms, the largest on the island, as well as an ambitious development pipeline of 1.3GW of new projects across offshore wind, onshore wind, solar and batteries.
Project proposal
The proposed site area is 44.4 hectares and will include the following:
A 21 MW solar farm comprising ground mounted solar photovoltaic (PV) panels;
Linear arrays of mounted solar panels up to 3m in height laid out from west to east to optimize the solar gain from a southerly aspect;
7 inverter/transformer power stations and 2 containerised substations;
Grid connection via the existing Richfield Wind Farm 38kV substation;
Construction of internal cable ducting to connect the facility to the existing Richfield Wind Farm 38kV substation; and
A new site access from the northwest of the site.
4,500 homes powered based on projected installed capacity, typical projected solar load factor of 10%, and typical annual consumption (4,200kWh). Quoted kilos of carbon emissions abated based on projected annual MWh output and latest average CO2 Emissions (0.236g/kWh) in the All-Island Single Electricity Market, and published by the CRU in its Fuel Mix Disclosure and CO2 Emissions for 2020, October 2021.