Back to overview
Over £180,000 awarded to over 60 groups from Slieve Kirk Wind Park Community Fund11 Sep 2023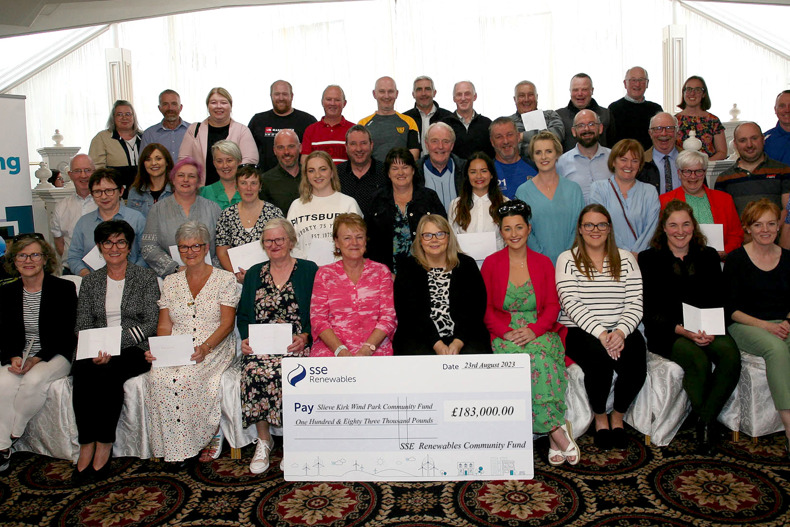 Wind-powered funding from SSE Renewables powers local community groups 
Over 60 community groups across the north west are benefiting from more than £180,000 in wind-powered funding following the presentation by SSE Renewables of this year's Slieve Kirk Wind Park Community Fund.
The funding awards were presented at a ceremony held locally at The Belfray Country Inn, County Londonderry. In total, 61 community groups received £183,000 in funding from the annual SSE Renewables Community Fund. This year's funding award brings the total community funding distributed to not-for-profit groups operating in the vicinity of Slieve Kirk Wind Park to more than £2.7m since the first fund opened in 2012. Over the last decade more than 740 local groups have benefited from the fund.
The groups all operate in the area surrounding the 73MW Slieve Kirk Wind Park, Northern Ireland's largest operating wind farm which is located between Derry City and Limavady. The funding supports a range of projects including energy efficiency, solar panels and provision of health and wellbeing courses for young children, as well as supporting groups providing food and health provisions for the elderly.
"At SSE Renewables we value the local communities surrounding our wind farms, and we want to see them thrive. A central part of that is through the SSE Renewables Community Fund, which has helped hundreds of community organisations over the last 10 years, from schools and sports clubs to community groups, church halls and community centres. With a focus on sustainability projects, we aim always to help these groups improve their service to the community.

We are delighted that 61 groups are benefitting from more than £180,000 of funding this year, and we look forward to seeing how these projects can play a part in helping them improve the wellbeing of their local communities."

Michelle Donnelly

SSE Renewables Community Investment Manager
One organisation which has benefitted from funding is local GAA club St Matthew's Drumsurn, which was awarded funding towards a clubhouse extension at the current community hall to facilitate a well-being centre for the community.
"The ongoing funding from the Slieve Kirk Wind Park Community Benefit Fund has been remarkable for the local area and communities surrounding the wind park. Our clubhouse extension will provide a vital resource for our members. At present members are travelling over 30 minutes to access a gym and health facilities which they will now be able to access on their doorstep. This facility will allow our club to generate additional income and help us on our road to becoming more sustainable."

Eunan Rafferty
Another beneficiary organisation is local school Strabane Academy, which was awarded funding towards a community orchard project to promote biodiversity and sustainability.
"The funding from SSE Renewables towards our community orchard project will allow us to deliver a community-based project that all generations can get involved with and benefit from. The biodiversity project will help our students develop key skills in gardening, planting and harvesting whilst older members of our community will support with the development and maintenance of the orchard project. Our orchard will increase the sustainability of our school and local community, as pupils and residents alike will be able to grow fruit which will be shared across the Strabane area and instill skills to help promote a more sustainable culture within our community."

David Hampton

Principal, Strabane Academy
The SSE Renewables Community Fund programme supports communities closest to its wind farms. To date more than 1400 community projects in Northern Ireland have benefitted from more than £4m of funding. This has included a range of energy efficiency, sustainability projects and community development programmes, including Covid resilience supports for schools, sports clubs and community groups.
SSE Renewables is the leading developer and operator of renewable energy in Northern Ireland and is the power behind leading greener energy provider and sister company SSE Airtricity. Over the last two decades SSE Renewables has invested over £500m in the Northern Ireland economy through renewable energy developments. The company owns 117MW of operational onshore wind farms in locations across Northern Ireland.