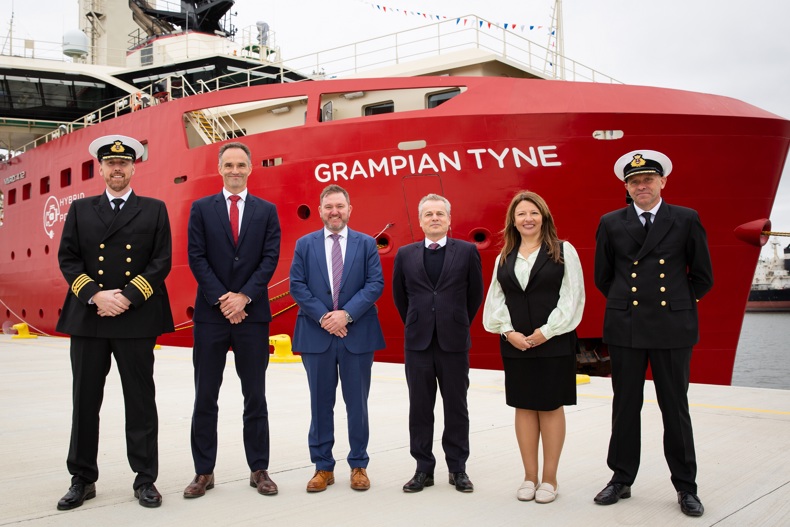 First of four offshore wind hybrid-electric ships ahead of schedule for Dogger Bank Wind Farm
The first of North Star's new offshore wind fleet, the Grampian Tyne, has been officially named at a VIP ceremony at Equinor's Port of Tyne base in the North East of England (UK), ahead of its early handover to the Dogger Bank Wind Farm.
The traditional good luck celebration, involving the customary champagne bottle being smashed against the hull of the ship, was successfully carried out by the ship's godmother, Lindsay Gordon, wife of North Star CEO, Matthew Gordon.
The service operation vessel (SOV) is of VARD 4 12-design and is one of four destined for decade-long minimum charters to support operations and maintenance (O&M) work at the Dogger Bank offshore wind farm and its partners Equinor (40%), SSE Renewables (40%), and Vårgrønn (20%). Once the wind farm is fully completed, it will be the largest in the world, producing enough electricity to power six million British homes.
"Being able to welcome our clients and esteemed guests onboard the Grampian Tyne in all her glory has been an incredibly proud moment for the entire North Star team and everyone involved in its design and construction. The significance of the name is not just a simple nod to the river, but to the people and the community this vessel and wind farm serve. We're extremely proud of the links being built with the local supply chain with a rich history of shipping on this waterway.

"We employ a very talented workforce who have remained completely focused throughout the project management, resulting in the ship being built, sea trialled, and outfitted ahead of time. We also work with an incredible local supply chain and look forward to seeing more investment and recruitment opportunities being brought to the area as we continue on our journey to deliver three further ships for Dogger Bank, which will also all be based out of Port of Tyne."

Matthew Gordon

North Star CEO
All three remaining hybrid-electric powered SOV newbuilds, being built by VARD, are on track for being operational at Dogger Bank A, B and C by 2026. The company's state-of-the-art design provides high-quality accommodation to offshore wind turbine technicians, as well as a centralised logistics hub configured to handle cargo and act as a functioning warehouse offshore.
"The naming of North Star's first of four SOVs destined for Dogger Bank Wind Farm marks another key milestone in the project. For Aberdeen based company, North Star, to achieve handover of the SOV to Dogger Bank on schedule is testament to the hard work by everyone involved with the design and construction.

Dogger Bank Wind Farm is fully committed to supporting the local supply chain and communities in the UK where possible and we're proud to have played a role in enabling this UK company to take advantage of the global opportunity presented by offshore wind. It is evident that securing significant orders like this can really help UK businesses enter the offshore wind market, secure investment and create sustainable jobs."

Steve Wilson

Director for Capital Projects, Offshore, SSE Renewables
The Grampian Tyne boasts some of the most innovative technologies in the maritime sector. This includes medium speed MGO power generation gensets with hybrid battery architecture in-built, coupled with Voith-Schneider eVSP propulsion package to maximise the operating envelope offshore, reduce fuel burn and improve comfort for all on board. The inclusion of a side loading logistics concept allows quayside reloading directly to the SOV covered main deck warehouse facility for both the client's cargo and ships stores safely and efficiently.
The operational planning is supported by a new best in-class decision support software and digital twin solution created with MO4 that will be deployed across the fleet to improve operational performance through predicational planning of client scheduling, metocean forecasts and collated KPI monitoring reporting.
The SOV is equipped with a bespoke new concept and designed daughter craft for effective high performance, safe and efficient offshore support of technician and cargo deployment, engineered to perform in up to 1.7m Hs sea-state.
"We are thrilled to welcome the new Grampian Tyne service operation vessel to our Operations and Maintenance base here at the Port of Tyne. The vessel provides a best in class working and living environment for our offshore wind technicians and team members, ensuring they can carry out essential maintenance safely and comfortably. The vessel's advanced features will also provide essential services to the development of the Dogger Bank wind farm, that when complete in 2026, will be the world's largest offshore wind farm."

Kamala Hajiyeva

Head of Dogger Bank Development, Equinor
Each SOV is being built at VARD's facilities in Vietnam. The Grace Darling, named after the British lighthouse keeper's daughter who rescued survivors from a wrecked steamship off the coast of Northumberland in 1838, is North Star's first of its associated hybrid-powered daughter craft used primarily as crew transfer vessels, was designed in collaboration with leading naval architects, Southampton-based Chartwell Marine. The SOV workboat was built by Alicat Workboats in Great Yarmouth.
"We congratulate North Star with the naming ceremony of their first vessel in their renewable fleet. We are delighted that they chose VARD on their way to a sustainable future in the industry, and happy to deliver Grampian Tyne before schedule. This shows VARD's strength as a fully integrated forward leaning designer and ship builder. Together we have developed a vessel that through its design and advanced technological solutions is tailor made with optimal standards to operate in harsh environment with a low environmental footprint. VARD aims to lead the green transition in the maritime industry, and through this collaboration with North Star, we both continue to enable sustainable business at sea", says CEO of VARD, Alberto Maestrini.
Last month (May), North Star contracted VARD for up to a further four new offshore wind vessels. The new commissioning service operation vessels (CSOVs) take the firm a step closer to its ambition of expanding its fleet with 40 renewables fleet by 2040 to support the growing UK and European markets.
North Star has an unrivalled North Sea maritime expertise and a proven track record for carrying out multiple fleet builds simultaneously. It employs more than 1,300 crew and onshore personnel at its offices, harbour and workshop facilities in Lowestoft, Port of Tyne and Aberdeen. It was acquired by Partners Group, a leading private global markets firm, acting on behalf of its clients, in 2022.