Back to overview
North-east schools share in €6,000 Setanta Wind Park youth art competition prize fund03 May 2023
SSE Renewables school art competition celebrates offshore wind project renaming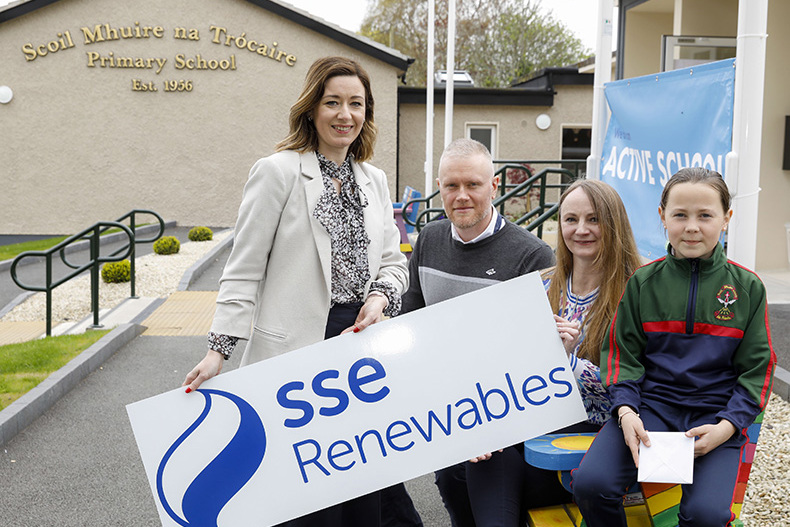 Two north-east primary schools are celebrating this week as they were announced as the winners of the recent Setanta Wind Park art competition.
SSE Renewables ran the competition in celebration of the renamed Setanta Wind Park and to acknowledge the community feedback shared during public consultation across Louth, Meath East and North Dublin last year.
Fourth Class pupil Ruby Durnin from Scoil Mhuire na Trócaire, Ardee, Co. Louth and Ava O'Connell from Sixth Class in Scoil an Spioraid Naoimh, Laytown each won €3,000 for their school, to be used for the purchase of digital technology equipment.
Their artworks depicting folk legend Setanta were chosen as the winning entries.
Bryan O'Connor, Project Manager, SSE Renewables said: "Congratulations to Ruby and Ava and to their schools for supporting them to create such wonderful artworks. We were bowled over by the standard of artistic talent shared with us from schools across the Setanta Wind Park catchment area. Thank you to all the students and schools who took part and we hope to be offering more opportunities like this locally as we continue to develop the project."
Bláithín Maguire, Principal, Scoil an Spioraid Naoimh, Laytown said: "We are very proud of Ava and all the students who took part in this competition. It is wonderful to receive a prize that can make a real impact and through a project that can get us thinking and talking about renewable energy."
Deirdre Sweeney, Principal, Scoil Mhuire na Trócaire, Ardee said: "Thanks to SSE Renewables for this IT funding which will be put to very good use in our school, and well done to our own Ruby Durnin who created such a beautiful artwork to submit to the competition. I also thank the class teacher Ms Mason for her work with the class preparing all their entries."
SSE Renewables renamed the formerly known Braymore Wind Park to Setanta Wind Park last November based on local feedback that the existing name was not identifiable with the wider communities that the wind park covered.
The name Setanta was the given name of one of the great champions of the ancient Irish sagas, Cú Chulainn who dominates as a giant of Irish mythology including in the series of epic tales collectively known as The Ulster Cycle. Setanta was the name used until he was bestowed with the warrior badge-of-honour title Cú Chulainn. The battles, skirmishes and scrapes in the closing sections of the Táin, as the poem/saga is usually more briefly referred to, took place in the present-day counties of Meath and Louth. In fact, most of the action took place between present-day Drogheda and Dundalk, overlooking the section of sea in which Setanta Wind Park will be situated.
The proposed Setanta Wind Park site is situated off the northeast coast of Ireland in the Irish Sea between Dunany Point in County Louth at its most northern point and Braymore Point in County Dublin and secured a foreshore licence to facilitate surveys of the seabed to enhance understanding of the prevailing conditions at the site. Once operational, Setanta Wind Park will be capable of generating up to 1GW of renewable energy, powering over 1 million homes and offsetting up to 1 billion kgs of carbon annually.