Back to overview
North East youngster working on world's largest offshore wind farm as part of apprenticeship09 Feb 2023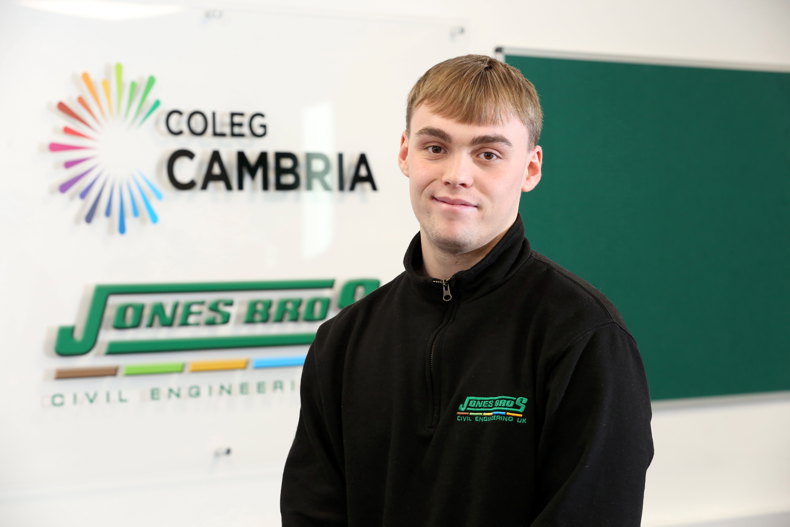 A higher apprentice from Durham is taking his next step on the career ladder with a civil engineering firm on the world's largest offshore wind farm, Dogger Bank Wind Farm.
North Wales-headquartered Jones Bros Civil Engineering UK and Wrexham-based Coleg Cambria have changed the status quo for apprenticeships since launching the new-look course in 2018.
Seven of the first intake of civil engineers have already graduated from the four-year course and are now working on major projects across the UK for Jones Bros, including in renewables, highways, and waste management.
Looking to follow in their footsteps is Joe Boucher, who hails from Durham, and is one of the latest 10-strong group to enrol on the scheme.
A family connection with Jones Bros helped persuade the 19-year-old that the apprenticeship scheme was worth pursuing.
He said: "My uncle, Martin Barron, is one of the works managers here at Jones Bros.
"He told me about the number of opportunities that you get with the company, so I went on the website and had a look.
"He helped get me onsite doing some labouring at Dogger Bank Wind Farm, and then one of the head engineers, Abel (Damba), approached me about doing this course."
On his time at the world's largest offshore wind farm, Joe continued: "We were putting in the ducting for the cabling to go in, so we were welding the pipes, watching the machines, and putting on the pumps because of the weather and the amount of water.
"One of the engineers, Max (Stoddart), taught me how to put the camera through the ducting to check if the weld is properly sealed.
"That was the first bit of engineering I'd done, but once I had, Abel saw that I could be useful and pushed me towards the course.
"It was an offer I couldn't really refuse."
Joe, who is currently staying in Penycae, near Wrexham, is scheduled to return to Dogger Bank as the course switches from theory to practical.