Back to overview
SSE Renewables unveils first solar energy and battery co-location project in Ireland's 'Sunny South East'24 Jan 2023
– Public consultation commences as people in County Wexford asked for views on new clean energy project –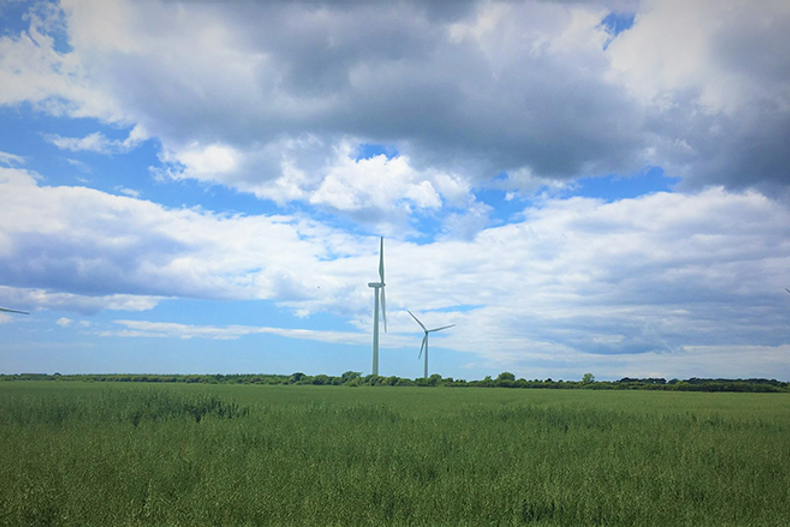 Leading renewable energy operator and developer SSE Renewables is taking its first steps into solar energy generation and associated battery storage in Ireland, with plans to develop a co-located project at its existing operational wind farm asset in the country's 'Sunny South East'.
The company has today unveiled proposals to develop a 21MWp solar PV array (solar farm) and 10MW/2hr battery energy storage system (BESS) facility on lands near its existing 18 turbine Richfield Wind Farm at Bridgetown in County Wexford – traditionally known as Ireland's sunniest county.
This latest action from SSE Renewables is part of the company's ongoing strategy to champion clean energy and radically increase renewable generation to address climate change head on.
This includes doubling the company's installed renewable energy capacity by 2026 as part of its Net Zero Acceleration Programme, a fully funded investment programme to deliver the low carbon energy infrastructure needed to radically reduce carbon emissions.
SSE Renewables recently launched a fleet-wide assessment of sites where battery storage systems and solar generation technology could be co-located with existing onshore wind farms. Co-locating solar and battery technology near each other at wind farm sites has been identified as an important step in supporting the production of clean homegrown energy in Ireland and the UK.
Richfield Wind Farm in Wexford has been in operation since 2006 and can power almost 18,000 homes annually and helps to abate almost 22,000 tonnes of harmful carbon dioxide per annum. The proposed solar farm would be located in the townlands of Hooks and Yoletown while the proposed battery energy storage system (BESS) would be co-located adjacent to the existing substation at Richfield Wind Farm.
The development of the project will be subject to changes in Ireland's current grid connection consenting regime to allow for 'hybrid' technology grid connections to facilitate co-location of generation sources.
"We're taking action at SSE Renewables to deliver the clean energy the world needs right now. At Richfield in County Wexford we've identified an ideal opportunity, located in Ireland's 'Sunny South East', to further explore how we can co-locate solar, battery and wind farm technology to realise our full homegrown renewable energy potential. The proposed development can generate new solar power for immediate use, while also storing surplus renewable energy in a battery storage system for use when it's needed most. The result is that this co-location project at Richfield can help export greater levels of renewable energy output to the national grid and contribute to Ireland's target of generating 80% of its electricity from renewable sources by 2030.

Innovative projects such as this can really deliver for Ireland's climate goals. And while some regulatory hurdles still need to be overcome to allow for hybrid grid connections, we're ready at SSE Renewables to work closely with key government and regulatory stakeholders so that we can remove any remaining barriers and support the delivery of important solar and battery technology projects co-located at wind farm sites."

Heather Donald

Onshore Renewables Development and Construction Director, SSE Renewables
Public Consultation
SSE Renewables has today commenced a public consultation to seek views from people in County Wexford on the proposed co-located solar and battery project. Members of the local community are being invited to attend a public consultation event at the Stella Maris Centre, Kilmore Quay in Wexford, to find out more about the proposed development. The event is open to members of the public from 3pm to 8pm on Thursday 26 January, and project team members from SSE Renewables will be in attendance to provide further information and answer any queries from the public.
Following the completion of the public consultation, SSE Renewables intends to submit an application for planning permission to Wexford County Council later this Spring. This will be advertised locally and members of the community will have an opportunity to make submissions on the planning application at that time.
For more information contact email: clo@sse.com
Project proposal
The proposed site area is 30.2ha and will comprise the following:
Linear arrays of mounted solar panels up to 3.2m in height laid out from west to east to optimize the solar gain from a southerly aspect
Approximately 6 containers to house lithium-ion batteries or similar technology
Construction of internal cable to connect the facility to the existing Richfield Wind Farm 38kV substation
Construction of communication cable ducting to connect the facility to the existing Richfield Wind Farm 38kV substation
The grid connection will be via the existing Richfield Wind Farm 38kV substation
Potential upgrade works to the existing Richfield Wind Farm 38kV substation
About SSE Renewables
SSE Renewables is the leading renewable energy developer, owner and operator in Ireland and the UK, with a growing presence internationally to deliver the green energy the world needs. Its strategy is to lead the transition to a net zero future through the world-class development, construction and operation of renewable power assets and is building more offshore wind energy than any other company in the world. Part of the FTSE-listed SSE plc, SSE Renewables is taking action to double its installed renewable energy capacity to 8GW by 2026, and increase renewables output fivefold to over 50TWh annually by 2031.