Back to overview
Raasay Community Celebrates Becoming an Electricity Generator10 Nov 2022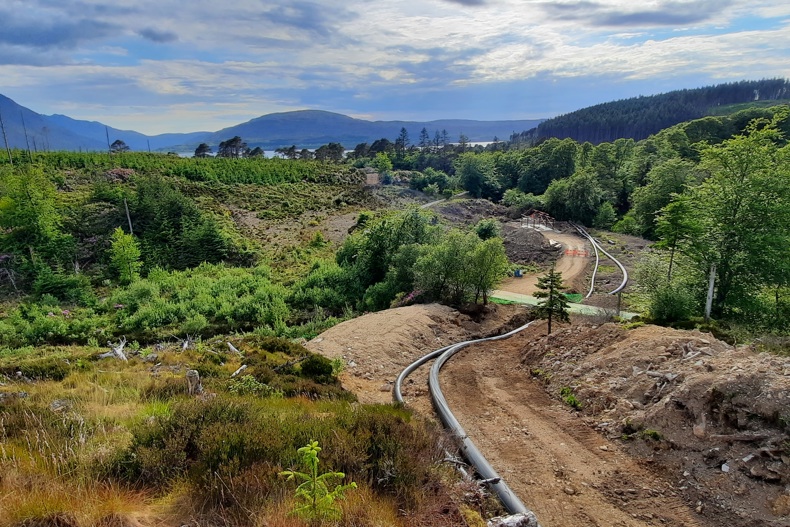 Isle of Raasay residents celebrated becoming the latest community to generate electricity in Scotland. The project was funded by Raasay Community Renewables (RCR) which, in 2021, raised £650,000 in a community share offer that attracted 363 members, more than twice the population of the island itself. Members' investments matched a generous £300,000 grant from SSE Renewables.
Designed and built by community-focused microenterprise, Bluenergy, the project consists of two run-of-river hydro schemes with a combined potential of 137KW. Over an average year, the total output will be around 500,000 kWhr, enough to power 144 houses.
Conservative financial projections indicate that the project will generate a community benefit payment from 2024 of £6k rising yearly to £28k in 2031 and beyond.
"After nine years planning, designing and, finally, building, there is much to celebrate. The hydro schemes are transformational for Raasay, allowing us to shape our community's transition to a more sustainable future and generating an income we can use to support local projects. We are very grateful to our members and to the many people and organisations which have been pivotal to this project's success, including Bluenergy, SSE Renewables, Highlands & Islands Enterprise, Community Shares Scotland, Kate Forbes MSP and Local Energy Scotland who administer and manage the Scottish Government's Community and Renewable Energy Scheme (CARES)."

Rosie MacLeod

Co-Chair of RCR
"The launch of this project coincides with Raasay being selected as one of the Scottish Government's Carbon Neutral Islands. As a tiny community, we have built up a phenomenal skills set and important partnerships in the delivery of our hydro schemes. While the priority right now is to ensure the schemes run smoothly and that we provide the best possible service to our members, we can be ambitious about further opportunities that enable Raasay to contribute to Scotland's environmental targets. What we need is more grid capacity for the connection of renewables. We also need the proposed Local Energy Bill passed in Westminster to allow more of the power produced locally to be used by the community"

Ross Gillies

Co-Chair of RCR
"The community hydro project on the Isle of Raasay will deliver a real and sustained benefit for decades to come for the local community and businesses. We are committed to working with rural communities to help power genuine change and we're very proud to play a key funding role in helping this transformational project come to fruition. Communities across the Highlands have been growing their ambitions, and our funding and support is helping them to deliver on their aspirations. We want to support rural communities and regions transition to net zero as much as possible through our Sustainable Development Fund which continues to support fantastic projects."

Morven Smith

Head of Community Investment at SSE