Back to overview
Increase in overall potential project capacity identified for Ossian Wind Farm04 Nov 2022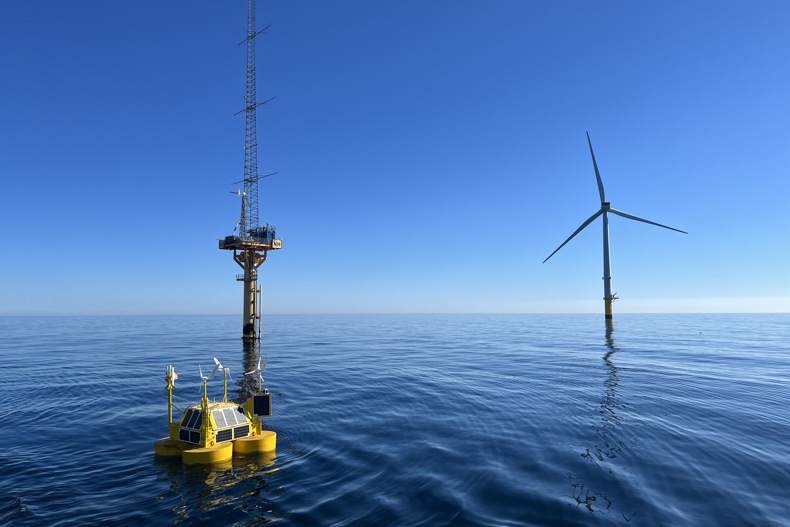 Potential capacity output rises to up to 3.6GW following geophysical and benthic surveys
An increase in the potential overall project capacity from 2.6GW to up to 3.6GW has been identified for the proposed Ossian Wind Farm off the East Coast of Scotland, which if achieved, would put it among the top five largest floating offshore wind farms globally.
The Ossian project is being delivered by a partnership of leading Scottish renewable energy developer, SSE Renewables, Japanese conglomerate Marubeni Corporation (Marubeni) and Danish fund management company Copenhagen Infrastructure Partners (CIP).
In recent months the Ossian project completed a full geophysical and benthic survey of the project area. The data collected has informed a review of the potential wind farm capacity. Subject to undertaking the necessary further environmental and technical assessments, the site could be used to generate the increased capacity of up to 3.6GW.
"We are excited that through further technical assessment of our project area, we now believe Ossian could provide an even greater renewable electricity output. If realised, this change would position the project among the top five largest floating projects in the world, demonstrating its epic scale. This is a great motivator for project partners SSE Renewables, Marubeni and CIP and the whole project team."

David Willson

Senior Project Manager for Ossian
David continues to say,
"Our geophysical survey collected data to a very high standard, ahead of schedule and under budget in 109 days with zero HSE incidents – an amazing achievement to be proud of.
"Our FLiDAR and Metocean measurement campaign successfully kicked-off in August which will deliver comprehensive measurements of the metocean conditions to inform the development of the Ossian site.
"We will now work with our stakeholders and regulators to secure the appropriate consent so that the full potential of the Ossian Wind Farm Project can be realised."
Floating LiDAR (or FLiDAR: Floating Light Detection and Ranging) equipment is now acquiring data at the Ossian site having been deployed by Glasgow-based metocean specialists PARTRAC.
The company has placed EOLOS FLS 200 FLiDAR equipment across two locations at the Ossian site with the aim of measuring wind speed and direction to help determine the best locations and positions for wind turbines.
PARTRAC have also deployed their metocean equipment consisting of three wave buoys and three subsea moorings at three locations. The installed equipment will measure the waves, current, tidal levels, turbidity, conductivity, and temperature.
"Our work at the Ossian site marks the start of two years of data collection so that we can build knowledge of site characteristics and capture critical metocean data. This is an incredibly important process as it establishes both the wind resource and environmental conditions for the project. We're very pleased and proud to be involved in this flagship project."

Sam Athey

Managing Director from PARTRAC
The proposed floating offshore wind farm takes its name Ossian (pronounced 'os-si-un') from The Poems of Ossian. It is set to be located across 858 km2 of seabed in waters off the east coast of Scotland. The deployment of floating offshore wind turbines delivering up to 3.6GW of new installed capacity is enough to be capable of powering almost 6 million Scottish homes and offsetting around 7.5 million tonnes of harmful carbon emissions each year.
When complete, the project will be amongst the world's largest floating offshore wind farms, positioning Scotland as a global leader in floating offshore wind technology. The Ossian team will be holding scoping workshops with key stakeholders on week commencing November 14th to help better understand their initial views.
About FLiDAR
Floating LiDAR is an innovative technology that integrates a LiDAR (Light Detection and Ranging) to provide accurate and reliable data of wind speed and wind direction. FLiDAR data will be gathered from the Ossian site for 2 years for engineering design and energy production assessments.
About the Ossian partners
The SSE Renewables-Marubeni-CIP consortium has unrivalled local and global experience as well as unparalleled technical and environmental expertise, making it uniquely placed to deliver new offshore wind in Scottish waters.
Perth-headquartered SSE Renewables already has an unrivalled track record in Scotland, including the country's largest offshore wind portfolio and is building more offshore wind energy in the world right now than any other company. It includes the 1.1GW Seagreen Offshore Wind Farm, approx. 27km from the coast of Angus in the North Sea, which will be Scotland's largest, and the world's deepest, fixed-bottom offshore wind farm when complete in 2023.
Marubeni owns stakes in power projects across 21 countries (including Japan) for a total net capacity of about 12GW. For Ossian, Marubeni brings a wealth of sector experience of delivering floating offshore wind, including leading floating offshore wind demonstration projects in Japan with five different floating foundations.
Founded in 2012, CIP today is the world's largest dedicated fund manager within greenfield renewable energy investments and a global leader in offshore wind. CIP has an international footprint with vast experience of delivering offshore wind across continents. In the UK, CIP's exclusive development advisor, Copenhagen Offshore Partners, is developing the 100MW Pentland Floating Offshore Windfarm.
These capabilities and commitments, coupled with a combined worldwide development portfolio of more than 27GW, demonstrate the SSE Renewables-Marubeni-CIP partnership's extensive and successful track record of delivery in offshore wind, both locally and globally.