Back to overview
Schools' tours let Shetland pupils experience Viking Wind Farm first hand
22 Sep 2022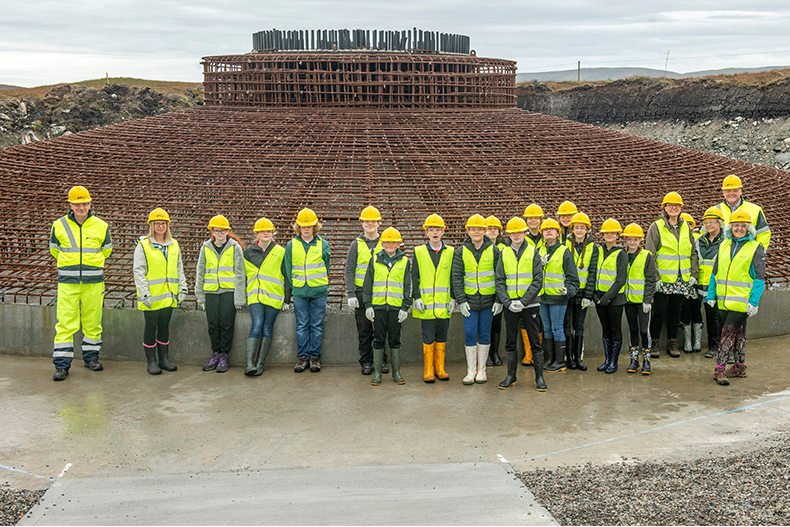 S1 pupils from Brae High School in Shetland visiting Viking Wind Farm this week.
A programme of school visits to the Viking Energy Wind Farm has so far helped more than 360 pupils from Shetland learn more about the project climate change and wind energy.
By the end of October, SSE Renewables, the developer of Viking Wind Farm, will have hosted school visits from fifteen schools across the islands, from Baltasound in Unst to Anderson High School in Lerwick. As well as a bus tour, the children, and young people from aged 5 to 17 years old who visit the site, have the opportunity to name a turbine and to fill a time capsule which will be buried at their chosen turbine's base.
Anne Bennett, Science teacher at Brae High School visited the site with her class on Wednesday. She said:
"We have really enjoyed the opportunity to see the construction up close for ourselves. I can teach my pupils about the science behind renewable energy, but nothing beats seeing it first-hand. I commend the Viking Wind Farm team for hosting such an engaging and enjoyable experience."
SSE Renewables' Julie Graham is Community Engagement Manager for Viking Energy Wind Farm. She said:
"Everyone on the team has got so much out of hosting the school visits. It has been fantastic to see the children and young people learn about the project and to answer their questions. We are looking forward to hosting a further nine visits between now and October at which point more than 550 pupils will have joined us on site.
"We look forward to continuing to collaborate with schools and other groups from the community to share what is happening with the project and to contribute to community life throughout Shetland."
SSE Renewables Head of Onshore Development, Derek Hastings joined the visit on Wednesday. He said:
"The team in Shetland are rightly proud of the work taking place at Viking and want to share progress with the community in a worthwhile and educational way
"The climate emergency is real, and we want to show young people the benefits of wind energy and who knows, hopefully some of them will be inspired to be the renewable energy engineers of the future.
"We continue to support many initiatives in the local community, many of which are close to the heart of the colleagues, including rolling out an educational programme for Shetland's Primary age children to educate them about the science of wind energy, which has been developed by qualified teachers and is aligned to the Scottish Government's curriculum for excellence."
To find out more about Viking Energy Wind Farm visit vikingenergy.co.uk
To find out more about our STEM education resources visit the National Schools Partnership website.