Back to overview
Shetland Schools experience virtual reality as part of Viking Wind Farm STEM programme19 Apr 2022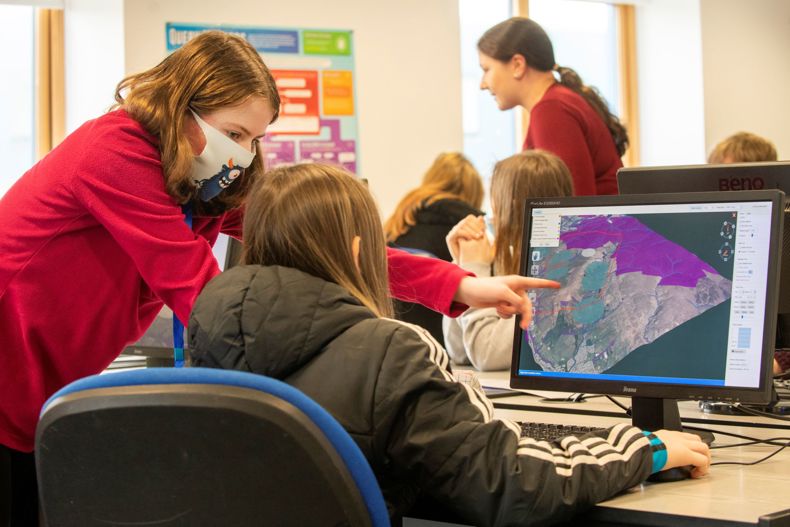 Pupils from Brae, Anderson, Whalsay and Sandwick schools have taken part in three days of Science, Technology, Engineering and Mathematics (STEM) events held at Lerwick College/UHI and funded by SSE Renewables and Viking Energy Wind Farm.
The 41 students visited the campus last month, where they experienced course delivered by Manchester based 3D design company, 3DW.
During the event the young people used virtual reality software to design a windfarm and were able to visualize 360-degree designs of wind farms using a VR headset. The groups were also taught how to manage costs for their infrastructure and delivered presentations about their projects.
Andy Dennison who delivered the courses with his colleague Naomi McFarlane said:
"It was great to see the pupils work with real enthusiasm across the 3 days. Whilst the focus was on developing their STEM skills, the programme incorporates teamwork, communication and presentation skills to help build confidence and develop employability skills which are transferable to any job in and industry".
Kevin Briggs, Depute Principal Shetland UHI, said:
"We were delighted to be able to host this event for the pupils and to offer the opportunity for some of our Skills for Work students also.
"It was a great mix of students from different subject areas and gave them the opportunity to apply the technology to a real situation.
"They also had to develop their team working and presentation skills and the students seemed really engaged. We look forward to working in partnership with Viking Energy Wind Farm, 3DW and DYW in the near future."
Developing the Young Workforce (DYW) Shetland's School Coordinator at Brae High School, Emily van Tonder, coordinated the school's attendance. She said:
"DYW is all about linking school pupils and employers together to offer work relevant education.
"Both SSE Renewables and the team from 3DW were great to work with, enthusiastic about engaging with our young people and teaching transferable skills for the workplace.  It was a great event which both pupils and attending teachers enjoyed."
Julie Graham, Community Engagement Manager for the Viking Energy Wind Farm project said:
"We sponsored this interactive event so that young people in Shetland could get a better understanding of the processes involved in designing wind farms and as part of our ongoing commitment to working with schools.
"Working in partnership with DYW was essential to the events success as they coordinated with the schools to ensure maximum participation. The three days were really engaging and a lot of fun. Due to how well they were received we are hoping to do it again in the Autumn."