Back to overview
WATCH: SSE Renewables at COP26 – Setting out our vital role in addressing the climate emergency
11 Nov 2021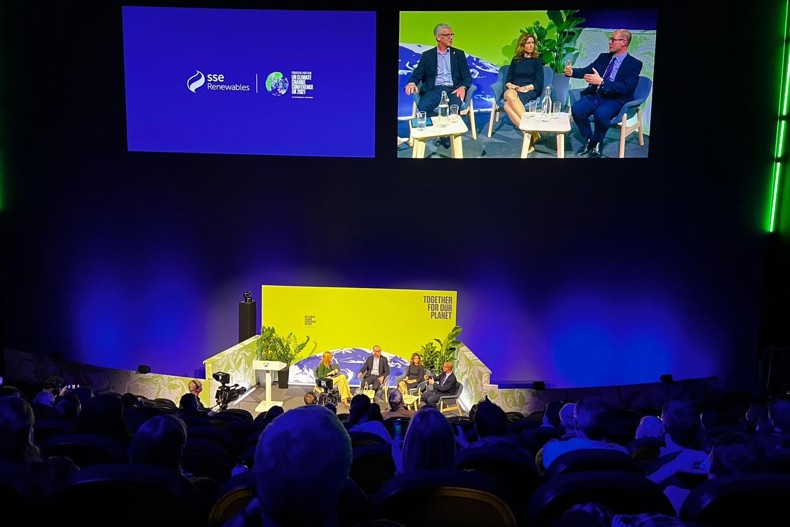 SSE Renewables hosted an event focused on our hydroelectric assets and history at the IMAX cinema in the COP26 Green Zone. You can watch the full session below.
Across the two weeks of COP26, our leaders and our colleagues have hosted a variety of events and attended vital meetings in which they spoke with industry experts and major stakeholders about what SSE Renewables can do to accelerate our response to the climate emergency and reach net zero carbon emissions more quickly.
On the morning of Wednesday 3 November, our Managing Director Jim Smith, hosted a roundtable discussion from our headquarters in Glasgow on 'Unlocking the potential of Long-Duration Storage for a Net Zero UK' which featured former Australian Prime Minister Malcolm Turnbull.
At the event, Jim Smith said:
"We don't have much time. The growth of renewables will accelerate; therefore, the growth of storage must also accelerate."
"What we can't afford to do is take too long on a decision. Storage really does need to start catching up. There are schemes and opportunities there and the financial community are absolutely ready to invest in it (if they see market stability)."
You can watch the panel discussion below:
Later that same day, SSE Renewables' Director of Capital Projects, Paul Cooley hosted a further panel discussion on the subject of, 'Scotland's offshore wind opportunity, 2030 and beyond'.
The event was chaired by the Chief Executive of Scottish Renewables Claire Mack and featured stakeholders including The Scottish Government. RSPB Scotland, Vestas, and the Scottish Fishermen's Federation.
During the discussion, Paul Cooley set out that Scotland's stretching 2030 offshore target can be met with the 6GW consented and Berwick Bank able to add up to 4.1GW by the end of this decade.
You can watch the full event below:
Our final major event was the premiere showing of our film 'Hydro – Powering a Net Zero Future' in the COP26 - UN Climate Change Conference Green Zone.
This was followed by a spirited panel discussion hosted by former BBC Scotland presenter Jackie Bird. Taking part were SSE Group Energy and Commercial Director Martin Pibworth, Joana Freitas, Executive Board Director, EDP Produceo and Julian Leslie, Head of Networks, National Grid.
During the panel discussion it was clear that the participants agreed that hydro power – the original renewable energy is here to stay and a much-needed component for addressing the climate emergency.
You can watch the event including the full film below: