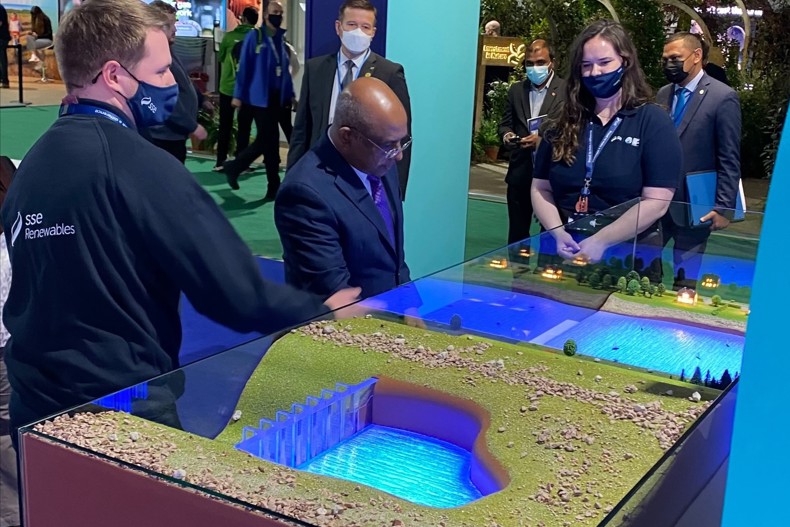 Abdulla Shahid, President of the United Nations General Assembly with the Coire Glas model
A scale model of the proposed Coire Glas pumped hydro storage scheme has been dazzling delegates at the COP26 climate convention in Glasgow.
The interactive attraction, which is on display in the event Green Zone at the Glasgow Science Centre, caught the attention of global leaders and celebrities.
Abdulla Shahid, President of the United Nations General Assembly, was given a demonstration during a visit to the SSE stand (pictured) and former Formula One world champion Nico Rosberg took time to examine the display during his tour of the Green Zone.

Former Formula One champion Nico Roseberg shared his visit to the Coire Glas model with his 1.7 million Instagram followers.
Coire Glas, located on the shores of Loch Lochy near Fort William, will be the first large scale pumped storage scheme to be developed in the UK for more than 30 years. Ground was broken on investigatory works at the site earlier this week.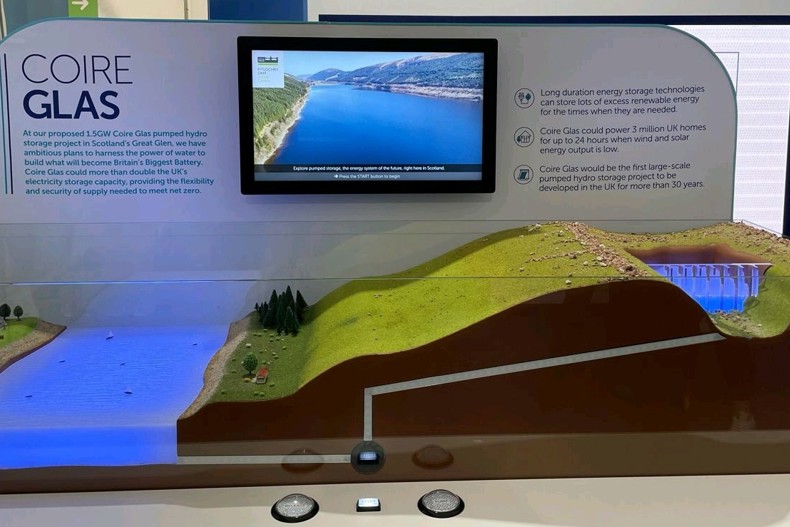 SSE Graduate Engineer Alex Hayward is part of the team who created the model. He said: "The scale model of Coire Glas has been a huge hit at COP26 which is wonderful news for all of us who feel passionate about the benefits it could bring. SSE's message at this convention is 'Powering change for a net zero future' and we see pumped hydro storage as a crucial part of the UK's future energy mix.
"Decarbonising the UK's electricity supply will only be possible if ambitious projects such as Coire Glas can be delivered. We have welcomed the chance to discuss these issues during COP26 and look forward to working together to build a net zero world."
In addition to the Coire Glas model, SSE's stand also gave visitors a chance to send a message to world leaders by adding their name to what will be the world's largest offshore wind farm at Dogger Bank, in a poignant symbol of the need for urgent action.