Back to overview
Local Politicians Celebrate Pitlochry Dam's 70th Anniversary05 Oct 2021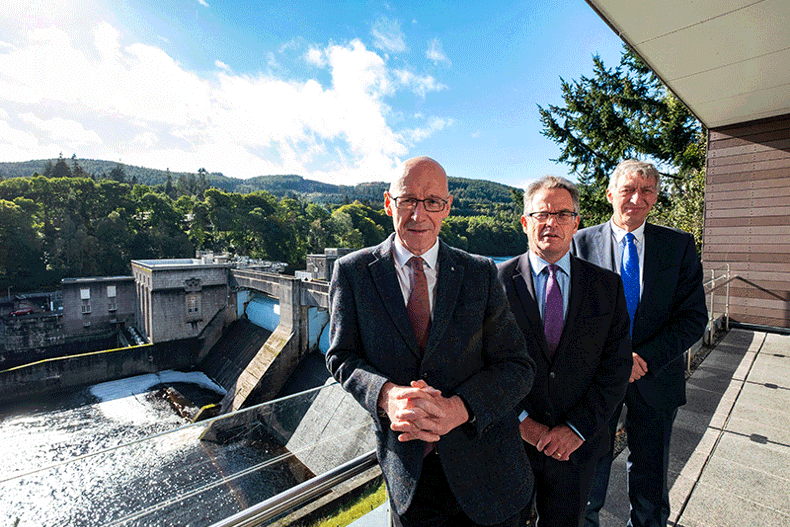 John Swinney MSP, SSE Group Finance Director Gregor Alexander and Perth & Kinross Councillor for Highland Ward, Mike Williamson at Pitlochry Dam
SSE was delighted to welcome John Swinney, MSP for Perthshire North and Mike Williamson, Councillor for Highland Ward as part of our celebrations to mark the 70th anniversary of Pitlochry Dam and Clunie Power Station.
A popular landmark with people in Scotland and tourists alike, Pitlochry Dam took four years to build and started generating electricity in 1950.
Famous for its fish ladder, the popular attraction continues to be fully working with the station's two turbines meeting the energy needs of some 15,000 homes today, more than seventy years on from when it started generating power.
Pitlochry and Clunie are part of the Tummel Valley scheme. Consisting of 9 power stations, 6 major dams, and 10 lochs and reservoirs it provides a total generating capacity of 240MW; and a storage capacity of nearly 162 GWh, which is enough to power 1 million households for around 7 days.
Today, Pitlochry continues to be an important cog in the wider Tummel valley scheme. As the last dam and generating station in the cascade system, it needs to have the capacity and flexibility to deal with all the water that ultimately comes down the valley. With a catchment area of over 1800km2, the drum gates at Pitlochry are used to pass excess water in a controlled manner throughout the winter months.
As other forms of renewable energy are increasingly introduced onto the electricity system, the flexibility offered by hydro power will become even more pivotal in Scotland and the UK's ability to meet net zero targets.
"I'm delighted to welcome John Swinney and Cllr Williamson to Pitlochry to celebrate this important milestone in Pitlochry's history and discuss hydro's role in our journey to net zero. We're immensely proud to be the custodian of these incredible generating assets – Scotland's original source of renewable energy.

This ability to effectively store our main fuel source, water, for when it's needed to generate electricity means that hydro will be vital as we seek to combat climate change."

Gregor Alexander

Group Finance Director, SSE
"I was delighted to join SSE and the wider community in celebrating the 70th anniversary of Pitlochry Dam and Clunie Power Station.

Pitlochry Dam is an iconic Highland Perthshire attraction and it is a testament to its durability that, after seven decades, it is still working at full capacity."

John Swinney

MSP for Perthshire North
"Whilst with anniversaries it is natural to look to the past, we must not forget that Pitlochry Dam and Clunie Power Station will each contribute to our efforts to tackle climate change both now and in the future.
"I am therefore confident that these facilities will continue to play a pivotal role in Highland Perthshire for many years to come."
"It was an honour to be invited along to participate in the 70th anniversary celebrations of the opening of the Pitlochry Dam. I used to cut the grass around the dam as my after-school job and the dams within the Tummel Valley have always held a great fascination for me.

The fact that renewable energy is still being produced and is making a vital contribution to our everyday lives is a great testimony to the post war generation who had the vision to create a renewable energy system within the Tummel Valley.

The current and past employees of SSE deserve our recognition for the contribution that they have made in maintaining Pitlochry Dam and Hydro Scheme for the next generation."

Mike Williamson

Councillor for Highland Ward