Back to overview
Deputy First Minister addresses renewable energy event at Pitlochry Dam Visitor Centre20 Oct 2021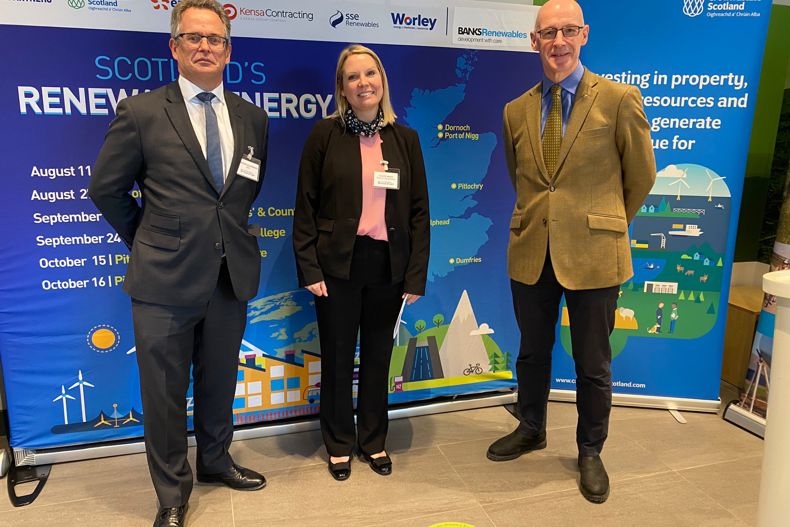 Reception part of Scottish Renewables COP26 tour, sponsored by SSE Renewables
Deputy First Minister John Swinney MSP addressed a renewable energy event at SSE Renewables' Pitlochry Dam Visitor Centre last Friday as part of a tour that brought together those working in the green energy industry ahead of COP26.
The event was part of the finale of industry body Scottish Renewables' Renewable Energy Roadshow, held as part of the body's Year of COP campaign and co-sponsored by SSE Renewables, to inform and educate people in Scotland's communities about the positive impacts of renewable energy on local communities, the economy and the fight against climate change.
The Deputy First Minister was joined for the final stop of the tour by SSE's Group Finance Director Gregor Alexander alongside Scottish Renewables CEO Claire Mack.
The Pitlochry date concluded a tour which also visited Dornoch, Port of Nigg, Lochgilphead and Dumfries.
John Swinney MSP said:
"I was delighted to attend the Scottish Renewables roadshow, and to speak about the advantages of renewable energy.
"It was particularly fitting that the event took place at Pitlochry Dam, which is celebrating its 70th anniversary and is a testament to the positive impact that renewable energy can have on local communities.
"With COP26 fast approaching, it is clearer than ever that we all have a collective responsibility to tackle the climate emergency and secure our planet's future. As a nation, Scotland is in a powerful position to take meaningful action, with 25% of Europe's offshore wind and 25% of its tidal power potential.
"I am grateful to Scottish Renewables for hosting these roadshows, and for the key role they are playing in promoting the benefits of renewable energy."
Welcoming guests to the Visitor Centre, Gregor Alexander said:
"I'm delighted to have been able to welcome Scotland's Deputy First Minister and other distinguished guests to the final Year of COP Roadshow event. I'd like to thank Scottish Renewables for organising such an exciting roadshow concept at such an important time for us all.
"It's also apt that Pitlochry should provide the backdrop for the final event. Hydro was Scotland's original source of renewable energy and 70 years after most of our hydro assets were built they're still going strong. Hydro power in Scotland has a hugely important role to play in our path to net zero - just last month we announced a £50m upgrade to repower Tummel Bridge Station just a few miles from here that will keep it operational all the way out to 2060. We also hope to build on Scotland's hydro legacy by constructing our 1500MW Coire Glas project in the Highlands, the first pumped hydro storage project in the UK for over 40 years.
"Today, SSE is building more offshore wind than anyone else in the world, which, as a Perth-Headquartered company, is true testament to Scotland and the UK's global leadership role in this space. But we want to go further and faster to tackle climate change. I have absolutely no doubt that COP26 provides the impetus not only to seize these opportunities, but to unite people throughout the country to get behind the climate cause, demonstrating all the ways a cleaner planet will benefit people's lives."
Nick Sharpe, Director of Communications and Strategy at Scottish Renewables, said:
"We are delighted that John Swinney, as Deputy First Minister and local MSP, was able to join us at this important event, which gave organisations working in renewable energy in the Pitlochry region the chance to meet and discuss the sector's future ahead of the COP26 climate event in Glasgow next month (Nov).
"Perthshire has a long history of renewable energy production and it is more than fitting that the event was held at the Pitlochry Dam Visitor Centre - a venue which does so much to educate the public about our industry's contribution to Scotland's environment and economy."
Scotland's Renewable Energy Roadshow was delivered by industry body Scottish Renewables as part of its Year of COP campaign alongside Partners including SSE Renewables, Crown Estate Scotland, Kensa Contracting, and Worley, among others.