Back to overview
70,000 green jobs forecast by 2026 from UK offshore wind25 Mar 2021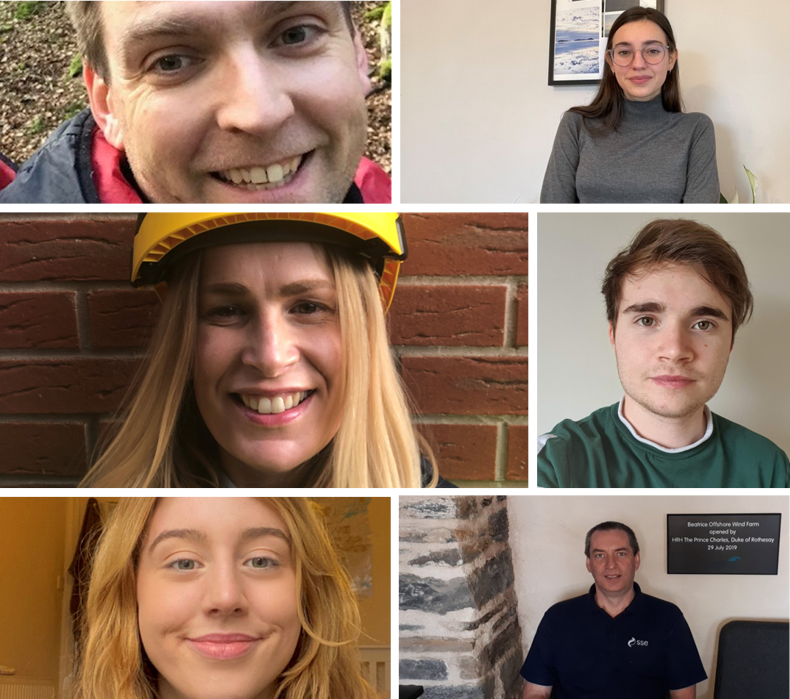 Meet some of the faces of SSE Renewables who #WorkInOffshoreWind (clockwise from top left): Ross Turbet, General Manager, Greater Gabbard; Lila Vazquez Villamor, Electrical Engineer, Dogger Bank; Luke Woolley, Technical Analysis Graduate Trainee, Dogger Bank; Alan Paul, Control Room Lead, Beatrice; Jessie Salter, Mechanical Engineer, Berwick Bank and Marr Bank; Rachel Lawrence, Community Engagement Manager, Dogger Bank
There's more great news today as RenewableUK unveil new research by the Offshore Wind Industry Council (OWIC) that forecasts that almost 70,000 people will be working in UK offshore wind jobs by 2026.
The employment expansion, which will see green jobs rise from 26,000 currently to over 69,800 by 2026, will be driven by private sector investment of £60.8bn billion across the UK over the next five years. This investment will power the development, construction and operation of new offshore wind projects as the industry expands rapidly to help the Government to achieve its net zero emissions goal.
The OWIC report says most of the projected new jobs will be created in parts of the UK which urgently need levelling up, including the north east of England, Yorkshire and The Humber, East Anglia and Scotland – all regions where SSE Renewables is either building or developing new offshore wind sites.
These include important projects such as Dogger Bank Wind Farm and Seagreen Offshore Wind Farm. The construction of both these world-leading projects by SSE Renewables are already supporting thousands of direct and indirect supply chain jobs in UK regions including Scotland and north east of England and are helping to deliver the green recovery that will power us through to achieving net zero carbon for the UK.
Paul Cooley, Director of Capital Projects at SSE Renewables, said:
"This report shows once again the transformative role that offshore wind is playing in driving the creation of new green jobs across the UK. For our part at SSE Renewables, we're committed to making UK supply chain investments happen, helping create enduring jobs in places that really need them, at a time when they are really needed.
"In recent weeks we've seen our offshore wind projects help deliver some truly exciting job creation announcements, which will result in hundreds of new direct and indirect jobs in Scotland and England's North East. And we're just getting started. We're confident our pipeline of new offshore wind sites we're developing around the UK will add even more supply chain jobs in the future. With a real commitment to supporting our local supply chain, our industry will deliver the green recovery we need and unlock the jobs growth potential that exists across the regions in the UK."
You can read more about the new OWIC research here.