Back to overview
€228,000 presented to 101 community groups from Limerick and Kerry22 Mar 2021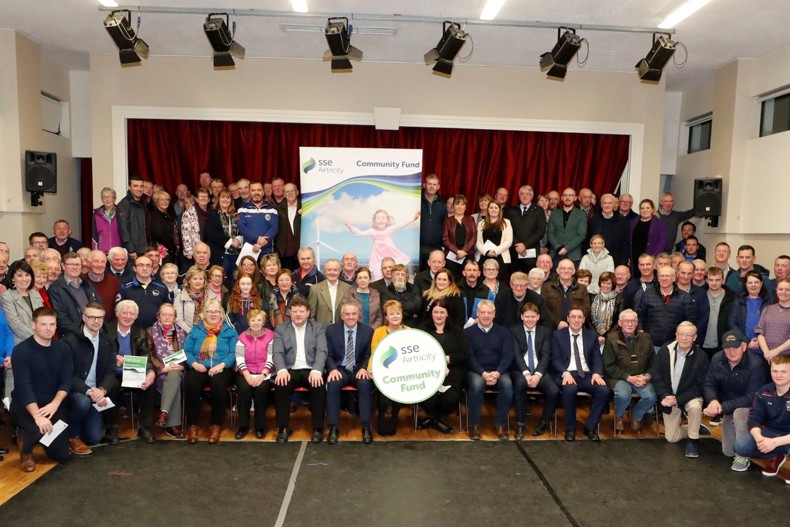 101 community groups from Limerick and Kerry shared in Community and COVID-19 response funding of over €228,000 in 2020.
This latest presentation takes the company's contribution in the area to date to over €2.2 million (€2,210,726)
The latest round of funding commenced in August 2020 when we launched a Schools COVID-19 response fund to support local schools around Athea, Dromada, Rathcahill and Tournafulla wind farms in Limerick and Lenamore in Co. Kerry.  The funding was made immediately available, to enable schools open safely in compliance with COVID-19 measures in September.
21 schools were awarded funding to the tune of €57,191 for the rollout of COVID-19 response measures.
The remaining Local Community Fund which is operated by SSE Airtricity on behalf of SSE Renewables, was opened soon after and 80 groups were awarded funding totalling €171,573. Applications focused on rebuilding communities in the months ahead post COVID-19. In recognition of the impact of the pandemic on many community organisations, the funds in 2020 were repurposed to support running costs as groups were unable to generate the funds to cover these costs while Covid restrictions were in place.
Athea Tidy Towns in Co. Limerick is putting this year's funding towards surfacing the Galey river walkway in Athea Village.
Henry Moran, Chairman of Athea Tidy Towns, said: "In 2020 Athea Tidy Towns purchased some land to develop a River Walk along the River Galey in Athea Village. This project has been affectionately known as 'our lockdown project' as volunteers came together socially distant to assist with construction of the walkway and to plant a variety of native hedging, trees and a community stage. The SSE Airtricity community funding will enable us to further enhance the Athea Tidy Towns River walk by laying a permanent surface to make the area safer for users and suitable for buggies and wheelchairs."
Brosna GAA in Co Kerry is using the funding to continue helping the community during this COVID-19 pandemic.
John Sheehan, Chairperson of Brosna GAA, commented: "The contribution from SSE Airtricity Community Fund will allow us to continue supporting the elderly, house bound and vulnerable members of the community in this time of uncertainty. We partnered with Kerry County Council who in conjunction with the Dept of Rural and Community Development are operating Kerry County Council Community Support Hub. It is important to ensure everyone knows there is help and support readily available at the other end of a phone".
Helen Broderick - Chairperson Tournafulla Sustainable Living Community said: "Tournafulla Sustainable Living's aim is to keep our community and our area alive and viable. We have done much to accomplish this in the past, thanks to SSE community funding. We know that much work will need to be done to develop the site and garden, but interest is great, and volunteers are willing. This gives people a chance to work safely outdoors, and to keep engaged with the community, young and old."
 Anne Reynolds, Community Development Officer, said: "SSE Airtricity is really proud to be making a difference in communities across West Limerick and North Kerry. We've been presenting communities here with funding since 2008 and this latest presentation brings our total funding in the area to over €2.2 million. Through the financial assistance of over €228,764 awarded from Athea, Dromada, Lenamore, Rathcahill and Tournafulla wind farms within the last few months 80 community groups and 21 schools were able to deliver a range of community support reliefs. Measures supported include delivery of food for vulnerable families, meals on wheels to the elderly and those isolating/shielding, and medical deliveries to those unable to leave the house.  These were lifesaving services that where valued by each and every member of the community.  Likewise, for those shielding and to support with home schooling broadband was funded to allow communications to be maintained throughout.  Importantly, funding was provided to allow community groups to purchase the necessary PPE to be able to provide the COVID-19 response measures and provide that level of safety to the volunteers."
Full list of groups being supported:
The following groups in West Limerick and North Kerry received funding from this year's COVID-19 Response Community Fund for a variety of COVID-19 measures, energy-efficient and sustainable projects.
Abbeyfeale Christmas Lights
Abbeyfeale Community Alert
Abbeyfeale Community Leisure Ltd.
Abbeyfeale Folk Theatre
Abbeyfeale Men's Shed
Abbeyfeale United
Abbeyfeale Tidy Towns
Ardagh Community Leisure
Ardagh District Recreational & Sporting Co.
Athea Gun & Conservation Club
Athea Craft Club
Athea Kids Art Group
Athea Community Council
Athea GAA
Athea Library
Athea Parish
Athea Tidy Towns
Ballylongford Christmas Lights Group
Ballylongford GAA Club
Ballylongford Community Hall
Ballylongford Tidy Towns
Ballylongford  Playground Committee
Ballyhahill Development Association
Brosna GAA
Brothers of Charity Foynes
Carrigkerry Sports Association
Con Colbert Hall
Cob Road Animal & Bird Trails
Desmond Complex
Duagh Sports & Leisure
Failte Isteach Gach Duine Moyvane
Father Casey's GAA
Gerald Griffin National School
Glin Day Care Centre
Glin Men's Shed
Glin GAA
Glin Development Association
Glin Pier Swimming Club
Glin Rovers
Glantine FC
Killeedy Comhaltas
Killeedy Community Alert Hall Management Committee
Killeedy Camogie Club
Killeedy Defibrillator Group
Killeedy Hall Management Committee
Killeedy Youth Club
Kantoher Development Group
Knockanure Community Centre
Knockdown Vintage Club
Knocknagoshel Over 55's Social Club & Women's Group
Lenamore Rovers
Loughill Community Development
Lyreacrompane Heritage Centre
Moyvane Development Association
Loch Ghe Wren Boys
Moyvane Knockanure Parish
Moyvane Ladies Football Club
Moyvane Sports Hall
Mullaghareik Walking Trails
Newcastle West GAA
North Kerry Heart Start
Scoil Naomh Mhuire Ballyhahill
Scoil Padraig, Knocknasna,
St. Kieran's GAA
St. Senan's District Community Alert
Tarbert Bridewell CLG
Tarbert Development Association
Tarbert GAA
Templeglantine Community Council CLG
Templeglantine GAA
Templeglantine Parish Finances
Tournafulla Camogie Club
Tournafulla Comhaltas
Tournafulla Community Council
Tournafulla Development Association
Tournafulla GAA
Tournafulla Mountcollins Finance Committee
Tournafulla Sustainable Living Organisation
Tournafulla Village Tidy Towns
West Limerick Singing Club
West Limerick North Kerry Schools' COVID-19 Response Fund recipients:
Athea National School
Gaelscoil O 'Dohair
Gerald Griffin National School
Glengurt National School
Killoughteen National School
Kilmeedy National School
Knocknasna National School
Lenamore National School
Meenakilly National School
Monagea National School
Murhur National School Moyvane
Scoil Corp Chríost, Knockanure,
Scoil Naomh ide Ashford
Scoil Mhuire Gan Smál
St. Bridgids National School, Duagh
St Fergus National School
St. Oliver's National School, Ballylongford
Tarbert Comprehensive School
Tarbert National School
Templeglantine National School
Temple Og Preschool