Back to overview
Seal Rescue Ireland free virtual youth education programme launched15 Feb 2021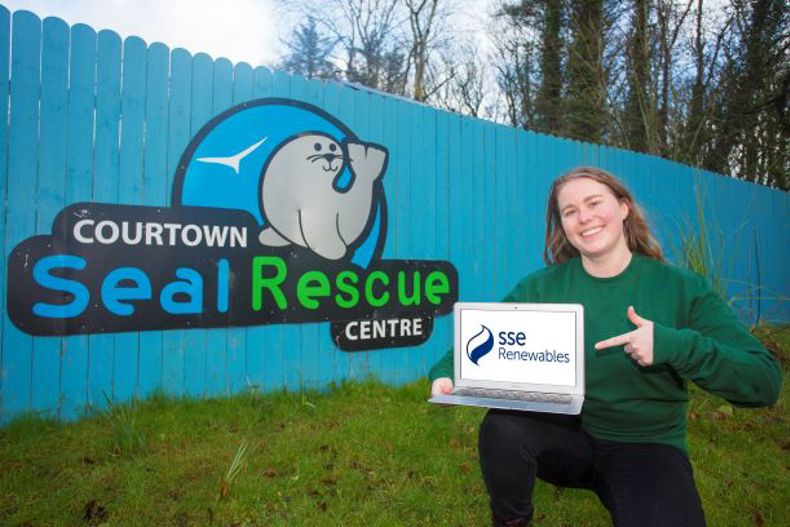 Ireland's primary seal-welfare charity Seal Rescue Ireland and leading renewable energy developer, owner and operator SSE Renewables have teamed up to develop an exciting new free virtual education programme for young people.
In response to the growing demand for virtual engagement and learning opportunities since the onset of the Covid-19 pandemic, Seal Rescue Ireland which is headquartered in Courtown, Co. Wexford, has partnered with SSE Renewables to produce an educational video and activity series available for free download on the charity's website sealrescueireland.org.
The eight-part mini-series, which launches today, is targeted for people of all ages 6 and up.
Alongside the videos, there are free downloadable activity workbooks, designed for two different age groups, to encourage and cement learning.
Seal Rescue Ireland Executive Director Melanie Croce said:
"Education is a huge focus of Seal Rescue Ireland's marine conservation work, and we want to give students every opportunity to continue to learn and grow during this challenging time.
"Since the Covid-19 lockdown began, we haven't been able to host our regular school tours, or carry out our Marine Conservation Roadshows, as we normally would.
"This virtual programme has been adapted to continue reaching and inspiring students from afar, with our cherished seals serving as ambassadors to highlight larger environmental issues."
Seal Rescue Ireland's new virtual education programme was funded by the Arklow Bank Wind Park (Phase 2) Sponsorship Fund which is available to local groups in Wicklow and Wexford during the development phase of the project.
Arklow Bank Wind Park (Phase 2) Project Manager James O'Hara said:
"SSE Renewables and the wider Arklow Bank Wind Park project team are delighted to support the work of Seal Rescue Ireland in producing this new virtual education programme that can be delivered to primary school students throughout Counties Wicklow and Wexford and beyond.
"The environmental impact of climate change is something that we are acutely aware of and it is wonderful to see such a programme being adapted and rolled out virtually, despite the impacts of Covid-19."
Committed to being a driving force for decarbonisation, SSE Renewables is a Principal Partner at this year's COP26, the United Nations Climate Change Conference which takes place later this year.
The educational videos and workbooks are available now on Seal Rescue Ireland's website at the following link: