New ScotWind partnership will provide local experience and global expertise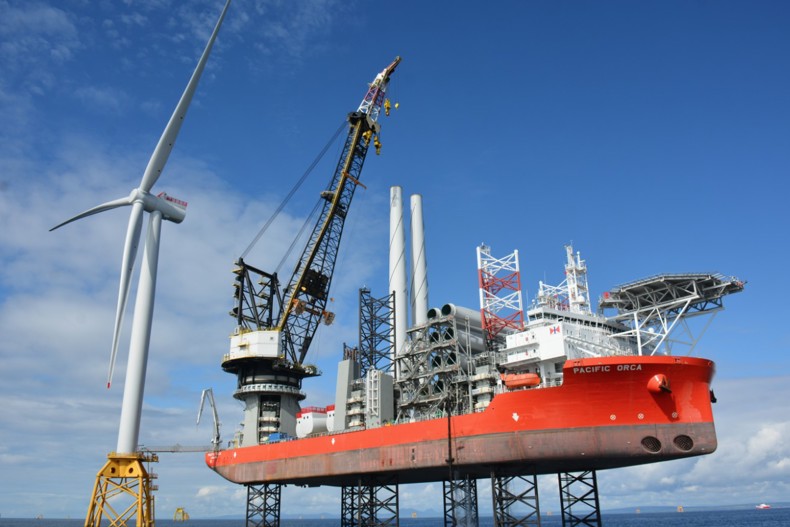 13 November 2020: The leading renewable energy developer in Scotland, SSE Renewables, has joined forces with Japanese conglomerate Marubeni Corporation (Marubeni) and Danish fund management company Copenhagen Infrastructure Partners (CIP) to work together on joint bids for the ScotWind seabed leasing process managed by Crown Estate Scotland.
Headquartered in Perth, Scotland, SSE Renewables already has the largest offshore wind portfolio in Scotland and has been involved in the industry from early stage demonstration projects through to developing, constructing and operating Scotland's current largest offshore wind farm, Beatrice. SSE Renewables, as part of a joint ventures, is also leading the construction of the 1.1GW Seagreen project which will become the largest offshore wind farm in Scottish waters when completed and Dogger Bank Wind Farm, which at 3.6GW will be the largest offshore wind farm in the world when operational.
Marubeni brings a wealth of sector experience and is currently leading a consortium to build Japan's first commercial scale offshore wind projects at Akita Port and Noshiro Port in Akita Prefecture. The company is also participating in two floating offshore wind demonstration projects in Japan. These are the world's first experimental floating wind farm project called Fukushima FORWARD sponsored by the Ministry of Economy, Trade and Industry and a demonstration project of Next-Generation Floating Offshore Wind Turbine sponsored by the New Energy and Industrial Technology Development Organisation (NEDO). Through these demonstration projects, Marubeni has experience of five different floating offshore wind technologies.
CIP has vast experience of delivering offshore wind with interests in Europe, Asia, North America and Australia and a global offshore wind pipeline of over 10GW. CIP has already worked with SSE Renewables on the 588MW Beatrice project in Scotland. Copenhagen Offshore Partners, who provide development and construction services exclusively for CIP, recently opened offices in Edinburgh which will serve as their global floating offshore wind competence centre.
SSE Renewables Director of Capital Projects, Paul Cooley, said: "We are excited to bring together the combined strengths of each of the partner organisations. With a leading track record in developing, building and operating large-scale renewable projects in Scotland, SSE Renewables brings significant national and local experience. We will seek to maximise the opportunities that are available to the local supply chain to take part in these future projects and will continue to actively engage through the Scottish supply chain clusters."
President & CEO of Marubeni Offshore Wind Development Corporation, Hisafumi Manabe, said: "The global expertise that Marubeni and CIP bring to the table is important not only in fixed foundation offshore wind deployment but also in the development of critical new floating technology. We believe that ScotWind will play a pivotal role in delivering the new Scottish offshore wind target of 11GW by 2030 on the pathway to net zero bringing a wealth of economic benefits along the way."
CIP Partner, Michael Hannibal said: "We were pleased to see the Scottish Government confirm the final Sectoral Marine Plan to give developers certainty on the potential option areas in ScotWind and look forward to finalising our bids in the coming months. We have a combined offshore wind portfolio of around 5GW in Scotland and over 20GW globally and we have our sights set on increasing this through the ScotWind process."
Those suppliers who would like to express an interest in working with the partners on these developments can register their details now by contacting scotwindsuppliers@sse.com.