Back to overview
SSE Renewables reaches final of RSPB Nature of Scotland Awards15 Oct 2020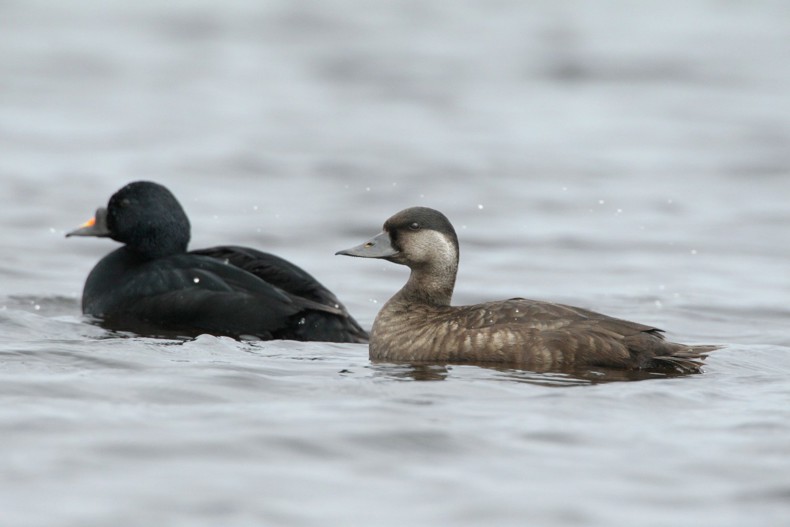 Common scoter (Credit: Andy Hay/RSPB)
14 October 2020: SSE Renewables has been chosen as a finalist for the RSPB Nature of Scotland Awards following its work to protect one of the UK's rarest breeds of bird, while a leading biologist at the company is nominated for the prestigious RSPB Species Champion. 
A small diving sea duck which moves inland to breed on freshwater lochs during summer months, the common scoter has seen its number substantially decline in recent years to little more than 40 breeding pairs in the UK. The Royal Society for the Protection of Birds (RSPB) is so concerned, the bird has been designated a Red List species meaning urgent action is required. 
The West Inverness-shire Lochs Special Protected Area (SPA), which is utilised by SSE Renewables for hydro generation, is the single most important site in the UK for the duck, but the population is under threat from several factors at the site. 
Determined to do its part, since 2014 SSE Renewables has been a keen participant in 'Save our Scoters': a joint initiative involving the RSPB, the Wildfowl and Wetlands Trust, Forestry and Land Scotland and Nature Scot. 
As well as gathering biological information and investigating the decline of the duck's population, the project partners are acting to stop and reverse the reduction in its numbers.
Following its role in the initiative, SSE Renewables is now up for the Business Award at the annual RSPB Nature of Scotland Awards which recognises and celebrates businesses that can clearly demonstrate that they are taking a whole business approach to benefit nature in Scotland. 
Dr Alistair Stephen, Fisheries Biologist at SSE Renewables whose team led the company's work with the Common Scoter, said: 
"SSE Renewables has welcomed the opportunity to work closely with experts from the partner organisations involved. At our hydro sites, we have altered the way we manage water levels to maximise breeding success for the ducks while continuing to generate renewable energy. 
"Water levels are a critical factor affecting the breeding success of the scoters; these need to be sufficiently high to prevent predators' accessing the birds breeding on islands in the spring and early summer. Levels must also be shallow enough in the water margins later to allow parents and fledglings to find invertebrates to feed on. 
"We've also worked with partners to actively manage vegetation at the correct height and density on key breeding islands as well as constructing and deploying artificial floating islands to encourage scoters to nest at new, safe locations within the lochs.
"We're pleased to report that the efforts of everyone involved have paid off with modest but hugely important results. Since 2017, the number of common scoters attempting to breed has increased at two of the most important managed locations in the loch system. 
"In 2019, eight females and 11 males were recorded on Loch Loyne and seven females and eight males on Loch Garry. The number of eggs laid has risen from none in 2017 to a minimum of 14 on Loch Loyne and ten on Loch Garry in 2019 with two chicks eventually fledging."
RSPB Species Champion Award
As well as his recognition for his team's work with the Common Scoter, Dr Stephen is also a finalist for the RSPB Species Champion Award for his work to conserve the Atlantic salmon, having been nominated for his work by a Senior Conservation Officer at the RSPB.
The award recognises individuals who have achieved something extraordinary to conserve a vulnerable and threatened species, providing a catalyst for positive change through their hard work and dedication.
A previously accomplished academic, Dr Stephen's role at SSE Renewables (previously Scottish Hydro-Electric) is to advise on delivery of their environmental obligations in hydro catchments and has played a leading role in practical fisheries management and restoration initiatives across Scotland for 24 years.
Renewables Environment Manager at SSE Renewables, Andrew Allan welcomed Dr Stephen's nomination and said: 
"Alastair has an inspirational approach to fisheries management. As our fisheries biologist for almost a quarter of a century, Alastair has played a key role in reducing the impacts of hydro developments on aquatic environments generally and for salmon in particular. 
"This nomination is very well deserved as Alastair's legacy and current work for SSE Renewables is key to improving conditions, raising awareness and developing understanding and support for this iconic species at a time when it is massively under threat."
The finals of the Nature of Scotland Awards will take place on Wednesday 25 November via a virtual ceremony, hosted by naturalist broadcaster and author Steve Backshall and TV and radio presenter and wildlife expert Euan McIlwraith. 
More information can be found here.  
Background 
The RSPB Nature of Scotland Awards are co-sponsored by NatureScot, the Scottish Government's nature agency. The awards celebrate excellence, innovation and outstanding achievement in nature conservation.