Back to overview
Peat restoration approach nominated for prestigious sustainable development award09 Oct 2020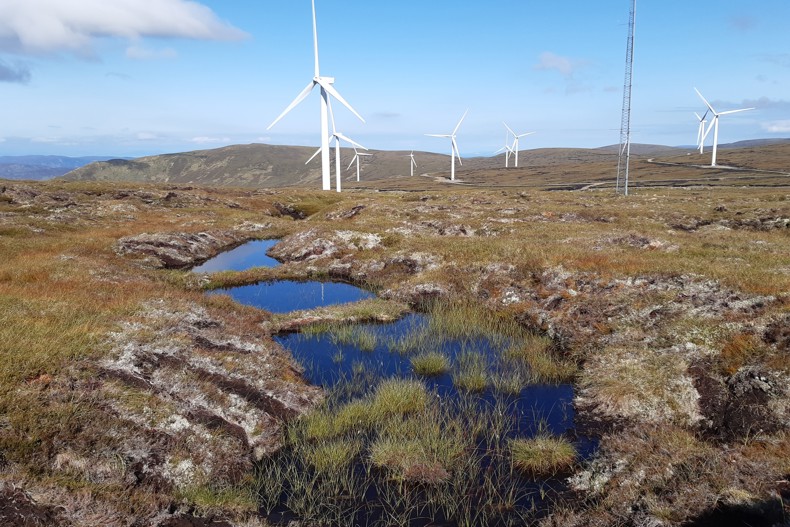 An example of an area of restored peatland at Dunmaglass Wind Farm
9 October 2020: SSE Renewables has been nominated for The Sustainable Development Award at the 2020 Scottish Green Energy Awards for its approach to peat restoration.
Organised and hosted by Scottish Renewables, the Scottish Green Energy Awards recognise sector-leading achievements across several categories.
The Sustainable Development Award is presented to a renewable energy project or initiative which can demonstrate outstanding sustainability credentials, delivering significantly above and beyond good practice to make long-term enhancements to the environment and society.
SSE Renewables has been nominated for its extensive environmental work at wind farm sites at Clyde East, south of Biggar, and Dunmaglass, south of Inverness, where £80,000 has already been invested at both wind farms in peat restoration programmes. Further investment totalling around £15,000 will be made at both sites in the near future.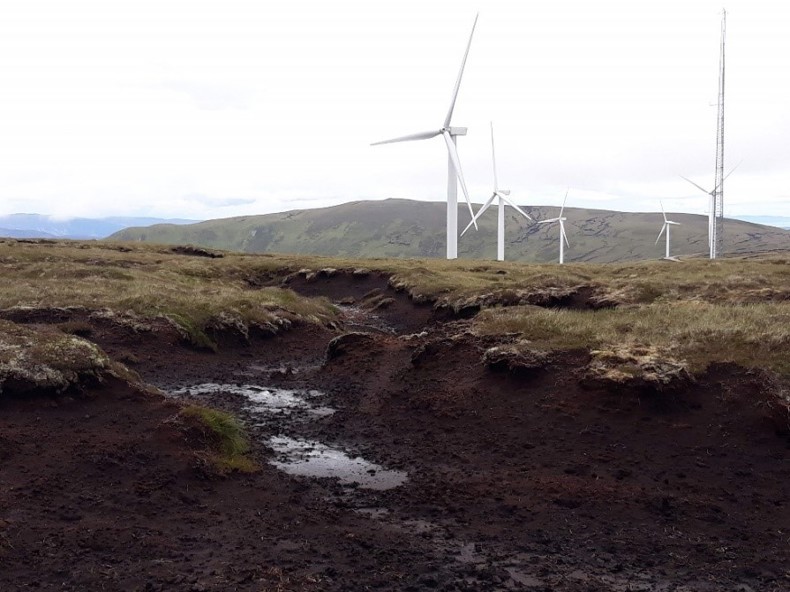 An example of an area of eroding peatland before treatment.
At Clyde East annual payments are awarded to local farmers to encourage the removal of sheep in winter to reduce grazing pressure while the blanket bog recovers. SSE Renewables operates the Dunmaglass and Clyde Wind Farms on behalf of its joint venture partners and leads on environmental management at both sites.
In Shetland, where SSE Renewables is currently constructing Viking Wind Farm, an ambitious peat enhancement plan has been agreed. The measures there propose the restoration of blanket bog across the wind farm, equating to 260 hectares or equivalent to 364 football pitches.
Andrew Allan, Environment Manager at SSE Renewables welcomed the nomination and explained the importance of the peatland restoration initiatives: 
"In recent years there have been major declines in the extent of blanket bog habitat in the UK, principally due to afforestation, drainage, burning and overgrazing.
"Peat is the largest terrestrial carbon store in the UK and approximately 4.5 billion tonnes of carbon are stored in Scotland's peatlands. Blanket bog habitats need to be in good health to function as a net sink carbon store instead of as a source of atmospheric carbon which is what happens if the peat is degraded.
"As well as the biological benefits, healthy blanket bog provides food and shelter to a diverse range of wildlife and provides a pleasing environment for members of the public to enjoy."
When restoring peat and blanket bogs, SSE Renewables applies extensive efforts to establish clear peat restoration goals. On wind farm construction sites, this includes ensuring all handling and storage of excavated peat is managed as part of a wider plan for peat reuse and reinstatement to achieve these restoration goals.
Andrew Allan continued: 
"In addition to managing peat at our operational wind farm sites, reversing decades of serious erosion and decline through peat restoration is a central priority of SSE Renewables' approach to wind farm construction works on our development sites. We are committed to identifying and mitigating our environmental impacts and as a responsible wind farm developer and operator, SSE Renewables seeks to be a recognised leader in environmental management and protection.
"We hold ourselves to the highest sustainability standards and this nomination for a Scottish Green Energy Award is recognition of the continued hard work of our staff and contractors to restore peatlands. In undertaking these works as we do, we're supporting the local economy, increasing biodiversity and connecting with nature; aims which are at the heart of our vision of creating a more sustainable society."
The Scottish Green Energy Awards will take place as a virtual event on Thursday 26 November. For more information or to apply for free tickets go to scottishrenewables.com/events.
Dunmaglass Wind Farm Limited is a joint venture between SSE Renewables (50.1%) and Greencoat UK Wind Plc (49.9%). In 2019, a 20-hectare complex restoration was completed using innovative techniques.
Clyde East is part of the Clyde Wind Farm (Scotland) Limited, a joint venture involving SSE Renewables (50.1%), Greencoat UK Wind Plc (28.2%) and and GLIL Corporate Holdings Limited (20.7%), where a key aim is to manage and restore the 340 hectares of existing blanket bog habitat. 
At Viking Wind Farm in Shetland, which is currently being constructed by SSE Renewables, an ambitious peat enhancement plan has been agreed. The measures propose the restoration of blanket bog across the wind farm, equating to 260 hectares or equivalent to 364 football pitches.