In Scotland during the Second World War it was estimated just one farm in six, and one croft in a hundred had mains electricity. Today, virtually every home and business in the country is connected to the grid.
This is thanks, in no small part, to a group of workers – known as the "Tunnel Tigers" who helped forge the hydro electric revolution when they set the world record for rock breaking on 27th October 1955.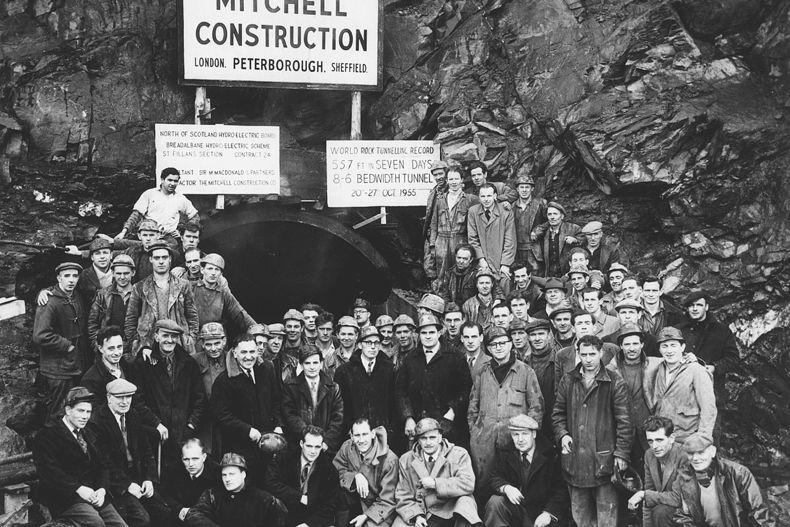 The Tigers tunnelled through an incredible 557ft (170m) of rock in just seven days at St Fillans part of the Breadalbane scheme.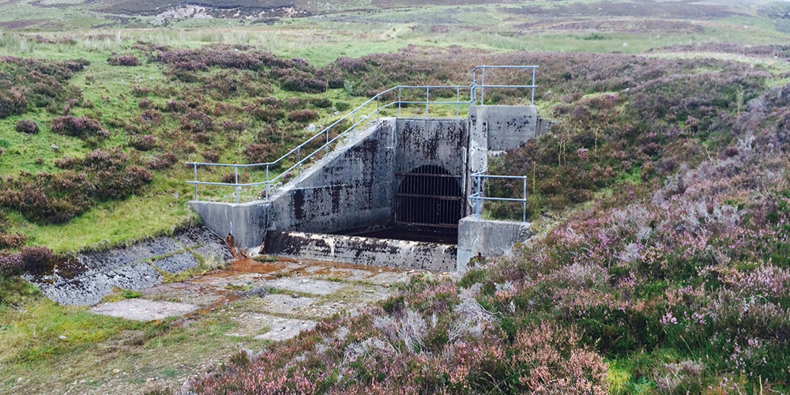 The Glentarken tunnel where the record was set.
Many of the them brought their tunnelling skills from as far afield as Ireland, Czechoslovakia, and Germany.
The labour was rewarding. The world record-breaking tigers were given a £20 bonus at the time of their feat - about £2,000 in today's money. But it was dangerous too. Risk was accepted as part of the job, and injuries were common.
There are few surviving members of the teams, but we were grateful to be contacted recently by Edward Bramley, whose father Norman Bramley, was the General Foreman at the time of the world record breaking event 65 years ago. 
Here are some of Edward's recollections from those early days. 
My dad moved to Rannoch from Durham when he was just a boy as his father, my grandfather, got a job as Head Keeper on West Templar Estate. 
He graduated from Breadalbane Academy but didn't continue with further education and went straight to work on the Tummel Hydro scheme on Rannoch at the age of 14. That was before the war. After the war when he came home, he resumed working on the schemes. 
He started with Mitchell Construction in 1952 on the Glenmoriston project at the age of 30 and continued with them to see out the St Fillans project. He was General Foreman for the whole scheme and was responsible for setting up the methods for high speed tunnelling which led the crews of men to break the British and European records.
My dad was highly skilled, as were his shift bosses and in those days, men were sacked immediately if they did anything stupid or dangerous. It was just after the war and everybody was looking for work. Many of the men were married and came from Donegal where times were hard and so they were over specifically to work. It was a dangerous job and common sense was always needed. Everybody watched out for each other. 
The tunnellers made colossal money and I remember dad throwing his money on the carpet when we were small and pushing us back from it. He was on the most money and each of the Tunnel Tigers that week of the world record got a bonus of £20 in recognition of their achievement. To put that into perspective, 20 cigarettes cost 2 and a half pence in those days.   
When we got older, we used to ask our dad about that momentous tunnelling week in 1955. My brothers and I also all worked in tunnelling all over the world and I remember coming home one day bragging about doing 6 x 6-foot rounds (36 feet progress) in 12 hours. He just smiled and said next time you are in Glasgow, visit the Quinn brothers' pub in the Gorbals (which I did). There were five Quinn brothers that all worked the day shift of the record at St Fillans who did 5 x 8-foot cycles (40 foot progress) in eight hours. That tells you the calibre of the tunnellers that worked with my father. The week of the record the three teams of 14 men in each were so proud that if any of the men in the team got sick, they were reluctant to let any strangers into the team. One of them would take the sick man's place, such was their pride. 
I was four at the time when my father was General Foreman at St Fillans. He used to take me up some days to meet the men. They were great, asking me if I wanted to be a Tiger when I grew up. They loved my dad, that's the impression I got when I met them. The men used to work hard and drink and gamble a lot and the odd disagreement was common. I remember waking up one Sunday morning to see my dad with a plaster on his nose from the night before. 
He was very proud to be a part of it all and they were all grateful for the gifts received from their employer including an engraved watch from DD Morell jewellers, a cigarette holder, a wallet and his and hers lighters. 
He told me that near the end of the hydro scheme construction, Tom Johnston, (former Chairman of the North of Scotland Hydro Electric Board) was interviewed by a reporter from the BBC and one of the questions was about some of the great men he had met. He noticed the initials on the interviewer's microphone and said that they reminded him of 3 of the great tunnel men he had met -Bramley, Breen and the Campbell brothers. Such was my father, he was so modest, he always said 'The men done it'.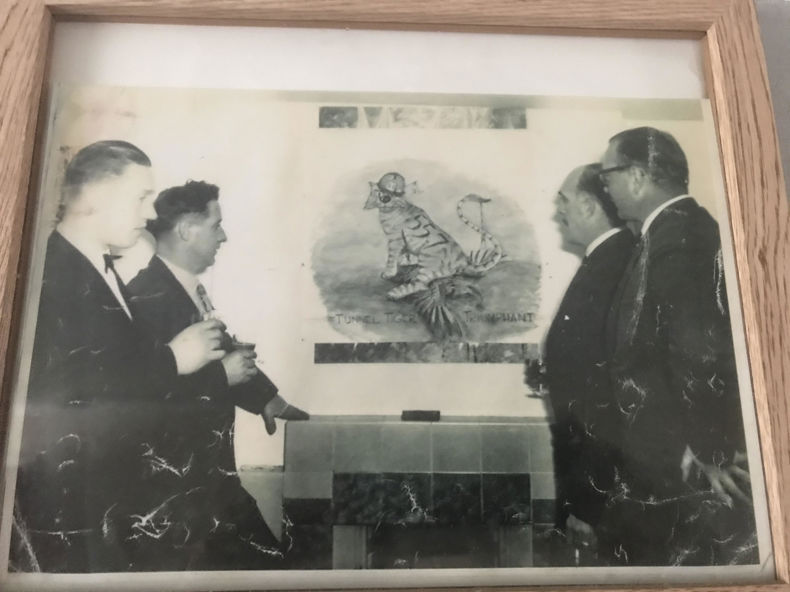 From left: Norman Bramley (General Foreman), Tim McCafferty (one of the shift bosses), Bill McCluanie, and D.D. Morell (owner of Mitchell construction) in front of the Tunnel Tigers Triumphant picture on the wall. Image provided courtesy of Edward Bramley.
Norman Bramley's certificate confirming his involvement in the record-breaking achievement and the wallet he was gifted after the event. Images provided courtesy of Edward Bramley.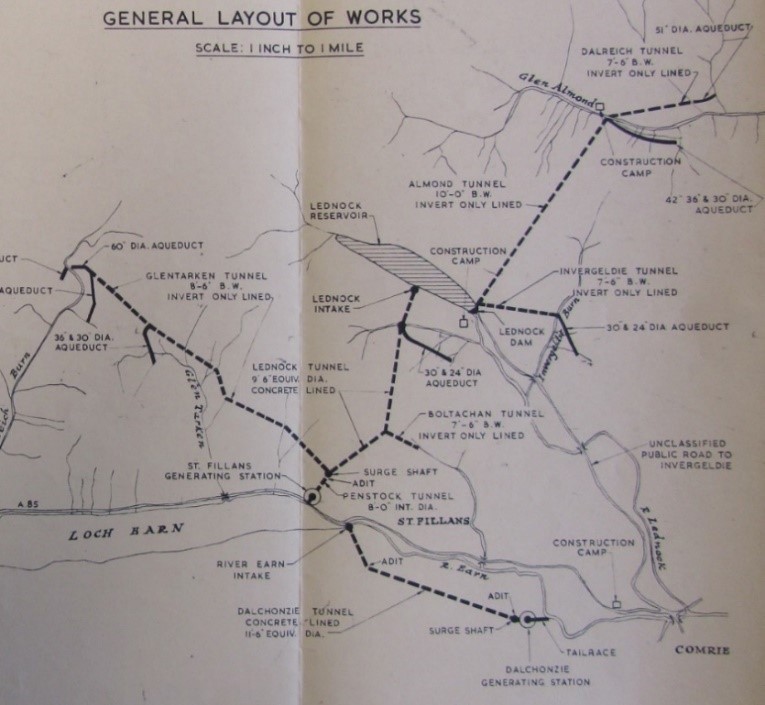 General works map which shows the Glentarken tunnel section which the record was broken in. Image from SSE's Corporate Archive.
One of the watches that were gifted to the tunnellers that we now hold in our collection. Images from SSE's Corporate Archive.
Reflecting on the achievement of the Tunnel Tigers, Head of Heritage, Gillian O'Reilly said:
"Edward's account of his father Norman's experiences gives vivid insight to the dedications and fortitude of these early pioneers of the Scottish hydro-electric projects.

"I wonder how these men would have felt if they realised that they were laying the foundations for cleaner and safer energy which would have far reaching consequences down the decades and through the generations.

"Edward can be very proud of the achievements of his father and his teammates and the impact that their hard work continues to have, even today as we head towards our target of net-zero carbon emissions by 2050"

Gillian O'Reilly

Head of Heritage
St Fillans power station, which was completed in 1957 is an underground power station on the shores of Loch Earn, in Perthshire. It was refurbished in 2002 and we recently managed to take a couple of snapshots inside to share with you to help celebrate our anniversary.
To find out more about SSE's Heritage you can visit www.sseheritage.org.uk or stay in touch through our social media channels on Facebook, Twitter and Instagram @sseheritage.