Back to overview
Pitlochry Dam Visitor Centre gets the green light for Gold09 Sep 2020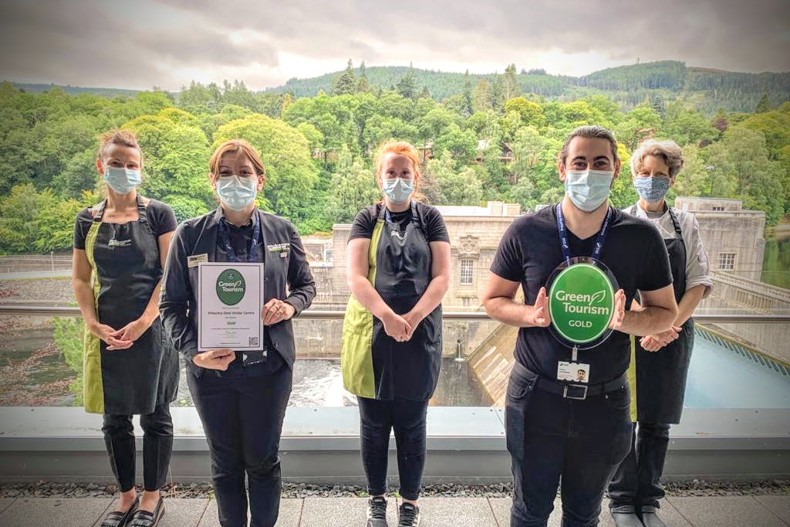 9 September 2020: Pitlochry Dam Visitor Centre, which showcases the rich history of hydro-electricity in the north of Scotland and how it transformed local communities, has scooped a top environmental tourism achievement with a Gold award from Green Tourism.
Visitors to the centre in the heart of Scotland's Perthshire, which opened in January 2017, learn all about the country's fascinating hydro history and heritage, as well as how SSE Renewables harnesses the power of nature today in a positive way to generate green electricity. Visitors can also enjoy the café's locally-sourced menu and the stunning balcony views across to Pitlochry Dam and Power Station, and over the River Tummel and Loch Faskally.
Recent lockdown restrictions that forced the temporary closure of the centre earlier this year afforded an opportunity for the centre team to put a number of environmental initiatives in place at the popular tourism site. Now, those initiatives have been recognised in the top tier of a growing niche within the tourism industry.
The Gold, Silver and Bronze award certification programme run by Green Tourism across the UK acknowledges businesses which are actively working to become more sustainable, encouraging them to develop their green campaigns and action plans.
Deborah Ryan, Pitlochry Dam Visitor Centre Manager, said:
"The Green Tourism assessment process was a great way to ensure we were operating as sustainably as possible and allowed us to focus on the areas where we needed to develop further.
"Now the real work starts as we take Green Tourism's expert advice and use it to shape our future actions. Visitors are becoming more focused on supporting the environment and, as a local business set in such beautiful landscape, it's important that we meet their expectations and deliver on our eco goals."
Caroline Warburton, VisitScotland Regional Leadership Director, said:
"This is a fantastic achievement for the team at Pitlochry Dam Visitor Centre and a worthy addition to the growing range of green tourism experiences in Perthshire.
"Environmental change is one of the biggest challenges facing our tourism sector which is why is it so encouraging to see attractions, such as Pitlochry Dam Visitor Centre, taking action to protect the region's vital natural assets.
"By taking responsibility to cut our carbon footprint today, we are protecting Scotland's world-famous natural beauty for the visitors of tomorrow."
Lisa Wilson, Sustainable Tourism Assessor at Green Tourism said:
"The team at the centre have been dedicated and focused on achieving a Green Tourism award and this is reflected in their achievement of the Gold Award.
"The centre was designed and built to be as sustainable as possible. The site shares information and educates visitors on the system, its history and the benefits of hydro power.
"With the focus on food provenance and local sourcing it is no surprise the café holds the Visit Scotland Taste our best award."
In line with Scottish Government guidelines, the visitor centre is operating strict health and hygiene and social distancing protocols as well as reviewing its opening hours to 10.00am until 4.30pm daily.  The exhibition space remains closed at present, but the café and shop are open. Visitors are reminded to check www.pitlochrydam.com and social media platforms for updates before visiting.